Precision Castparts (NYSE:PCP) reported solid fiscal third-quarter results Thursday that showed strong top-line and operating-income expansion, and left us feeling quite optimistic about its recently announced acquisition of Titanium Metals. We're raising our fair value estimate, which we determine based on forecasting the firm's future free cash flows, for Precision Castparts to $246 per share (was $200) on the basis of better future margin forecasts associated with the deal.
For those not familiar with Precision, the metal-bender has long been a favorite of ours. The firm makes the structural castings (metal blocks) and the rotating airfoils (blades) that form aircraft jet engines. Though a structural casting has a relatively longer useful life, a jet engine's airfoil components frequently need to be replaced upon maintenance (think razor, razor-blade model). Precision's components are also critical to flight safety, so it retains a high degree of pricing power with its long-time customers, which can't afford the risk of switching to unproven rivals.
During its fiscal third-quarter, Precision's sales advanced 13% from the year-ago period, while consolidated segment operating income jumped at the same pace. Though the firm's 25.5% operating margin was flat from the year-ago quarter, the most recently-reported period included $18 million in higher corporate and financing expense from its acquisitive activity.
For investors in micro-cap peer (and Best Ideas portfolio holding), EDAC Technologies (NASDAQ:EDAC), which is also a precision components supplier to the jet-engine makers, we highlight the level of Precision Castparts' operating margin (mid-20s) and think EDAC Technologies' 10.8% operating margin posted in its third quarter has significant room for further expansion. And importantly, as we outline in this article, EDAC Tech may soon be receiving a rather large award from United Tech (NYSE:UTX) -- a needle-mover:
CEO Pagano mentioned on the call that Pratt & Whitney, a division of United Tech, is looking at EDAC to be a preferred domestic supply chain partner for its geared turbofan for an LTA (long-term agreement) between "$50 million to several hundred million" dollars. Pagano cites a high degree of confidence that such a deal will be struck within the next couple quarters. A deal of this magnitude will surely add to the company's burgeoning backlog, which has experienced the greatest growth of any commercial aerospace supplier during the past several years.
Margin expansion thanks to integrating Titanium Metals will be a huge profit driver for Precision (similar to the impact of Special Metals), while increasing throughput and cost-containment will be the driver behind EDAC's margin expansion. The operating leverage inherent to these firms' business models is a huge driver behind earnings expansion, and represents the core reason why we believe there is tremendous upside to each firm's valuation. We think EDAC Tech is worth north of $20 per share on the basis of our discounted cash-flow model.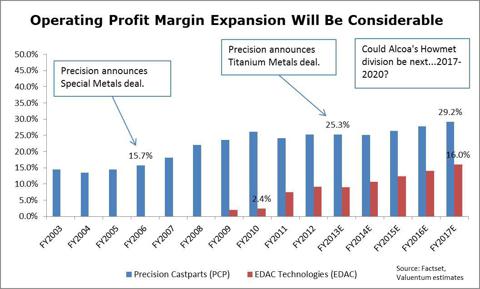 Revenue in Precision Castparts' investment cast products segment during the third-quarter advanced 5% from the year-ago period, thanks to continued strength in aircraft build rates. The firm also noted that industrial gas turbine sales jumped more than 20% from the same quarter last year. Incremental margins (or the margin on the next sales dollar generated) are in excess of 50% in this segment, suggesting the potential for organic margin expansion remains material as well (the segment's operating margin was 34.1% of sales during the quarter). The company's forged products segment saw sales increase 9%, while revenue jumped 32% in its airframe products division thanks to 13% organic expansion.
All things considered, we cannot overstate the potential margin expansion associated with Precision Castparts' Titanium Metals acquisition. CEO Mark Donegan is perhaps the most talented CEO in our entire coverage universe in extracting efficiencies and cost-savings from newly acquired entities, and we think he will deliver in a big way with Titanium Metals. We are very confident that management will exceed its estimate for deal synergies of $80-$100 million within the first 24 to 36 months. Impressively, Donegan stated the integration has already begun in "full force." We're not sweating Boeing's (NYSE:BA) problems with the 787 as it relates to the aerospace supply chain, and are expecting solid performance from both Precision Castparts and EDAC Technologies in the coming years. And we also wouldn't be surprised if Precision launched a bid for Alcoa's (NYSE:AA) Howmet division once it has maximized the synergies related to the Titanium Metals deal.
Disclosure: I have no positions in any stocks mentioned, and no plans to initiate any positions within the next 72 hours. I wrote this article myself, and it expresses my own opinions. I am not receiving compensation for it (other than from Seeking Alpha). I have no business relationship with any company whose stock is mentioned in this article.
Additional disclosure: PCP and EDAC are included in our Best Ideas portfolio.