Since the Herbalife (NYSE:HLF) cliff orchestrated by hedge fund manager Bill Ackman on December 19, 2012, HLF has rebounded from an intraday low of $24.24 on December 24, 2012 to close at $43.59 on January 25, 2013, or +79.8%. Given the recent price surge, HLF is currently trading above Ackman's short pre-announcement price of $42.50, and therefore gives market participants a second chance to short Herbalife at an even more favorable price.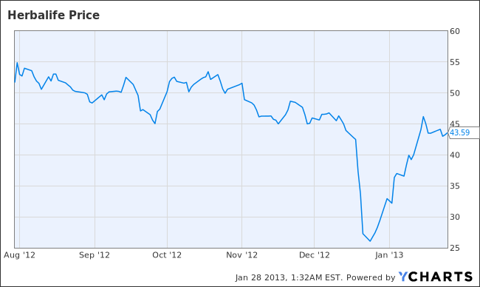 Based on Ackman's statements and media reports, his fund is short over 20 million shares valued at $1 billion. This huge bet implies an average per share short price of approximately $50. Ackman's target price to cover is $0, so whether investors short at his average price or not, will not make a difference provided that the share price ultimately reaches zero. All things being equal, it's important to note that shorting at a higher price provides lower downside risk.
Below is HLF's short interest and days to cover courtesy of Nasdaq.com.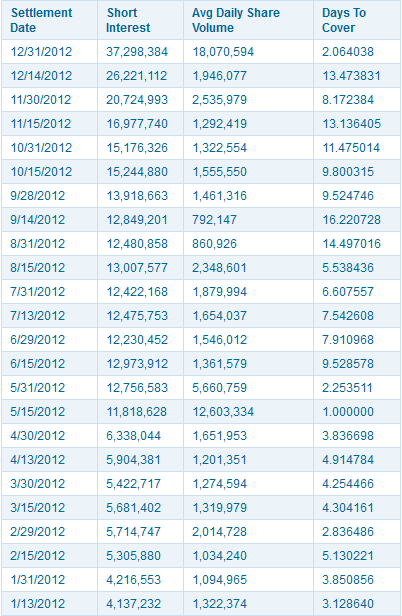 While the number of shares short has surged to 37.3 million shares, or 38.0% of float, the number of days to cover remains relatively low given the corresponding surge in average daily share volume. Unless volume dries up overnight, there appears to be no near-term threat of a short squeeze. For those keeping score, Ackman has already made over a billion dollars for his investors a few years ago shorting MBIA (NYSE:MBI) and Ambac (ABKFQ.PK) - see chart below. Interestingly, Ackman also received strong opposition back then when Martin Whitman of Third Avenue Management LLC dismissed Ackman's criticism of MBIA in an interview on CNBC and stated, "Mr. Ackman is a slick salesman who doesn't know much about insurance.'' At the time, Whitman's firm owned more than 10 percent of MBIA's stock. Click here to read Ackman's 55-page white paper titled "Is MBIA Triple A?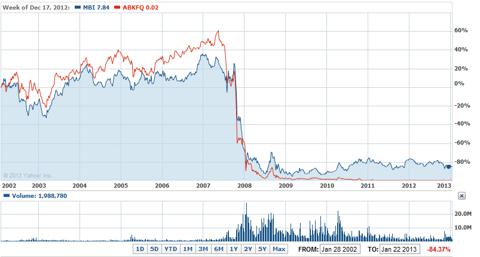 Because Ackman has already gone on live television and provided his detailed analysis over the internet on his short position, we will only focus on the catalysts that will ultimately result in his thesis playing out. In MBIA's case, the financial crisis was the catalyst that sealed MBI and ABKFQ.PK's fate. In HLF's case, the catalyst will be two-fold:
Time (pyramid schemes by definition become impossible to sustain over time) - see example below.
HLF's operation is deemed illegal by regulators.

Ackman alleges HLF is a pyramid scheme, and with all pyramid schemes, they must fail. A pyramid scheme is a non-sustainable business model that involves promising participants payment or services, primarily for enrolling other people into the scheme, rather than supplying any real investment or sale of products or services to the public. According to the United States Federal Trade Commission (FTC), not all multilevel marketing plans are legitimate. If the money you make is based on your sales to the public, it may be a legitimate multilevel marketing plan. If the money you make is based on the number of people you recruit and your sales to them, it's not. It's a pyramid scheme. Pyramid schemes are illegal, and the vast majority of participants lose money.
Conclusion
Patient investors willing to take some risk could be well rewarded in the long run by initiating a short position in HLF. It is worthy to note that Ackman began shorting MBI in 2002. The stock reached a high of over $70 in 2007 and eventually went as low as $2.50 in early 2009. Bill Ackman has stated he will "go to the end of the earth" to prove the company is a fraud. Also Ackman said to CNN Money, "If the government comes out and determines that this is a legal business then I will lobby congress for them to change the law."
Other considerations: Because there is unlimited risk if HLF share price continues to go higher, investors might also consider hedging their short position by buying a long call on HLF.
Disclaimer: Please note the fact that a general recommendation made of a particular security, commodity, or investment area does not mean it is suitable for you or should be purchased by you. For example, we may already have purchased such securities at a lower cost and/or the position for you may represent too much concentration in one security or industry. Before deciding to invest you should carefully consider your investment objectives, level of experience, and risk appetite. The possibility exists that you could sustain a loss of some or all of your initial investment and therefore you should seek advice from an independent financial advisor if you have any doubts.
Disclosure: I have no positions in any stocks mentioned, but may initiate a short position in HLF over the next 72 hours. I wrote this article myself, and it expresses my own opinions. I am not receiving compensation for it (other than from Seeking Alpha). I have no business relationship with any company whose stock is mentioned in this article.