Introduction
There are many reasons for McDonald's (NYSE:MCD) having better net profit margins than competitors over the years. It is beyond the scope of this article to cover everything associated with the margins but we will take a look at their excellent franchising system, smart real estate decisions, the powerful brand and debt. John Love does a nice job discussing these factors in McDonald's: Behind The Arches. The original copyright is from 1986 so the book obviously doesn't tell the story all the way to the present but it does lay down the foundation for the company we see today.
Data
MCD's net profit margins over the last 28 years: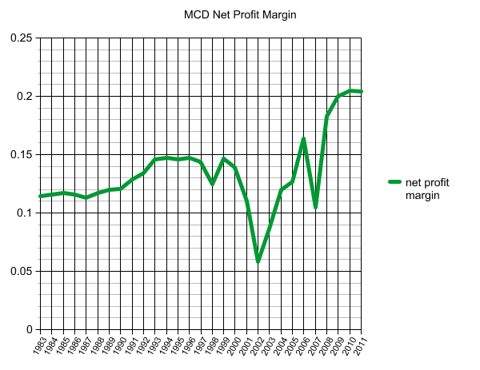 Years with dips have impairments.
The MCD 2002 10-K has the following:
Includes pretax operating charges of $853 million ($700 million after tax or $0.55 per share) primarily related to restructuring markets and eliminating positions, restaurant closings/asset impairment and the write-off of technology costs. (The cash portion of this pretax expense was approximately $100 million after tax.) See page 9 for further details.

In 2002, includes a $98.6 million after-tax charge ($0.08 per share-basic and $0.07 per share-diluted) to reflect the cumulative effect of the adoption of SFAS No. 142, Goodwill and Other Intangible Assets, which eliminates the amortization of goodwill and instead subjects it to annual impairment tests. See page 17 for further discussion. Net income per share, adjusted for the nonamortization provisions of SFAS No. 142, would have been $0.02 higher than the amount reported for 2001 and 2000 and $0.01 higher for 1996-1999.
In other words, the graph shows 5.8% net profit margin for 2002 but it would have been more like 11% if we didn't take out this 700m and 98.6m after taxes.
The MCD 2007 10-K says the following:
Includes pretax operating charges of $1.7 billion ($1.32 per share) related to impairment and other charges primarily as a result of the Company's sale of its businesses in 18 Latin American and Caribbean markets to a developmental licensee.
Again, net profit margins would have been much higher without these charges.
The graph data comes from gurufocus.com and 10-K filings. As mentioned earlier, the numerator (net income) varies with impairments but the denominator (total revenue) went up every year except 2009: (Net income and total revenue numbers are in $ millions)
1983: .114 = 343/3,001
1984: .116 = 389/3,366
1985: .117 = 433/3,694
1986: .116 = 480/4,143
1987: .113 = 549/4,853
1988: .117 = 646/5,521
1989: .120 = 727/6,066
1990: .121 = 802/6,640
1991: .129 = 860/6,695
1992: .134 = 959/7,133
1993: .146 = 1,083/7,408
1994: .147 = 1,224/8,321
1995: .146 = 1,427/9,795
1996: .147 = 1,573/10,687
1997: .144 = 1,642/11,409
1998: .125 = 1,550/12,421
1999: .147 = 1,948/13,259
2000: .139 = 1,977/14,243
2001: .110 = 1,637/14,870
2002: .058 = 893/15,406
2003: .086 = 1,471/17,141
2004: .120 = 2,279/19,065
2005: .127 = 2,602/20,460
2006: .164 = 3,544/21,586
2007: .105 = 2,395/22,787
2008: .183 = 4,313/23,522
2009: .200 = 4,551/22,745
2010: .205 = 4,946/24,075
2011: .204 = 5,503/27,006
The average net profit margin of 14.5% over the last 10 years stands out against competitors: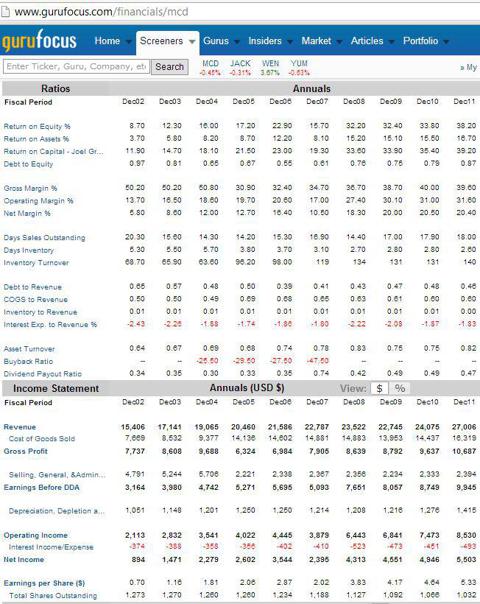 The MCD 2002 10-K lets us look back another 10 years.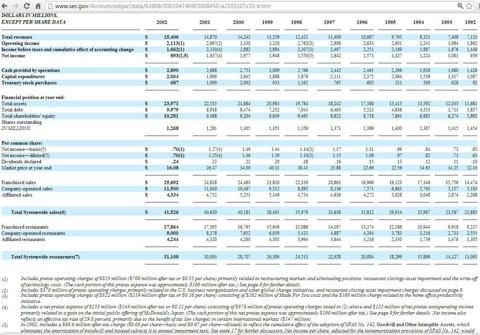 Looking at the MCD 1993 10-K, we can glimpse all the way back to 1983: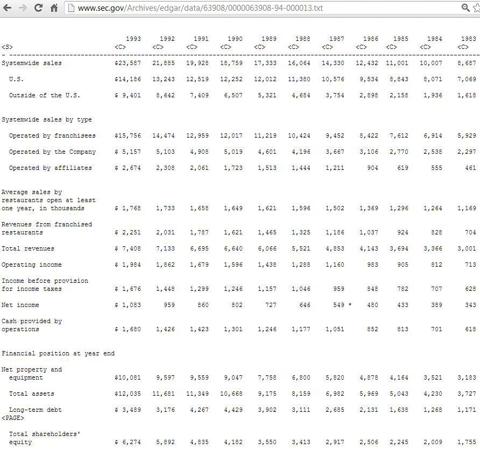 Wendy's (NYSE:WEN) has an average profit margin of -3.1% over the last 10 years. They had negative net earnings 5 of the last 10 years. Looking at the 2011 10-K, WEN is saddled by debt:
2011 Operating profit: $137.1 million
2011 Interest expense: ($114.1) million
2010 and 2009 have the same issue.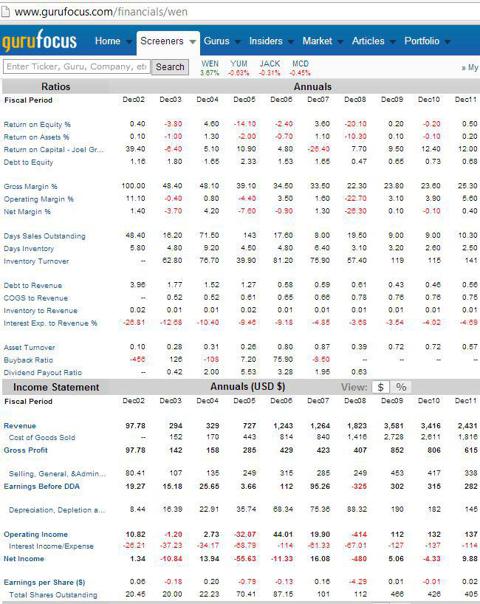 Jack In The Box (NASDAQ:JACK) has an average net profit margin of 3.9% over the last 10 years. Their 2012 net earnings were less than their 2003 net earnings.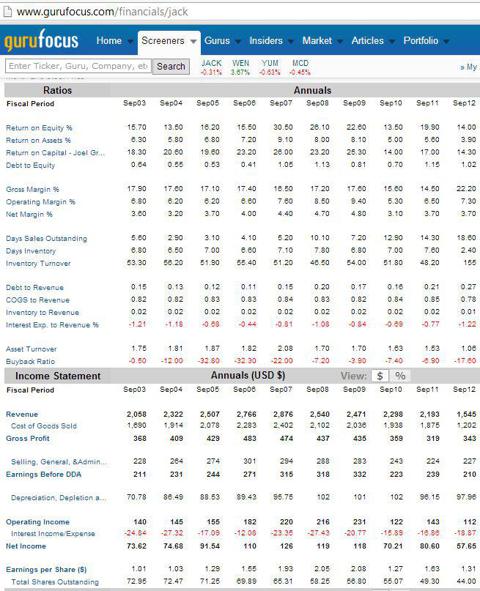 Yum Brands (NYSE:YUM) has an average net profit margin of 8.8% over the last 10 years.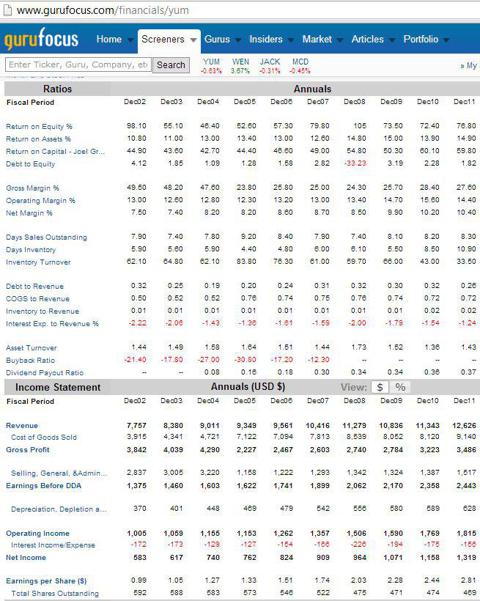 10 Year Summary of Average Net Profit Margins
MCD: 14.5%
YUM: 8.8%
JACK: 3.9%
WEN: -3.1%
Franchising
The McDonald brothers built a successful restaurant in San Bernardino, California. Everyone tried to copy their model and it wasn't hard considering the fact that people could easily see into the kitchen. Also, many of their successful approaches were freely given away. The brothers had a problem with franchising. Like the McDonald brothers, many businesses using the franchise model at that time did not align the interests of the owner and the franchisee. Hiring Ray Kroc to take care of their franchising, the McDonald brothers found someone unique in that Kroc aligned his interests with those of the franchises. One of the reasons for this was that Kroc didn't come from the franchising world, he was a salesman. Instead of relying on large, one-time franchise fees, Kroc structured things such that the franchises needed to do well over time in order for him to be paid well in the long run. Also, MCD did not force franchises to buy supplies from them at artificially high prices. Although Kroc's interests were aligned with franchises, he was almost too generous with them such that he didn't make much money early on.
Ray Kroc had problems with Harry Sonneborn and the franchising system suffered as a result. The problems between Kroc and Sonneborn went to a new level when Kroc moved to California such that the company was divided geographically. Ray Kroc knew that absentee investors/owners were not good candidates for franchises. However, he was not always the person doing the screening. As Kroc became less involved in the screening process, less profitable franchises kept coming through the system. Eventually Sonneborn lost faith in expansion and slowed things down.
"Ray knew from experience the qualities an individual needed to be a successful operator, and after talking with a fellow for a half hour, he could tell whether he had them or not," observes J. Kenneth Props, the company's ninety-one year old former director of licensing, who started his second business career by joining the real estate development at McDonald's in 1962 after thirty-five years as a marketing manager at Standard Oil of Indiana. "But," Props adds, "the people put in charge of franchising after Ray moved west had no concept of what was needed to screen licenses."

[McDonald's: Behind The Arches pg 262]
Eventually Sonneborn was replaced by Fred Turner and the franchising system got back on track.
Franchise sales are not counted in total revenues. All things being equal, the higher the percentage of franchise revenues to total revenues, the higher the margins. Franchise and affiliate revenue is a higher percentage of total revenue in 2011 than in 1983. Ignoring dips from impairments, we can see the correlation between a high percentage of franchise revenue and high net profit margins.
1983 Franchise and affiliate revenues were 23.46% of total revenues per the MCD 1993 10-K.
704/3001 ==> 23.46%
The MCD 2005 10-K shows franchise and affiliate revenues were 24.97% of total revenues.
5,108/20,460 ==> 24.97%
The MCD 2008 10-K shows franchise and affiliate revenues were 29.6% of total revenues.
6,961/23,522 ==> 29.6%
The MCD 2011 10-K shows franchise and affiliate revenues were 32.27% of total revenues.
8,713/27,006 ==> 32.27%
(Revenue numbers above are in $ millions)
Note the jump of about 5% between 2005 and 2008. During this same time period we saw net profit margins jump over 5% from 12.7% in 2005 to 18.3% in 2008.
19.2% of the restaurants are company operated today (6,435/33,510). Franchising has always been important but the percentage of franchises was not always this high. Fred Turner allowed the percentage of franchised stores to get too low at one point but this was fixed.
The JACK 2012 10-K shows franchise revenues were 21.09% of total revenues.
325,812/1,545,026 (in $ thousands) = 21.09%
The YUM 2011 10-K shows franchise and license fees were 13.73% of total revenues.
1,733/12,626 (in $ millions) = 13.73%
The WEN 2011 10-K shows franchise revenues were 12.54% of total revenues.
304.8/2,431.4 (in $ millions) = 12.54%
Summary of Franchise Revenue as a Percentage of Total Revenue
MCD: 32.27%
JACK: 21.09%
YUM: 13.73%
WEN: 12.54%
Real Estate
MCD started out by leasing from the property owner and subleasing to the franchisee. Under this "sandwich" model, MCD would then make a nice margin as long as the subleased franchise store stayed in business. Using security deposits as float, MCD was then able to own real estate without using its own money.
In the meantime, McDonald's had use of the money, and within a year Sonneborn began using it to extend his real estate gambit to the second phase: ownership of the property. At first, that involved leasing the land and owning the building, using some of the deposit as a security on the ground lease and some for a down payment on the mortgage of the building. By the early 1960s, however, Sonneborn was going after total ownership, purchasing the land under a ten-year installment contract with the property owner and financing the building through a bank mortgage.

[McDonald's: Behind The Arches pg 155]
The real estate helped with Kroc's goal of keeping the company and the franchisee aligned in their interests.
While other franchisers made big profits up front by selling franchises and opening new stores, Kroc's franchising plan made McDonald's profitability dependent on its ability to encourage franchisees to improve their operations and increase their sales. This motivation was greatly intensified under Sonneborn's real estate program, because the moment franchisees began paying percentage rent, the rental portion of any increase in sales dropped directly to McDonald's bottom line. In short, Kroc's fascination with QSC finally made economic sense. Senior Chairman Turner explains: "Our income became more dependent on building volume at existing stores than it was on building new stores."

[McDonald's: Behind The Arches pg 158]
As mentioned earlier, Sonneborn had reduced the number of new franchises each year but young president Turner came in and reversed the conservative expansion policy Sonneborn had used.
While Burger Chef and Burger King had begun matching McDonald's old expansion rate, they did not come close to keeping up with the new pace: 211 new restaurants in 1969, 294 in 1970, 312 in 1971, 368 in 1972, 445 in 1973, and finally 515 in 1974.

[McDonald's: Behind The Arches pg 276]
Turner moved to a decentralized structure which helped with expansion because managers were now located in the field where they could make better decisions. Turner started skipping the sandwich step in real estate deals by acquiring land from the start instead of leasing it at first. This was more expensive in the beginning but it paid off over time giving MCD a competitive advantage over other chains.
Today, McDonald's owns the land at 69 percent of its domestic restaurants, whereas other chains continue to lease the great bulk of their store sites.

[McDonald's: Behind The Arches pg 281]
The MCD 2011 annual report says the company now owns about 45% of the land for restaurants:
The Company owned approximately 45% of the land and about 70% of the buildings for restaurants in its consolidated markets at year-end 2011 and 2010.
This shows that the company is still benefiting from Turner's decisions today. Turner rose through the ranks by being an operations person but he embraced finance when he got to the top. Seeing the damage from the fallout between Kroc and Sonneborn, Turner was able to learn from this and get along with CFO Richard Boylan. For example, Boylan convinced Turner that borrowing is better than selling stock for growing companies in need of capital.
"It's a hard point to get across, but selling stock is the most expensive form of financing for a growth company," Boylan argues. "By borrowing, you lock in a rate and eventually pay off the loan. But you are never through paying for an equity financing, because the dilution of stock is permanent, and you pay dividends on the new shares forever."

[McDonald's: Behind The Arches pg 284]
Fred Turner grew with the company. He rose up by treating hamburgers, milk shakes and french fries as science. By the early 1970s it was clear he was an excellent chief executive with an outstanding record. His decisions on buying land and paying for it with debt instead of stock have been a great benefit to the company.
Today the company is the lessee at 14,139 restaurant locations through ground leases per the 2011 annual report. There are 33,510 system wide restaurants including satellite units so the company owns the land for a large percentage of their restaurants. The company is now in locations that would be too expensive for new competitors to enter.
Again, MCD now owns the land for about 45% of the restaurants.
The 2012 JACK 10-K shows that 52/863 company operated restaurants are on company-owned land and 184/2,014 franchise restaurants are on company-owned land. This means JACK owns the land for just 8.2% of the restaurants.
The WEN 2011 annual report says the following:
At January 1, 2012, Wendy's and its franchisees operated 6,594 Wendy's restaurants. Of the 1,417 company-owned Wendy's restaurants, Wendy's owned the land and building for 643 restaurants, owned the building and held long-term land leases for 487 restaurants and held leases covering land and building for 287 restaurants. Wendy's land and building leases are generally written for terms of 10 to 25 years with one or more five-year renewal options. In certain lease agreements Wendy's has the option to purchase the real estate. Certain leases require the payment of additional rent equal to a percentage, generally less than 6%, of annual sales in excess of specified amounts. As of January 1, 2012, Wendy's also owned 56 and leased 206 properties that were either leased or subleased principally to franchisees. Surplus land and buildings are generally held for sale and are not material to our financial condition or results of operations.
Adding the 643 company-owned land, company operated and the 56 company-owned, franchise operated, we get 10.6% land ownership for WEN (699/6,594).
The 2011 YUM 10-K lumps land and buildings together so it is hard to get an exact percentage of land ownership. Still, it looks like the percentage is much lower than the percentage for MCD.
Summary of Land Ownership
MCD: 45%
WEN: 10.6%
JACK: 8.2%
YUM: Unknown
Branding and Marketing
In October 2012, Forbes listed MCD as the 7th most powerful brand in the world. The competition is nowhere to be found near the top of the list: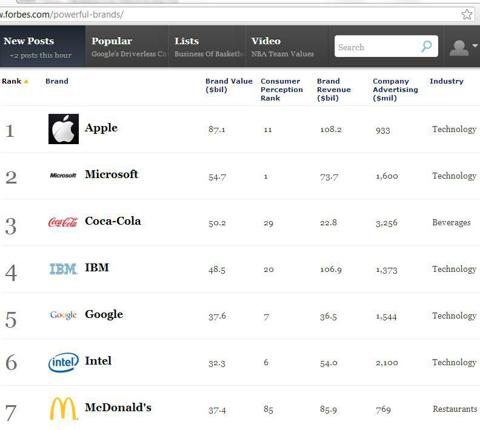 The powerful MCD brand makes it easier for franchises to succeed. As mentioned earlier, successful franchises are important for high net profit margins. Also, franchises help build the brand with grass roots marketing:
Marketing ideas has to come from the grass roots, not the blue sky. In short, Kroc realized that for McDonald's to capitalize on the market opportunity it now had, his company had to rely on the creativity of its partners - its franchisees and suppliers.

[McDonald's: Behind The Arches pg 203]
In today's world it is obvious that MCD does a good job marketing to children. This is nothing new, they've been doing it for years. Jim Zien opened his first store in Minneapolis in 1958 and he was an innovator in advertising.
Word of Zien's success with kids' programming spread quickly throughout the system, and by the early 1960s McDonald's operators in more than a dozen markets had taken a major position in supporting local children's television.

[McDonald's: Behind The Arches pg 215]
MCD has been consistent with branding since 1955. They have always used the Golden Arches and they are one of the most recognized symbols in the world.
Debt
It is hard to have a high net profit margin if a large part of operating income goes to paying off long-term debt via interest expense.
Summary of Interest Expense as a Percentage of Operating Income
MCD: 5.77% = 493/8,530 per 2011 10-K
YUM: 8.60% = 156/1,815 per 2011 10-K
JACK: 16.78% = 18,874/112,489 per 2012 10-K
WEN: 83.22% = 114.1/137.1 per 2011 10-K
Summary of Long-Term Debt Divided by Operating Income
MCD: 1.43 = 12,134/8,530 per 2011 10-K
YUM: 1.65 = 2,997/1,815 per 2011 10-K
JACK: 3.60 = 405,276/112,489 per 2012 10-K
WEN: 9.85 = 1,350,402/137,121 per 2011 10-K
Reclassification
MCD did some reclassifications, especially in 2007. It looks like GuruFocus sticks to the original numbers. For example, the 2006 10-K shows $5,503.7 million in franchised and affiliated revenues and $21,586.4 million in total revenue. 2006 numbers were reclassified in the 2007 10-K where it shows that 2006 had $5,493 million in franchised and affiliated revenues and $20,895 million in total revenue. This article basically uses original numbers back to 2002.
Conclusion
The recent 10-Ks and annual reports reveal factors behind MCD's net profit margins in today's world while books like McDonald's: Behind The Arches help us understand the history about how the company was shaped.
Disclosure: I am long MCD. I wrote this article myself, and it expresses my own opinions. I am not receiving compensation for it (other than from Seeking Alpha). I have no business relationship with any company whose stock is mentioned in this article.
Additional disclosure: Any material in this article should not be relied on as a formal investment recommendation.