I have been a fan of the Yale Endowment portfolio for years. This portfolio has been managed by economist, David Swenson, for 25 years. The Yale Endowment is famous for its relatively large allocations to non-traditional asset classes such as absolute returns (hedge funds), private equity, and private real estate. In the following chart from the most recent Yale Endowment report, the asset allocation is listed for the past 5 years.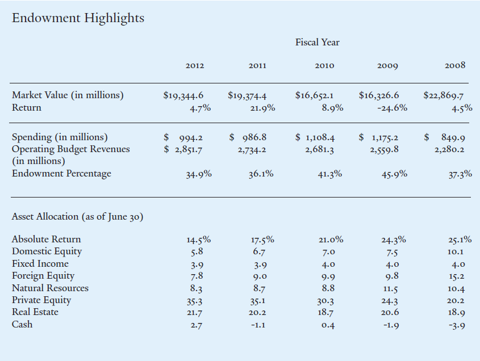 The following list uses representative ETFs to mimic this allocation. I tried to list a few alternatives to stay provider-neutral:
Absolute return: Wisdom Tree Managed

Futures

, (NYSEARCA:WDTI), IQ Hedge Macro Tracker ETF (NYSEARCA:MCRO), 14.5%.
Domestic equity: Vanguard Total Stock Market ETF (NYSEARCA:VTI), or SPDR S&P500 Trust (NYSEARCA:SPY), 5.8%.
Fixed income: iShares Barclays Aggregate Bond Fund (NYSEARCA:AGG), or Vanguard Total Bond Market ETF (NYSEARCA:BND), Vanguard Extended Duration ETF (NYSEARCA:EDV) 3.95%.
Foreign equity: iShares MSCI EAFE Index ETF (NYSEARCA:EFA) or Schwab International Equity Index Fund (NYSEARCA:SCHF), 7.8%.
Natural resources: iShares S&P Natural Resources Index Fund (BATS:IGE), SPDR Gold Trust (NYSEARCA:GLD), 8.3%.
Private equity: Blackstone Group (NYSE:BX), American Capital (NASDAQ:ACAS), or Gladstone Capital (NASDAQ:GLAD), 35.3%.
Real estate: Vanguard REIT ETF (NYSEARCA:VNQ) or iShares Dow Jones U.S. Real Estate Fund (NYSEARCA:IYR), 21.7%.
Cash: 1.7%.
A few things jump out rather quickly. First, there is a substantially lower equity allocation to U.S. and foreign stocks than most U.S. individual investors would use, at only 5.8% and 7.8% respectively. Instead, the Yale model relies rather heavily on absolute return, private equity, and real estate. Yet the absolute return and private equity classes are some of the hardest to place into ETFs. I was unable to run this entire portfolio as a backtest due to a limitation on the non-subscriber portal of etfreplay.com. (When I did include WDTI in more limited backtesting, it hurt the results, and has only been available for a few years. Few other alternative asset class ETFs were available for longer than 3 years). Thus, I put some of the best ideas I could come up with in the list above, and discuss them further below, but warn that I will reach a different conclusion later on in this article.
Absolute Return
Because of increased attention to endowment-style investment strategies, ETF providers have provided new offerings in this space. However, long-term returns are not available yet, and it is unclear how well the ETF offerings will compare to the traditional fund offerings available to high net worth investors (including hedge fund limited partnerships, and managed future funds, for example). WDTI is an ETF that operates in the managed future space, which is only one of many absolute return strategies. MCRO is a closed-end fund that uses multiple strategies in an attempt to approximate exposure to absolute return funds; it traded only 1900 shares on the day prior to writing this article. For an alternate point of view, this author did not feel that an ETF strategy could work for absolute return exposure.
Private Equity
I used Blackstone Group, LP as a proxy for private equity, since this company manages private equity funds and owns a carried interest in those funds, while also earning a management fee from the funds too. Other choices that I considered included business development companies such as Gladstone Capital and American Capital. These are the easiest types of liquid investments for the individual investor to utilize, although a large endowment is more likely to directly invest as a limited partner in a private equity fund. This requires being a sophisticated investor and is subject to long lock-up periods. I simply do not know how well the choice of BX would compare with that, but the bottom line is that BX does include exposure to carried interest in PE funds and thus does contain at least some exposure to that asset class.
Natural resources
I used the equity ETF, IGE, for natural resource exposure, so this merely represents an overweighting of natural resources relative to what is in the U.S. and international total equity market ETFs, VTI and EFA respectively. Another choice would be a commodity ETF, such as PowerShares DB Commodity Index Tracking Fund (NYSEARCA:DBC). Physical gold and silver might be another approach, or ETF proxies of this such as GLD or iShares Silver Trust (NYSEARCA:SLV).
Real estate
For simplicity, I used the U.S. REIT Index funds, VNQ and IYR, as a proxy for real estate. The individual investor may own a home, and I would argue that home equity should be included in the real estate allocation of 21.7%. I suggest that home equity should be included as a real estate investment, and to consider REIT ETFs for the remainder of desired real estate exposure. While the home equity doesn't provide a direct return, it does carry some equity-like exposure to rising real estate prices, and also will save in living costs once the home is fully paid off.
Simplified alternative allocation
Given the uncertainty with using more recently introduced funds as proxies for absolute return and private equity funds, it seems like these allocations could get re-allocated back to U.S. and International equities. Interestingly, this also allows those amounts to go into lower expense ratio funds. Also, with returns across asset classes having become more highly correlated post-2008, as I have written about here, perhaps those alternative asset classes matter less than they used to.
Domestic equity: VTI, 30%
Fixed income: EDV, 15%
Natural Resources: GLD, 5%
Foreign equity, EFA 30%
Real estate: VNQ, 20%
In this simplified portfolio, I rounded off the percentages to more convenient amounts. I chose to make the US and International equity ETFs equal in amount to better reflect the split in equity market cap between US and International markets. Likewise, I also moved the natural resource equities component over to GLD. (I repeated the analysis with inflation-protected bond ETF, TIP, and achieved nearly identical portfolio performance, by the way - in case you have a conceptual aversion to precious metals as an asset class and prefer a government bond as an inflation hedge).
I also re-allocated some of the alternative asset classes into bonds. At the Yale level of only 3.9% bond exposure, bonds don't really affect overall returns and just serve as a minor dampener of return volatility, in my opinion. My previous writing suggested using duration leverage by going to long-term bonds for all of one's bond exposure. With that in mind, this simplified portfolio switched from AGG to EDV.
Finally, I collapsed the cash portion into the long-term bond allocation. I consider cash to be a more tactical allocation rather than an actual part of the portfolio. In other words, I don't sell assets to replace cash. Because I am still in asset accumulation mode, I have a source of income that provides the cash, and I promptly add it to the under-target portions of the portfolio. Upon retirement, I would carry at least 5% cash as a place to park the earnings from other asset classes and also to dampen volatility.
Backtesting the simplified portfolio
A 3-year buy and hold backtest of the above allocation model, compared to SPY, produced the following statistics: CAGR 13.8% (vs. 13.4% for SPY), maximum drawdown -13% (vs. 18.6% for SPY), and a volatility of 14.9% (vs. 18.3% for SPY). In plain English, the simplified portfolio produced slightly higher returns than SPY, and with lower volatility too, resulting in superior risk-adjusted 3-year buy and hold returns.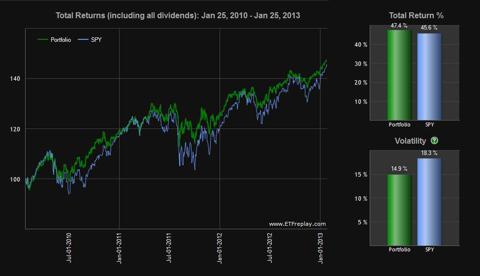 Conclusions
We have explored an ETF portfolio initially intended to mimic the asset allocation used by the Yale Endowment portfolio. The most difficult choices to make for the individual investor are whether to use the alternative asset classes (absolute return, private equity) at all, and if so, then with what ETF choices. After exploring the available ETFs and feeling disappointed in their returns, I became disenchanted with the concept and tested a simplified ETF portfolio.
Thus, I mainly took the Yale concept of limited bond exposure, and re-allocated the high alternative exposure of Yale Endowment back into a balanced mix of U.S. and international broad equity funds, and came full circle back to a more simplified portfolio of low expense ETFs which outperformed the S&P total return in 3-year backtesting, while also achieving a lower volatility. Bingo - exactly what I was looking for. For what it's worth, while preparing this article I found out that Swensen himself agrees with this approach for the individual investor. (I guess you can do fancier things when you manage a $16 billion endowment!)
Thanks for reading, and good luck!
Disclosure: I have no positions in any stocks mentioned, but may initiate a long position in BX, VCLT, EDV, VTI, VNQ over the next 72 hours. I wrote this article myself, and it expresses my own opinions. I am not receiving compensation for it (other than from Seeking Alpha). I have no business relationship with any company whose stock is mentioned in this article.