Johnson & Johnson (NYSE:JNJ) is the world's largest and most diverse healthcare company, which comprises three divisions: pharmaceutical, medical devices and diagnostics, and consumer. Since our last article of Johnson & Johnson, the share price of JNJ had increased 4.26% and closed at $73.92 on January 25, 2013. The reviewed credit put options play had resulted in the maximum gain of 15.74% return on margin as the options expired on January 19, 2013. In this article, the recent developments for JNJ will be updated and a new options strategy will be reviewed.
Earnings and Recent Highlights
On January 22, 2013, JNJ reported better-than-expected Q4 earnings. The result was fueled by rebounding sales of prescription drugs and demand for its medical devices. The company, however, took another big special charge for its recalled artificial hips. JNJ reported the earnings of $2.6B or 91 cents per share, compared to $218M or 8 cents per share a year ago, when the company took charges of more than $3B. Excluding special items, JNJ earned $1.19 per share, beating analyst expectation of $1.17 per share. However, the sales of $17.56B did not meet Wall Street expectations of $17.7B. Piper Jaffray analyst Matt Miksic said the profit beat came largely from favorable taxes, and that cost containment initiatives boosted results.
Prescription drug sales increased 7% to $6.52B on high demand for the company's arthritis, psoriasis and HIV medications. Medical device sales jumped nearly 14% to $7.38B after the acquisition of trauma-device maker Synthes over the summer. On the negative side, sales at consumer products division fell 3% to $14.4B after Tylenol was recalled in February and June. The company took an $800M special charge hit due to defective artificial hips, which shed metal fragments into patients and caused disabilities. JNJ faces over 2,000 lawsuits due to the metal hips and nearly 500,000 people in the US received the defective implants of the past 5 years. JNJ hasn't sold the hip replacement device since 2010. The company did not provide an estimate of its product-liability costs for the defective artificial hips, however, JNJ's study predicted 37% hip-failure rate. According to Bloomberg, JNJ is negotiating a potential $2 billion settlement with patients who received its recalled artificial hip implant, which is rejected by the hip recipients.
The company forecast full-year 2013 earnings, excluding special items, of $5.35-$5.45 per share, which is below analysts' expectation of $5.49 per share. The company is expecting generic competition for its attention deficit disorder drug, Concerta, starting in Q1 2013. As noted in the Q4 earnings conference call, JNJ's 2013 guidance reflects the assumption of the implementation of the medical device excise tax, which has an incremental negative impact to EPS of 5 cents and will be recorded in cost of goods sold. The overall impact of the provisions of the Affordable Care Act in 2013 is estimated to be around $1B of cost, or approximately 25 cents of EPS. The earnings call transcript for full CEO discussion for Q4 2012 results from Seeking Alpha can be accessed here.
Possible Sale
JNJ is mulling the sale or spinoff of its Ortho Clinical Diagnostics business, which makes equipment and supplies for detecting and diagnosing diseases. Ortho Clinical Diagnostics is considered the fifth largest IVD company. Thus, any sale or spin-off of this $2 billion enterprise will be a significant development for the clinical laboratory and pathology testing industry. OCD had $2.07 billion in sales of diagnostic tests and blood-screening supplies last year, down 4.4% from $2.16 billion in 2011, the company reported. OCD unit had relatively slow growth and was not a market leader as told by Morningstar analyst Debbie Wang.
Analysts' Calls
Jefferies Group reissued their hold rating on JNJ with a $79.00 price target, up from the previous $75.00 price target, and commented,
"We see Pharmaceuticals as remaining attractive in 2013, but unlikely to return the same level of relative performance as in 2012. Our Top Pick in the US is AbbVie, with Novartis being our most preferred name in Europe. Sanofi, Roche, Pfizer and Bristol-Myers remain high conviction Buy ratings. We continue to point to Eli Lilly and GlaxoSmithKline as our least preferred names."
Analysts at JPMorgan Chase reiterated an overweight rating on JNJ with a $77.00 price target. Analysts at UBS AG raised their price target on JNJ from $76.00 to $78.00 on January 11 with a buy rating. Lastly, analysts at Zacks reiterated a neutral rating on JNJ with a $74.00 price target on January 4, 2013.
Key Stats and Valuation
JNJ has an enterprise value of $201.93B. JNJ has a total cash of $19.77B and a total debt of $16.85B. JNJ has a lower revenue growth (3 year average) of 0.7, as compared to the industry average of 6.9. JNJ has higher operating margin of 23.8%, ttm, as compared to the average of 22.3. However, JNJ has lower net margin of 12.9%, ttm, comparing to the average of 16.4%, ttm. JNJ also generated lower ROE of 13.6, comparing to the average of 17.2. JNJ's P/E of 24.3 is higher than the industry average of 17.2 and JNJ's 5 year average of 16.5. JNJ's forward P/E of 12.5 is lower than S&P 500's average of 13.3. Below is a table comparing JNJ's key stats to its main competitors. JNJ could be currently overvalued with highest P/E of 24.3 and lagging net margin of 12.9%.
| | | | | | |
| --- | --- | --- | --- | --- | --- |
| Company Name (Ticker) | P/E | Revenue Growth (3 year average) | Operating Margin, ttm | Net Margin, ttm | ROE, ttm |
| Johnson & Johnson | 24.3 | 0.7 | 23.8% | 12.9% | 13.6 |
| Pfizer Inc. (NYSE:PFE) | 21.0 | 11.8 | 26.5% | 15.6% | 11.3 |
| Novartis AG (NYSE:NVS) | 17.2 | 8.5 | 20.0% | 16.5% | 14.1 |
| Merck & Co Inc. (NYSE:MRK) | 19.7 | 26.3 | 18.6% | 14.2% | 12.2 |
| GlaxoSmithKline PLC (NYSE:GSK) | 14.5 | 4.0 | 27.6% | 18.6% | 72.5 |
| Roche Holding AG (OTCQX:RHHBY) | 20.6 | -3.9 | 28.5% | 19.5% | 80.8 |
Source: Morningstar
Technical Analysis
On January 25, 2013, JNJ closed at $73.92 with 1.12% gain. JNJ had been trading in the range of $61.71-$73.93 in the past 52 weeks. JNJ has a low beta of 0.54. The MACD (12, 26, 9) had been showing a bullish trend and the MACD difference diverged on the last trading day. The momentum indicator, RSI (14), is showing a strong bullish momentum at 74.00, where above 70 is considered as over-bought. JNJ is currently trading above its 50-day MA of $70.66 and 200-day MA of $67.16, as seen from the chart below. JNJ is short-term bullish, technically.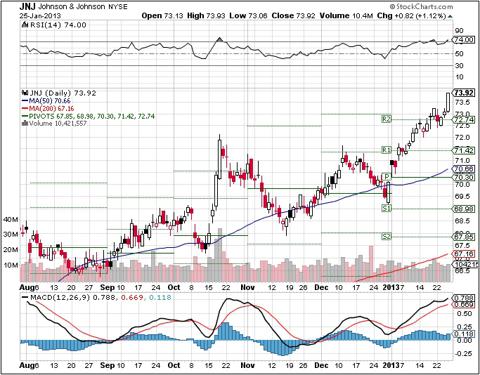 Source: StockCharts.com
Reviewing Options
The last reviewed credit put spread of Jan. 19, 2013 $65/$67.5 put had resulted the maximum gain of $0.34, yielding 15.74% return on margin. For conservative investors, a credit put spread of Apr. 20, 2013 $67.5/$70 put can be reviewed if JNJ pulls back to $71/$72 price range. This new credit put spread will allow investors to gain some upside potentials while having the worst case scenario to acquire JNJ stock at a price below $72 if JNJ falls below $72 upon options expiration.
Note: All prices are quoted from the closing of January 25, 2013 and all calculations are before fees and expenses. Investors and traders are recommended to do their own due diligence and research before making any trading/investing decisions.
Disclosure: I have no positions in any stocks mentioned, and no plans to initiate any positions within the next 72 hours. I wrote this article myself, and it expresses my own opinions. I am not receiving compensation for it (other than from Seeking Alpha). I have no business relationship with any company whose stock is mentioned in this article.