The first mover advantage has been one of the great myth of innovation. The same has proven to be true with the recent initial public offerings (IPO) of companies in the social media sector. Facebook (FB), Groupon, (GRPN), Zynga (ZNGA), Angie's List (ANGI), and FriendFinder Networks (FFN) are all trading well below their respective IPO prices. There are many reasons for this, all which result in Facebook being the only suitable pick for long-term investing by strategic investors.
Liking the Rebound
Facebook has started to recover after its disastrous IPO. Down almost 30% from its year high of $45 shortly after its IPO in May 18, Facebook has surged more than 17% over the last month to trade around $31.50. The potential of its new Graph Chart search vehicle should continue rallying the stock.
As the chart below reveals, Facebook is the only social media stock that is profitable and has attractive financials that project a bullish future. The rising sales growth for Angie's List, Groupon and Zynga with declining earnings per share evince that new revenues are costing far more than the earnings produced… not good and not sustainable. Unprofitable at about $0.65 a share with a high short float and declining sales growth, FriendFinder Networks offers little to those looking to establish either a long or short position.
| | | | | | |
| --- | --- | --- | --- | --- | --- |
| Metric | Facebook | Angie's List | FriendFinders Networks | Groupon | Zynga |
| Price-to-Cash | 6.54 | 10.31 | 1.67 | 2.88 | 1.48 |
| Profit Margin | 6.24% | (44.65%) | (11.32%) | (1.40%) | (46.51%) |
| Sales Growth Quarter | 32.29% | 75.03% | (6.06%) | 32.17% | 3.20% |
SOURCE: FINVIZ
An IPO Does not an Economic Moat Make
Facebook has an economic moat that the others do not: the numbers tell the story here. An economic moat protects a business from competition, according to Warren Buffett. The economic moat from Facebook results from its more than 1 billion members, which account for one-fifth of the daily page views on the Internet. The task ahead for Facebook is obviously monetizing the billion+ members who form its economic moat. That has been taking place, as revealed by Facebook's increasing revenues.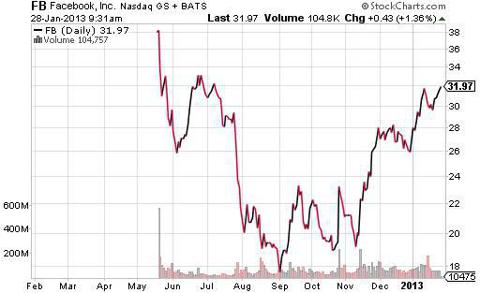 Not only do Angie's List, Groupon, Zynga and FriendFinder Network not have an appreciable economic moat, each is threatened by many rivals, including Facebook. Craigslist and Facebook offer listings for the professional service providers found on Angie's List. There are many different venues online for downloading the coupons offered by Groupon. Games like those of Zynga are all over the web, as is the adult social network from FriendFinder Networks.
As to its competitors, Facebook has dispatched MySpace. Google+, the social "spine" for Google, has a fraction of the members of Facebook who only post once every 12 days. By contrast, 87% of Facebook users go online daily. Facebook is now teaming up with Monster Worldwide (NYSE:MWW) and BranchOut to take on LinkedIn (LNKD) in employment services. Moreover speculation is growing that Facebook will soon be entering the dating market.
The breadth of Facebook's economic moat compared to that for Angie's List, FriendFinder's Network, Groupon and Zynga can be seen in the recent stock performance: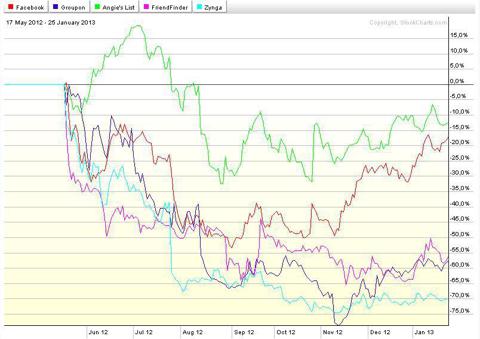 Facebook Forever
In the third quarter, sales rose 32% for Facebook to $1.26 billion, topping the analyst community consensus of $1.23 billion. Particularly promising was the increase in mobile advertising to $150 million. Heavy insider buying was another bullish sign, as is the increase in institutional ownership. According to Investing legend Peter Lynch, there are many reason for insiders to sell, but only one to buy: The expectation that the share price will continue to rise. Investors should heed this sage advice and consider Facebook due to its increasing revenues, rising insider ownership, and the potential of the Graph Chart.
Disclosure: I have no positions in any stocks mentioned, and no plans to initiate any positions within the next 72 hours. I wrote this article myself, and it expresses my own opinions. I am not receiving compensation for it (other than from Seeking Alpha). I have no business relationship with any company whose stock is mentioned in this article.