Shares of Coach (NYSE:COH) traded down sharply following the release of their fiscal second quarter earnings announcement. The weak North American sales data now clearly shows evidence of competitors such as Michael Kors (NYSE:KORS) and Fifth & Pacific's (FNP) Kate Spade brand beginning to steal market share. I will admit that in my prior article on Coach anticipations were for a strong holiday quarter. However the company delivered the opposite and cited the following as reasons to why: "First was the muted consumer environment in the U.S. with a fiscal cliff uncertainty weighing on shoppers and a slow recovery from Hurricane Sandy in the Tri-State area. Second was intensified competition and heightened promotional activity in the women's bag and accessory category, especially in the weeks leading up to Christmas."
Wall Street is always looking for a company to jump on and kick to the curb, and Coach is currently the scapegoat. You may read articles saying this company is headed to zero and the Coach brand is now dead, but be careful not to fall into the negative sentiment. Digging deeper into the company's growth strategy moving forward reveals a very different story. While 2013 may be a transition year for Coach, the long-term growth story appears to remain intact.
Transition Year
It should come as no surprise to investors that 2013 is expected to be a softer year than 2012, looking back at CEO Lew Frankfort's comments following the fiscal Q4 earnings release he clearly states:
"As we look forward to FY13, we are mindful of balancing the impact of the muted consumer environment in North America and a softening global macroeconomic outlook…….FY13 will be an investment year, as we amplify our actions to drive long-term growth"
It is very surprising to me that the stock fell so much following the earnings release given the company's guidance earlier in the year. To put things in perspective, CapEx spending was $61 million during the recent quarter compared to $39 million in the same quarter a year ago. Expectations still remain for CapEx of $250 million during the fiscal year compared to $184 million in fiscal 2012. Wall Street does not like to see lumpy capital expenditures, however Coach management has stressed they are building the brand for the long term, not to meet short-term analyst estimates.
During the first quarter of 2013 Coach announced they acquired an international distributor which negatively affected operating margins. The company is projecting international acquisitions to cause an increase of roughly 150 basis points in expenses (SG&A). Operating margins are expected to compress to 31% in FY13 from 31.74% in FY12. While this may spook short-term traders, long-term shareholders should be able to see the value of investing in its business. Taxes are also expected to increase to 33% (from 31% in FY12) as the company further refines their international tax strategy. It is likely we may see some net profit margin compression in FY13 as a result of this.
Becoming a "Lifestyle Brand"
One slogan that was thrown around quite a bit on the company's earnings call was "Lifestyle Brand". This is the phrase critics are really attacking. As Coach continues to lose market share they are looking for ways to add revenue from new products. This rebranding is simply a way for the company to stay relevant given the increased competition. While I believe these changes will be short lived, the current market environment calls for new ways to reach consumers. I have to applaud Coach for moving with the market and most importantly not "cheapening" its image. CEO Frankfort stressed that during the quarter Coach "maintained our pricing strategies, protected our brand proposition."
One way of appealing to a wide audience and growing into the lifestyle brand is through the Men's Stores. While this concept is not new (it has been in place for a few years), the decision to open separate Coach Men's Stores has proven a success. Last year the men's division brought in sales of $400 million and expectations for the current year are $600 million (50% growth). Management reiterated during the recent earnings call they are on pace to achieve these goals.
Another new opportunity is footwear. In March the company is re-launching shoes in roughly 170 retail stores. A handful of flagship stores will install "shoe salon showcases" to display the new merchandise. Given the company's prior experience in this area, management does not anticipate margin compression as a result of these new product launches. The company is confident in their ability to control costs and market appropriately.
As certain fads like designer sunglasses and flashy watches wear off, I anticipate Coach returning to its core business of luxury leather goods. Additionally as new fashion trends emerge, competitors who sold themselves cheaply to any consumer in any price range, will feel the strain of repairing a cheapened brand image.
China Opportunity
China is still the largest growth opportunity for Coach moving forward. The company currently operates 117 locations with 100 on the mainland. Expectations are for 30 new stores to be opened in China this year. All of these openings are planned to be dual gender stores due to the size of the Men's opportunity. Square footage in China is expected to grow by roughly 35%, and sales are projected to total at least $400 million. The company also launched a new distribution channel for e-Commerce in China last November.
During the second fiscal quarter, sales in China increased 40% and showed double digit comps. Even if we see growth in China slow in the quarters and years to come, it will still be a major driver to the company's growth story.
International sales (which include China) were up 12% quarter over quarter to $411 million. There is still tremendous opportunity for expansion into markets like South America, Europe, and Asia-Pacific.
Cash Flow Generation
Regardless of the capital expenditures and lower North American sales, Coach still has the ability to generate tremendous cash flow. During the second quarter net cash from operating activities was $628 million compared to $611 million during Q2 of FY12. Free cash flow in the second quarter was an inflow of $567 million versus $572 million in the same period last year (it is worth noting that the dividend payment was shifted to the second fiscal quarter compared to the third fiscal quarter last year).
This cash flow generation has led to an impressive balance sheet with minimal debt ($485,000) and $859 million in cash and short-term investments. Coach has a strong track record of returning capital to shareholders through dividends and share repurchases. During the fiscal second quarter they repurchased and retired roughly 4 million shares (roughly $225 million) bringing the FY13 total to $400 million. Currently $1.4 billion is authorized under the share repurchase program.
| | | | | |
| --- | --- | --- | --- | --- |
| | Basic Shares | % Change | Diluted Shares | % Change |
| Recent Quarter | 282,693,000 | -1.94% | 286,223,000 | -2.69% |
| 30-Jun-12 | 288,284,000 | -2.24% | 294,129,000 | -2.46% |
| 2-Jul-11 | 294,877,000 | -5.31% | 301,558,000 | -4.52% |
| 3-Jul-10 | 311,413,000 | -3.80% | 315,848,000 | -3.00% |
| 27-Jun-09 | 323,714,000 | -9.00% | 325,620,000 | -9.63% |
| 28-Jun-08 | 355,731,000 | -3.77% | 360,332,000 | -4.51% |
| 30-Jun-07 | 369,661,000 | | 377,356,000 | |
Source: Coach SEC Filings
Conclusion
In reviewing Coach's business model and expansion plans moving forward, the company appears to be headed in the right direction. Management sees tremendous potential in the years ahead and is focused on preparing for that today, even if it is at the expense of the short-term share price fluctuations. Investors today are very short-term minded and tend to simply look at top line and bottom line earnings growth. If either slows, they abandon the stock and move on to the next company. Further investigation however reveals a strong brand name which is investing for the future and not a slowing growth story.
While investors are likely to wait and see a turnaround story in Coach before bidding shares up, the stock is trading at extremely low valuation levels. Price/Sales, Price/Book, Price/Cash Flow, and Price/TTM Earnings are all below their five year averages. In my opinion, investors looking for a long-term entry point may want to begin scaling into positions. Given the consolidation period we have witnessed since August of 2011, it is likely this stock could be range bound between $50-$60 until the growth story gets underway again. We may be in a "show-me" period before heavy buying resumes.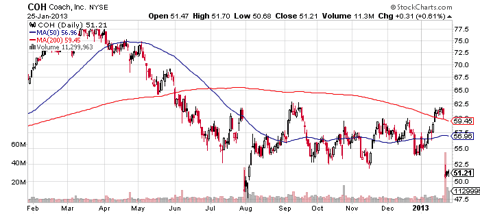 Consider your investment goals and objectives before initiating a position in Coach and please remember that the value of investments in equity securities, like COH, will fluctuate in response to general economic conditions and to changes in the prospects of particular companies and/or sectors in the economy. If you see a fit in your portfolio, I think being a long-term shareholder has the potential to provide attractive returns.
*Note: All data reported and graphed is pulled directly from Coach SEC Filings and Press Releases.
Disclosure: I have no positions in any stocks mentioned, and no plans to initiate any positions within the next 72 hours. I wrote this article myself, and it expresses my own opinions. I am not receiving compensation for it (other than from Seeking Alpha). I have no business relationship with any company whose stock is mentioned in this article.