Chemtura Corp. (NYSE:CHMT) continues to trade near new 52-week highs as the company is improving its financial position. Chemtura is growing from its new product additions, strong performance of the company's AgroSolutions and the expected divestiture of its Consumer products unit. This trend will continue throughout 2013 as Chemtura is projected to increase earnings by 24%.
Chemtura Corporation is a global manufacturer and marketer of specialty chemicals, agro chemicals, and pool, spa and home care products. Chemtura has a current market cap of $2.4 billion while trading at a price earnings (P/E) ratio of 21. The stock price is up 88% over the past 52 weeks. The stock price languished through the summer months but has accelerated throughout the fall as its new strategies have been positive.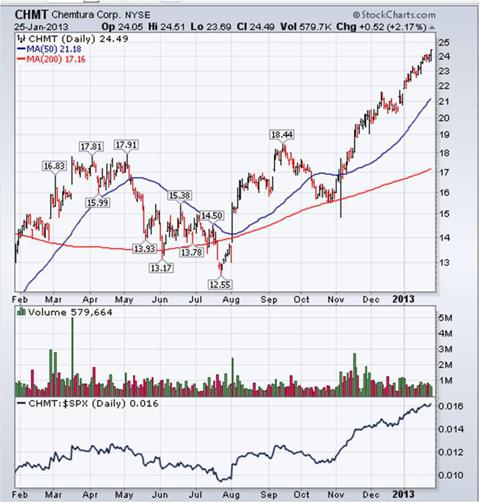 On January 25, 2013, Chemtura Corporation announced it has entered into an amended and restated asset purchase and contribution agreement with an affiliate of SK Capital Partners for the sale of its Antioxidant and UV Stabilizers business (consumer products unit) for $200 million. The terms now provide for approximately $97 million of cash payable at closing, the receipt of $9 million in preferred stock and the assumption of pension, environmental and other liabilities totaling approximately $93 million. The purchase price is subject to a post-closing net working capital adjustment. The transaction remains subject to customary closing conditions and is expected to close in the first quarter of 2013.
Chemtura Corporation will also get a 2013 boost from its new joint venture strategy. Chemtura has entered into a joint development agreement with Caterpillar Inc. (NYSE:CAT) for novel applications of Chemtura's Duracast hot-cast urethane pre-polymer technology for construction and mining equipment. Initial products to be jointly developed include non-pneumatic tires for certain Cat machines. Prototype development is under way with field evaluation expected to begin by early 2013.
Chemtura narrowly missed Wall Street expectations when it reported Q3 2012 earnings on November 5. The company reported Q3 adjusted net earnings of $0.35 a share, up from a $0.21 managed gain during the same three months in 2011, but still trailing analyst expectations by a penny. Net sales fell 4% from year-ago levels to $743 million, also missing estimates for $777.75 million in Q3 sales.
The bright spot for Chemtura was the company's AgroSolutions and Petroleum Additives divisions. Chemtura AgroSolutions' net sales increased $9 million or 9%, resulting from $10 million in higher sales volume and $2 million in higher selling prices. Operating income increased $10 million reflecting a $4 million increase from volume and favorable product mix, $2 million lower SG&A and R&D costs, the higher selling prices and a $2 million decrease in other costs. Brazil has had a positive effect and also benefited from a strong growing season as well. North America finished strongly led by an increase in seed treatment products as a result of a warmer-than-normal weather pattern. Operating income reflected the benefit of strong volumes and the improvements in the cost base following a restructuring that was implemented in the latter part of 2011.
On a managed basis, third quarter 2012 gross profit was $192 million, as compared with $174 million in the same period last year. Gross profit as a percentage of net sales increased to 26% as compared with 23% in the same quarter of 2011. The increase in gross profit was primarily due to higher selling prices and lower raw material and other costs, partially offset by a decrease in sales volume. Net earnings before income taxes on a managed basis in the third quarters of 2012 and 2011 were $46 million and $29 million, respectively.
First Call analysts have a consensus "Buy" recommendation on Chemtura with a 1.8 rating. Chemtura is projected by First Call analysts to increase 2013 earnings by 24% and 2014 earnings by another 26%. Earnings in 2013 are projected to be $1.81 while 2014 will increase to $2.29. Based on a P/E of 18, Chemtura has a 12-month price target of $32.58.
Disclosure: I have no positions in any stocks mentioned, and no plans to initiate any positions within the next 72 hours. I wrote this article myself, and it expresses my own opinions. I am not receiving compensation for it (other than from Seeking Alpha). I have no business relationship with any company whose stock is mentioned in this article.