Although it can be dangerous to rely on a discount cash flow (DCF) analysis, it can be a very useful tool for determining a stock's value, particularly when there is a lot of noise and emotion surrounding a stock. A DCF relies on many assumptions and can be flawed as a result. That's why whenever I undertake a DCF analysis, I like to look at a range of scenarios which question my original assumptions. I also look at a valuation range rather than an absolute number.
Let's look at how Apple (NASDAQ:AAPL) performs in the DCF under some different scenarios.
Scenario 1 (The base case)
Apple sees slowing revenue growth but continues to grow at a decelerating rate.
Revenue and EPS for 2013 are slightly ahead of analyst expectations at $189bn and $48.25 respectively for 2013.
Gross margins stabilize at 39% in 2014 and remain the same going forward.
Revenue growth is 15%, 12% and 9% in 2014, 2015 and 2016 respectively.
The tax rate is assumed to be 26% throughout.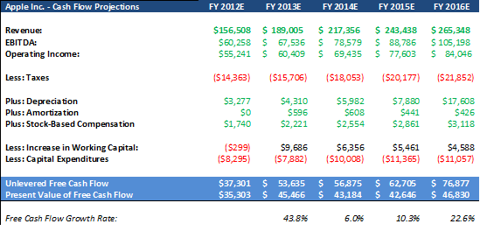 Terminal EBITDA method

Terminal Growth Rate method

In this scenario both methods suggest Apple is heavily undervalued. Even if we use a 14% discount rate and a low EBITDA multiple or growth rate Apple is still over a $100 below its current valuation.
Scenario 2 (The zero growth scenario)
Apple stops growing completely.
Revenue for 2013 is $180bn; earnings are virtually flat on 2012 at $43.98.
Apple's revenue growth is 0% in subsequent years.
Gross margins fall to 35% in 2014 and worsen to 33% and 31% in 2015 and 2016 respectively.
Operating income falls each year as a result.
The tax rate is assumed to be 26% throughout.
Terminal EBITDA method

Terminal Growth Rate method

In this zero growth scenario Apple still looks undervalued. Even if Apple never grows again and we use a zero percent terminal growth rate Apple still looks to be undervalued by $50-$250.
Scenario 3 (Disaster scenario)
Demand for Apple products collapse.
Any future product launches are a failure.
Apple revenue is $180bn for 2013 and earnings are virtually flat at $43.98.
In 2014, 2015 and 2016 revenue declines 20% each year.
In 2016 revenue is just $92bn almost half that of 2013.
Gross margins fall sharply as Apple is forced to cut prices and loses lucrative subsidy deals. Gross margins fall to 33% in 2014, 28% in 2015 and 25% in 2016.
Operating income falls to just $13.5bn in 2016 from $55bn in 2012.
The tax rate is assumed to be 26% throughout.
Terminal EBITDA method

Terminal Growth Rate method (Assuming -10% Growth going forward)

In this scenario Apple looks overvalued at its current price. But despite radically slashing revenue and margins Apple still doesn't look that expensive. The DCF suggests a value of somewhere between $0 and $120 lower than Friday's closing price $440.
Conclusion
No matter how you try and crunch the numbers it's tough to knock Apple's valuation down below its current share price. Even in scenario two if Apple never grows again the stock is still undervalued according to this analysis. With a 0% terminal growth rate and 11% discount rate the stock should be worth around $548.
I think this analysis shows there is a lot more upside potential than downside risk to owning Apple. The huge cash pile which is almost a third of Apple's current market cap should limit the downside.
The market seems to be implying a high probability that scenario 3 will occur, a collapse in Apple's revenue and margins. There is a fear that Apple may go the way of Research in Motion (RIMM) and Nokia (NYSE:NOK), two companies whose shares have fallen over 80% since the end of 2007. I think that's a mistake and I will go into further more detailed analysis on this in another article.
Secular Growth
For Apple's revenue to decline at 20% in future years or even be flat the company would have to execute poorly. Secular growth in both the smartphone and tablet markets will continue for at least the next few years. Gartner predicts 369 million tablet sales in 2014. That's over three times the expected 119 million sales for 2012. Apple would have to see catastrophic market share losses for scenario two or three to occur.
New Products
My model and scenarios do not account for any new products Apple may have coming out. A new product such as an Apple TV could help to grow revenue in future years.
Final Conclusion
If you think demand for Apple's products won't collapse the stock looks undervalued.
Disclaimer: This article intended as general information only, and is not intended to provide specific advice, or due diligence to be relied on. As such, the information presented in any article does not consider any reader's personal investment objectives or financial situation; therefore, no article makes any personalized recommendations. See full disclaimer here.
Disclosure: I am long AAPL, HPQ. I wrote this article myself, and it expresses my own opinions. I am not receiving compensation for it (other than from Seeking Alpha). I have no business relationship with any company whose stock is mentioned in this article.
Additional disclosure: I own March Call Options for Apple with strike prices of $590, $635, $655, $670.