Regardless of what the market as a whole is doing these days, that is moving up, down or sideways, we notice extremely bullish undercurrents to the market. This is on a daily basis, mind you, and we think this shows exactly how strong the current market truly is. We have talked about it before, but we really want readers to focus upon the daily advance/decline line as well as the new 52-week highs as compared to the new 52-week lows. On a daily basis there are hundreds of stocks hitting new yearly highs and only a handful hitting new yearly lows.
Chart of the Day
The FTSE's chart looks awfully similar to others we have been watching here in North America and around the world. One must ask the question about whether the past few years have been spent consolidating technological gains and recovering from two recessions in order to put us in place to rally to new highs.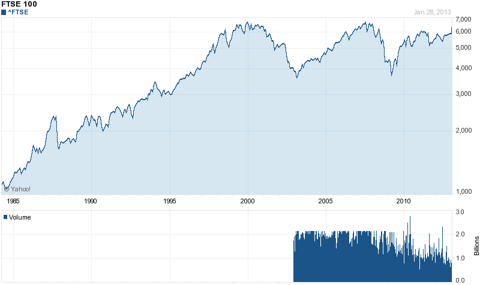 Chart courtesy of Yahoo Finance.
We have economic news due out today, and it is as follows (these are the consensus estimates):
Case-Shiller 20-City Index (9:00 AM EST): 5.2%
Consumer Confidence (10:00 AM EST): 65.1
Asian markets finished higher today:
All Ordinaries - up 1.07%
Shanghai Composite - up 0.53%
Nikkei 225 - up 0.39%
NZSE 50 - down 0.10%
Seoul Composite - up 0.84%
In Europe markets are mixed this morning:
CAC 40 - down 0.13%
DAX - down 0.10%
FTSE 100 - up 0.18%
OSE - up 0.20%
Technology
Generally we like to know exactly what is going on with our investments at all times, if something is rising or falling (or simply stuck in neutral for that matter) we tend to like to know why. When it comes to this most recent price action in OCZ Technology (NASDAQ:OCZ), which we hold in our retirement portfolio, we are stumped. We cannot argue with the movement upwards, for that is preferable than unexplained movement in the other direction, but at this time the only explanations we can find continue to be rumors and nothing of substance - at least nothing that has been publicly released. The one big event on the horizon is the company should in the near future be releasing their corrected financial numbers but we doubt these numbers will be good as it is already quite obvious that the error was in the company's favor to begin with.
The following chart shows the stock coming back to life and bouncing out of the $2/share range, and if this rally should continue we would expect some resistance around the $3/share level - especially after the current run and the possible need for consolidation.
Chart courtesy of Yahoo Finance.
Yesterday shares in 3D Systems (NYSE:DDD) fell $9.57 (13.86%) to close at $59.50/share on volume of 11.3 million shares. There was no news out on the company other than a small acquisition and the slow news day coupled with the big move made some writer at Bloomberg attribute the drop to a Seeking Alpha article published earlier and also a Motley Fool article also calling the current market in 3D printing a bubble (the Bloomberg article can be seen here). This opened the floodgates to others to do the same, such as Investor's Business Daily (see article here), where the news was recycled and spun to suit their needs but really served no purpose for investors. Worse still is the fact that the company was forced to come out and address questions from the NYSE regarding the "unusual" activity in its share price (that press release is located here) which we find ridiculous. At the end of the day this stock was more than due for a correction after its huge run-up. Trying to assign blame/credit for the move was a petty move by the guys over at Bloomberg which must have had a slow news day and needed to crank something out for their editor. The notion that a Seeking Alpha and/or Motley Fool article(s) dropped the stock seems a bit overdone. The bottom-line is that this needed a pullback and now that it occurred everyone is searching for a reason…well how about the HUGE recent run-up?!?!
Others may not believe it, but yes, gravity does exist..in the stock market too!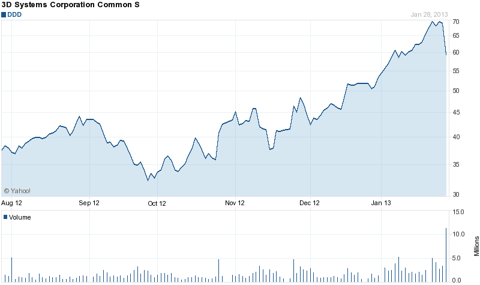 Chart courtesy of Yahoo Finance.
Consumer Goods
We were a bit surprised yesterday by comments out of Nomura regarding PetSmart (NASDAQ:PETM) and their outlook. The firm downgraded the stock to 'Reduce' from its previous 'Neutral' rating while simultaneously cutting its price target from $72/share to $55/share based on their new outlook. A few points here, first being that we applaud a brokerage for at least attempting to go bearish a bullish story before the proverbial bubble pops and second we like the fact that the company actually lowered their price target to go along with their new outlook - too often in the industry the rating is essentially a sell but the price target indicates the expected price action will be positive. Looking at the reasoning behind the adjustments to the firm's outlook, the main thesis is that Amazon will be increasing competition now that they have completed their first wave of warehouse expansion and can now ship cheaper to consumers. Yes that may be true, but to think that this somehow makes shipping 50 lb bags of dog food through FedEx is still laughable. Also the increased cost of warehousing cuts in to the margin reduction Amazon would previously have been able to offer and the fact the third parties sell via Amazon's marketplace still does not exactly answer the question of how you move 50 lb bags of dog food through the mail. Also, is Amazon planning on giving online education classes to dogs, or how about their answer to the dog grooming? Are fish going to be shipped through the mail? There are just too many questions at this point and to think that Amazon is going to kill this great brand outside of maybe normal supplies and toys is a bit premature in our opinion. We may not agree with the analyst's comments or outlook, however we can certainly respect the call from many different levels. With shares having fallen to $63.63/share after closing lower by $6.35/share (9.08%) yesterday we think this could offer a buying opportunity.
Herbalife (NYSE:HLF) shares were hit hard yesterday after a pyramid scheme was uncovered in Kentucky which was claiming to be a multi-level marketing, MLM, company. The company in question, Fortune hi-Tech Marketing, was a Lexington, Kentucky based firm and was a classic pyramid scheme according to regulators. Those involved with the company, numbering 100,000+, were paid more for recruiting new members than selling the goods (which it must be noted were legitimate goods ranging from home security systems to satellite television). The FTC did not target Herbalife, but the move certainly spooked some investors and put to an end, at least for a day, the upward rise in the shares. The stock traded 28.1 million shares yesterday as shares closed at $40.02/share after falling $3.57 (8.19%).
Biotechnology
The biggest move yesterday was from Keryx Biopharmaceuticals (NASDAQ:KERX) which saw shares rise $2.63 (76.60%) to close at $6.06 on volume of 67.4 million shares during Monday's session. The spark was from the company's drug to treat kidney disease having met late-stage trial goals. The company held a conference call to discuss the results and stated that they will attempt to gain approval for the drug starting next quarter in the US and Europe. The market for the drug is currently $1.5 billion, however growth in patients suffering from kidney failure is expected to grow strongly over the next 7 years. After such a large run-up it will be interesting to see exactly what the pullback is, our guess is somewhere between 40-60%, especially when one considers the number of day traders who rushed into this name yesterday.
Disclosure: I am long OCZ. I wrote this article myself, and it expresses my own opinions. I am not receiving compensation for it (other than from Seeking Alpha). I have no business relationship with any company whose stock is mentioned in this article.