Remember back to the heady days of late 2007 when all was warm and cozy inside the real estate bubble and then out of nowhere the floor dropped out? Well, a precursor to the drop was a rise in delinquency rates on residential real estate loans. The Federal Reserve has kept tabs on delinquency data since 1991, the last time a real estate bubble caused a recession. Can anyone say Keating Five?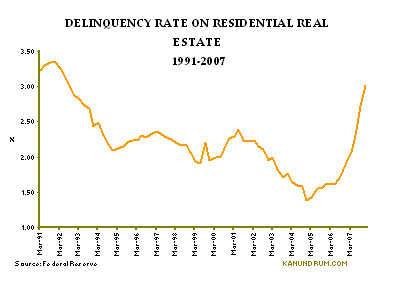 The above chart illustrates that in the latter half of 2007 the delinquency rates on residential real estate loans held by major banks began to increase dramatically. In fact, it reached levels not seen since the S&L crisis. Of course, we all know the next plot point in the story. Now look at another chart: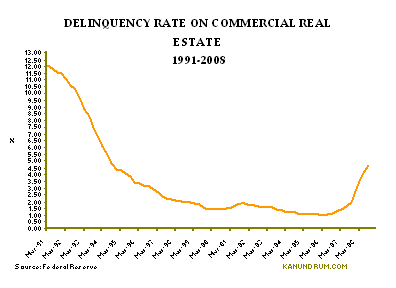 This chart shows commercial real estate delinquencies through Q3 '08, and should look familiar because it appears eerily similar to the residential chart circa Q3 '07. In fact, commercial real estate delinquency rates have been increasing by an average of 20% quarter over quarter since Q2 '07. Until recently, this rate of delinquencies has had limited impact on the $800 billion commercial mortgage backed security market (CMBS). However, two developments could change all that: rising CMBS delinquencies and a record amount of commercial refinancing.
In November 2008, two loans made by JPMorgan (NYSE:JPM) and repackaged into CMBS, defaulted. This led to an increase in the delinquency rate on CMBS. Realpoint Research reported that through November the delinquent unpaid balance for CMBS increased by $1.63b to $7.026b. This represents a 122% increase from January 2008 when delinquent balances were $3.16b. This matters for two reasons: banks still hold large portfolios of CMBS (in November Citi (NYSE:C) received TARP funds for its bad CMBS portfolio) and REITS have a record amount of refinancing to complete in 2009.
The nature of commercial real estate loans require REITS (and other borrowers) to finance for shorter periods of time (5-10 years) with a balloon payment often attached. Foresight Analytics and the Real Estate Roundtable estimate that between $160 -$400b needs to be refinanced in 2009. Typically, REITS could borrow money from their investment banker; the banker would package the loan into a CMBS and move to the next deal. Unfortunately, due to the credit crisis and rising delinquencies, the CMBS market has virtually shut down. Left unattended this could be the next WMD for the financial markets. As the economy weakens, REIT cash flows will suffer at the exact time that they need cash flows to support new debt.
The fact that commercial mortgages are in trouble has not been lost on the markets. Since the Fed et al have pumped liquidity into the system, virtually all credit spreads have eased. The TED spread, LIBOR and even 2-year swap rate have begun to "normalize" signaling a thaw in the credit markets…with one exception. In November, the cost to insure $10 million in CMBS exposure soared over $800,000 from $200,000 in September.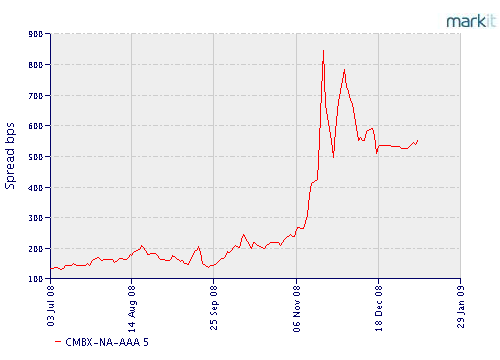 According to Markit, the cost to insure the CMBS retreated to $550,000 and recently has begun to increase. Now, I did read Bill Gross's suggestion about buying what the government is going to buy, just do it before the government does. I certainly do not want to take the other side of a Pimco trade, and I do think the government will eventually purchase distressed CMBS, but to date, the government has to be reactive as opposed to proactive and it would be political suicide to bail out Donald Trump before Joe the Plumber. It will take a major default or bankruptcy before the government steps in and saves the sinking ship.
Disclosure: I am long SRS.