Procter & Gamble (NYSE:PG) is the second-largest consumer staples company in the S&P 500, lagging just Wal-Mart (NYSE:WMT). PG is involved in just about every consumer segment there is. It has five segments: Beauty, Grooming, Health Care, Fabric and Home Care, and Baby & Family Care. One of the strengths of PG is that value of its brands. Some of the brands that Beauty contains are Head & Shoulders, Olay, and Pantene. Grooming contains the brands Braun, Fusion, Gillette, and Mach3. Health Care is another strongly-branded segment with Always, Crest, Oral-B, and Vicks. Fabric and Home Care drives sales from Ace, Dawn, Downy, Duracell, Febreeze, Gain, Iams, and Tide. The Baby and Family Care segment operates under the Bounty, Charmin, and Pampers brand names. In May 2012, PG completed the sale of its Snacks business segment (which included Pringles) to Kellogg (NYSE:K) for $2.7B in cash. It'd be a good bet that consumers across the board have at least one of these brands in their houses. This shows the strength of PG.
PG should thus be valued on a by each segment over other methods. It is a leader in each of the segments, almost as if it were 5 separate companies.
In its most recent quarter, PG had one of the best quarters in recent times. It grew organic sales 3%, which was at the high end of management's guidance (Source: PG Q2 Presentation):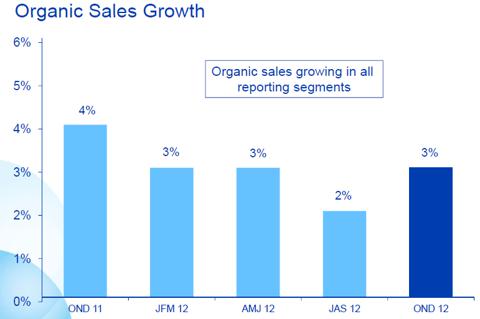 Organic growth was driven by 2% increase in volume and 2% increase in pricing. However, geographic mix reduced sales by 1%. Showing the strength of its businesses, PG grew market share in the quarter. "All-in" EPS was $1.39 in Q2 vs. $1.18 to $1.25 guidance. Core EPS was up 12% Y/Y to $1.22 (Source: PG Q2 Presentation):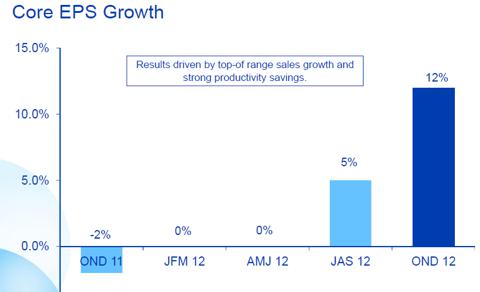 Management told the investment community that it wanted to grow PG through productivity and cost savings improvement. In the quarter, it grew productivity and improved on costs by 160 bps. Already in the first half of the FY, PG returned $7.2B to shareholders with $3.2B from dividends and $4B in stock repurchases. Due to the strong first half of its FY, management increased guidance. They foresee organic sales growth of 3% to 4% vs. 2% to 4% previously, with much of the growth coming from volume growth combined with pricing increases. Geographic mix is expected to be a weakness. All-in sales will only be 1% to 2% due to an expected -2% forex headwind. This will lead to bottom-line growth of 3% to 6% vs. 1% to 4% previously. This leads to all-in EPS of $4.04 to $4.14 against $3.78 to $4.02 previous estimates. Core earnings will grow 6% to 9% on the year. Given this guidance, the new earnings outlook is core EPS of $3.97 to $4.07 vs. $3.80 to $4 before hand. Management is also looking to buyback more shares. On a regression analysis, PG would finish around 2,892M shares outstanding (Source: Capital IQ):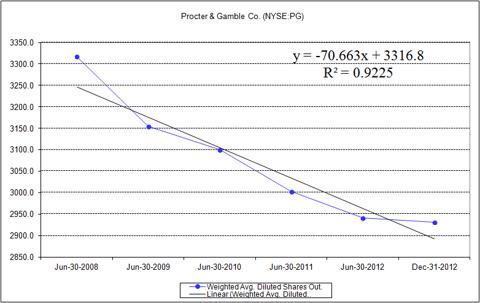 Management is looking to buyback a large amount this year and is already down to 2,931M shares outstanding. Management targeted $5 to $6B in buybacks for this fiscal year. They have already done $3,984M through 6 months. If one were to assume an average buyback of $70/share (below where it is currently trading now) and the top value of $6B, management could only buy back about 28.8M more shares from the current 2,931M level. By taking 28.8M from 2,931M shares outstanding, there is a projection of 2,902.2M shares left. This affirms my 2,892M target. I will use the 2,892M regression value for this analysis.
The company is very consistent in its percentage of revenue from each segment (Source: Capital IQ):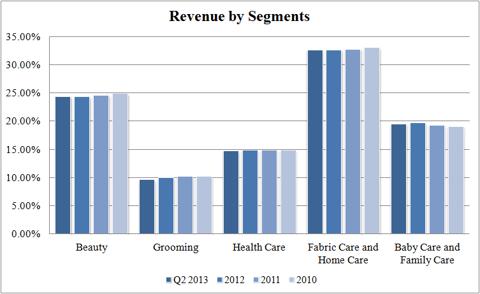 As evidenced by the graph below, PG generates most of its profit from its Fabric and Home Care Segment. This sector could be viewed as more valuable than the others to PG, but this percentage is declining as the other segments are growing faster (Source: Capital IQ):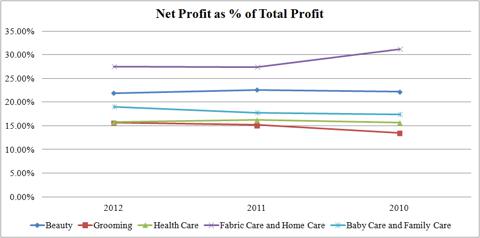 On top of the higher growth, the Fabric and Home Care is not as profitable as the other segments. The strongest segment by profit is actually the Grooming segment. Fabric and Home Care's profit margin has been on the decline the last 3 years. Margins across the board have been on the decline but with management's recent price increases, margins should once again trend toward more normal levels (Source: Capital IQ):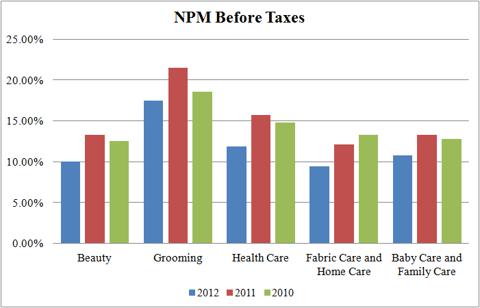 Valuation Method
The method used was to take the average P/E of the firms competing within the space as the Base case, and then the average standard deviation out. This creates a 68% confidence interval. For the earnings for each segment that will be discussed, earnings were forecasted out by backing out the 'Corporate earnings,' growing the total earnings by 3%, 4.5%, and 6% growth rates, and multiplying for each segment the average percentage of earnings that each is. The earnings for each segment are shown below:

Beauty & Grooming Segments
Competitors within this space would include Johnson & Johnson (NYSE:JNJ) and Unilever (NYSE:UL). Both of these large companies have competing products within this space. The multiples used were: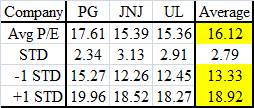 Beauty and Grooming have represented on average 22.25% and 14.8% of profits after tax. The values of the Beauty and Grooming segments on are: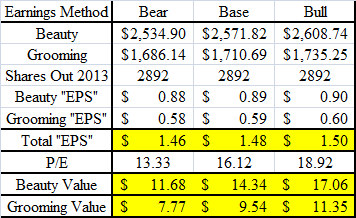 Health Care Segment
Competitors within this space would include Johnson & Johnson and Colgate-Palmolive (NYSE:CL). CL and JNJ have competing products within this space and are large caps like PG. The multiples used were:

Health Care represents on average 16% of profits after tax. The value of the Health Care segment is:

Fabric & Home Segment
Competitors within this space would include Colgate-Palmolive, Kimberly-Clark (NYSE:KMB), Clorox (NYSE:CLX), and Church & Dwight (NYSE:CHD). These companies dominate the market share in this segment. The multiples used were:

Fabric & Home represents on average 28.75% of profits after tax. The value of this segment is:

Clearly, this segment makes up the bulk of what PG is worth. However, it is the least profitable segment in the company and will not be the driver of growth.
Baby & Family Segment
Competitors within this space would include Kimberly-Clark and Clorox. This segment will be a growth driver in the decades to come, especially in emerging markets like the BRICs. The multiples used were:

Baby & Family represents on average 18.2% of profits after tax, and growing. In 2012, it represented nearly 19% of PG's profit. The value of this segment is:

Total Value
If one were to combine all of these segments' forecasted values, the total value of the company would range from: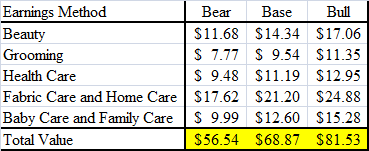 This Total Value is the projected value of the company at the end of its FY in June, and not a 12-month price target. With the stock trading north of $73 after Q2's results, the market is factoring in much more growth than management's middle-point estimates. The top value does create a potential gain of ~11.6%. To show an investor how close these values are to what management is projecting, the EPS total is shown below: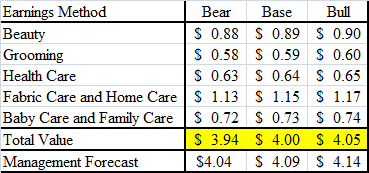 The values do differ by ~$0.09 for each. The difference may lie in the amount of shares bought back over the next 6 months. However, these are the growth rates that management is assuming for the FY. An underlying danger here is that management may be forecasting to buy back more stock than it can. This could lead to an earnings miss and a declining share price. I would lean towards them hitting the "Bull" target of $4.05 though, given the updated news from the quarter.
Management is trying to increase the margins of PG as they have lagged in recent years. The main value of the company still lies in its basic Fabric and Home Care segment. However, the growth is going to come from the other segments, especially Grooming and Baby & Family Care as PG expands even more internationally. The great part about PG is that its products are in every home and always in demand. Consumers rarely switch the kind of products that PG sells as they trust the brand. Given the valuation of the company, it would appear that PG is fairly-valued in the $70 range.
Disclosure: I have no positions in any stocks mentioned, and no plans to initiate any positions within the next 72 hours. I wrote this article myself, and it expresses my own opinions. I am not receiving compensation for it (other than from Seeking Alpha). I have no business relationship with any company whose stock is mentioned in this article.