Justin Kapla, President of SouthGobi Sands LLC, has been under an exit ban from Mongolia for approximately 3 months. His family in Minnesota believe his exit ban, which does not allow him to leave Mongolia, began at the same time as SouthGobi's Australian attorney Sarah Armstrong. Ms. Armstrong's exit ban was lifted just prior to Christmas 2012 on December 24, and it has been assumed to-date that there were no other SouthGobi employees left living under an exit ban in Mongolia thereafter.
SouthGobi Sands LLC is a wholly owned subsidiary of SouthGobi Resources (OTC:SGQRF). SouthGobi Resources is 58% owned by Turquoise Hill Resources (NYSE:TRQ). Turquoise Hill Resources share price was impacted worse than SouthGobi by prior news cycles regarding Ms. Armstrong's exit ban, but both stocks have risen significantly since Ms. Armstrong's travel ban was lifted December 24, 2012.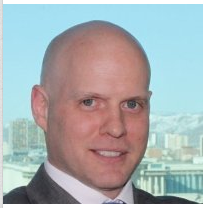 Photo of Justin Kapla from his LinkedIn home page.
A United States State Department Official stated, "We are aware of the case of U.S. citizen Justin Kapla, who has an exit ban in Mongolia. We are in contact with Mr. Kapla and are providing appropriate assistance. Due to privacy considerations, we are unable to comment further."
The family of Justin Kapla, was able to provide additional details on Mr. Kapla's situation in Mongolia. Justin Kapla previously had a short exit ban of several weeks in June 2012 prior to being able to visit his family in Minnesota. He discovered he was under an exit ban once again in October 2012 when he tried to take a trip to his company's office in Hong Kong.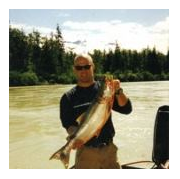 Photo of Justin Kapla, an avid fisherman in better times.
Justin Kapla is familiar with Mongolia having worked there for most of the past decade, first with Boroo Gold, then with SouthGobi. His wife is a native of Mongolia and they have two children.
Justin Kapla, a graduate of Elk River Senior High School in Minnesota, is unable to visit his parents, friends, three siblings, and niece in Minnesota or elsewhere during this exit ban. He has been able to communicate with them and move freely within Mongolia according to his family's understanding of the situation. The family, whom do not wish to be contacted further about this story, have no knowledge of whether Justin Kapla has been charged or even questioned in any matters related to his activities in Mongolia.
Articles in some Australian newspapers mentioned Justin Kapla alongside Ms. Armstrong's earlier situation in passing such as, "It is believed SouthGobi Sands president Justin Kapla, a US citizen, has also been banned from leaving the country." However, Mr. Kapla's case never received more than two sentences in any media source, and his situation was never confirmed (beyond "believed") until now. Although Mr. Kapla is on the Board of Directors of the Business Council of Mongolia, the Business Council of Mongolia's news service quoted the same Australian article regarding Ms. Armstrong's exit ban and never confirmed or highlighted Justin Kapla's exit ban.
The U.S. Embassy in Ulaanbaatar Mongolia 2013 Investment Climate Statement on Mongolia states:
Regularly reported since 2010, Mongolian public and private entities continue to abuse the exit visa system to pressure foreign investors to settle civil and commercial disputes... Neither current law nor regulation establishes a clear process or time-table for settlement of such issues. Nor does the law allow authorities to distinguish a criminal and civil case when detaining a person. In fact, the Mongolian government maintains the right to detain foreign citizens indefinitely without appeal until the situation has been resolved. [page 16]
Mr. Kapla's family in Minnesota added that local Congresswoman Michele Bachmann, and Senators Al Franken and Amy Klobuchar, have all been supportive and helpful to the Kapla family.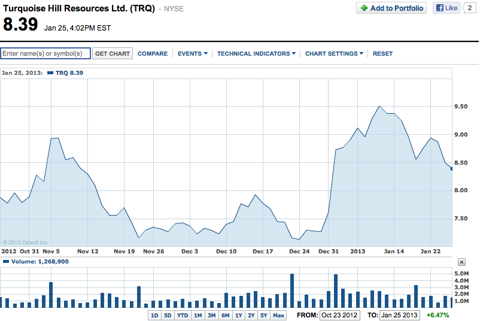 Chart of Turquoise Hill Resources from October 23, 2012, when Sarah Armstrong's exit ban became known. Note her release date on December 24, 2012, and share price activity since then. Source Yahoo Finance chart of TRQ.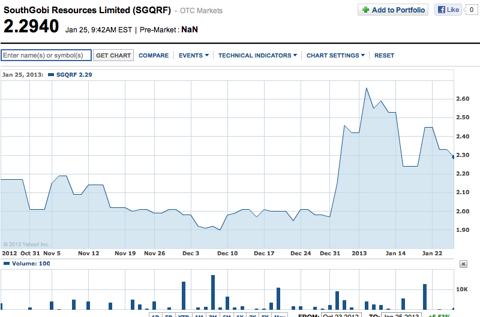 Chart of SouthGobi Resources from October 23, 2012, when Sarah Armstrong's exit ban became known. Note her release date on December 24, 2012, and share price activity since then. Source Yahoo Finance chart of SGQRF.
Disclosure: I have no positions in any stocks mentioned, and no plans to initiate any positions within the next 72 hours. I wrote this article myself, and it expresses my own opinions. I am not receiving compensation for it. I have no business relationship with any company whose stock is mentioned in this article.