In its weekly storage report released Thursday, the EIA indicated that 172 BCF was withdrawn from storage during the week of January 12-18, 2013. The 172 BCF withdrawal was greater than last year's withdrawal of -162 BCF, but came in just below the 5-year mean of -178 BCF and as a result the current storage surplus grew to +321 BCF or +12% versus the five-year mean.
The report was on the upper end the analyst guidance spectrum which was calling for a 163-175 BCF withdrawal, but, after two weeks of more dramatic beats and a 15% rally to consider, the number was insufficient to spur further buying and the commodity ended the day off 2.5% for a third consecutive day of declines to close at $3.45/MMBTU. This was the greatest 1-day drop since January 9. The commodity followed that correction with an uninspired 0.5% decline on Friday, settling at $3.44/MMBTU as investors await some renewed sense of direction.
In order to shed some light on said sense of direction, what follows is a projected week-by-week analysis of supply/demand patterns largely dictated, as is often the case during the winter, by meteorological driving forces. Storage projections and pricing are based on proprietary models I developed, which are discussed as well.
The Projection Model
Weekly storage projections are generated from computer model data that produces temperature and weather forecasts for 160 locations throughout the United States, which are weighted by population in my model to fairly estimate natural gas demand across the nation. Factors that are integrated into my model include temperature data (in the form of heating and cooling degree days), cloudcover/weather conditions, season, and weekend/holiday demand loss, among others. To make a long, math-heavy story short, this forecast data can be plotted against historical weather data compared with actual EIA-reported projections over a series of different timeframes to generate projections for the next five EIA storage reports.
Data from 3 different weather models is used to generate these projections out to 4-5 weeks, which, as is to be expected, declines in accuracy for each progressive week. Average projection error for the nearest week have been between 3 BCF and 6 BCF over the past 2 years. Because these projections are based on forecast data, which has an annoying tendency to change day-by-day, I update my storage projections, and additional supply data, each morning on my site, Powerburn.blogspot.com. See footer for further description and Link.
Summary: Storage Projections For Next Five EIA Storage Reports

Storage Week
Weekly Withdrawal Projection (NYSE:BCF)
Departure From 5-Yr Mean
January 19-25
-202
-24
January 26-February 1
-138
+27
February 2-8
-168
-14
February 9-15
-163
-23
February 16-22
-154
-36
(Completed) Storage Week of January 18-24
For the week ending last Friday, January 24, my model is projecting a net withdrawal of -202 BCF, 69 BCF greater than last year's 132 BCF withdrawal for the same week and 24 BCF greater than the five-year mean withdrawal of -178 BCF. Should the estimate verify, it would mark the second 200+ BCF withdrawal this season, after last year saw zero 200 BCF withdrawals and 2010-2011 and 2009-2010 saw three apiece. It should also be noted that this week's five-year mean withdrawal of -178 BCF is the greatest weekly average of the season and, beginning the following week, average weekly withdrawals will begin slowly falling as we make the turn towards the injection season.
Storage Week of January 25-February 1
The first half of this week will be dominated by a significant warm-up east of the Rockies with temperatures 20-30 degrees above average across the Southeast, Midwest, and Northeast. Daily net withdrawals, after exceeding 30 BCF/day last week, will tumble to 9-11 BCF/day on Tuesday and Wednesday, approximately 15 BCF/day less than the five-year mean daily withdrawal of 25 BCF. By Thursday, however, another potent arctic front will surge southward and eastward, bringing an abrupt end to the mild weather and sending temperatures across much of the nation back into the deep freeze. There are some indications that Friday will be one of the coldest single days of the season across the Midwest and Northeast, with a projected daily nationwide withdrawal exceeding 30 BCF/day. While temperatures across the northern half of the nation will be comparable to last week's arctic outbreak, it appears that the front will not penetrate nearly as far south. As such, temperatures across Texas and the Southeast will only be 0-10 degrees below average, putting a cap on maximum withdrawals. For the week, I am projecting a net withdrawal of -138 BCF, 27 BCF greater than the five-year mean withdrawal of -165 BCF, thanks largely to very mild conditions during the first half of the week.
Storage Week of February 2-8
The aforementioned arctic blast will, like all of its ilk this season, be short-lived with the core of the cold retreating by Sunday, February 3. It will, however, be replaced not by a rapid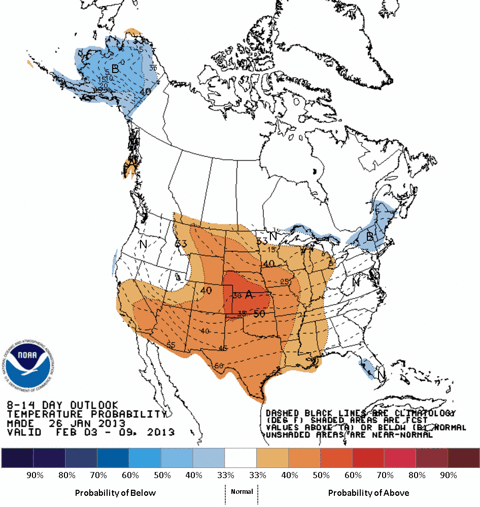 rebound, but by a flat, less amplified jet stream and more zonal pattern characterized by seasonally chilly air, with no rapid changes or extremes in temperature. Temperatures across the Northeast and Northern Midwest will be generally below average while temperatures across the Southwest, Rockies, Texas, and adjacent states will be generally above average. However, due to a preponderance of population across the former, my models are, at this time, projecting a slightly above average withdrawal of -168 BCF, 14 BCF greater than the five-year mean of -154 BCF.
Extended Forecast: Weeks of February 9-15 & February 16-22
For the middle two weeks of February, temperature models continue to advertise a seasonal pattern. Temperatures across the South look to be above average as a large ridge builds into place across the southern Great Plains, while the Northeast and Northern Plains and Midwest have an above average chance of seeing below-normal temperatures.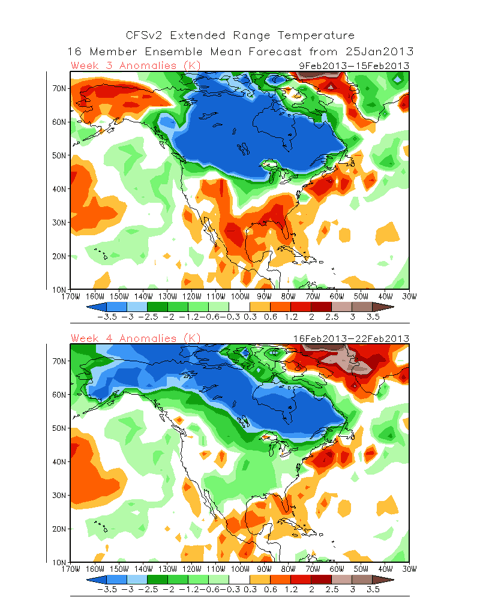 Over the last few days, the temperature models have been swinging on a day-to-day basis regarding the magnitude of the colder-than-average temperatures across the North, but, at present, a major arctic outbreak looks unlikely. However, due to the localization of cool air across the major population centers of the Northeast and Midwest, my models are calling for at or above average withdrawals for the weeks of February 9-15 and February 16-22, with net projections of -163 BCF and -154 BCF, 23 BCF and 36 BCF greater than their respective 5-year mean withdrawals. It should be noted that temperature forecasts in the 3-to-4 week timeframe are at the fringe of current forecasting capability and are liable to swing dramatically on a day-by-day basis and projections should be taken with a grain of salt. That being said, markets are forward-looking and trade based on perception and prognostication, not always reality. For this reason, these estimates are included.
Summary
For the span of January 18 to February 22, I am expecting the current storage surplus of +321 BCF to contract by 70 BCF for total volume of gas in storage of 2,171 BCF as of February 22. Should the remaining 3-4 weeks of the withdrawal season after that track the five-year mean, we will bottom out at 1,964 BCF in storage the third week in March. While this will still be 14% greater than the five-year mean storage nadir, it will be a considerable improvement upon last years 2400 BCF disaster that sent prices spiraling to $1.90/MMBTU.
Fundamental Pricing Model
In order to assign some manner of valuation to natural gas, I have created a simple fundamental "fair value" model for the commodity. Weekly natural gas storage surpluses are plotted against price over multiple time frames spanning up to 18 months and weighted based on fit, to generate a "neutral" price for the commodity based on recent performance.
Figure: Graphical Representation of Fair Price Model, 12-month element.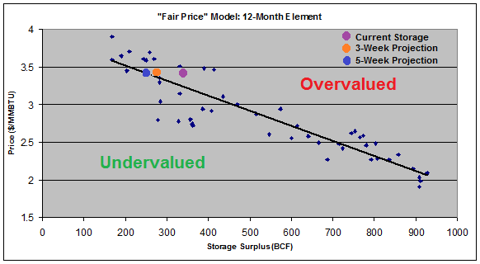 Storage surpluses based on current storage alone, higher confidence 3-week projections, and comprehensive, but less precise 5-week projections are all used in these calculations.
Current prices may be undervalued, overvalued, or fairly valued at any of the three time frames. The Fair Value is not a "target price" per se, but the spread between this value and the current price indicates to what extent investors are pricing in both the current supply/demand status as well as 3- and 5- week anticipated changes in supply/demand.
Natural Gas Pricing
After a 15% rally that saw prices rise from $3.10/MMBTU in early January to over $3.60/MMBTU at the beginning of last week, prices have corrected by about 4% since Tuesday. However, based on the previously described Fair Value Model, the commodity remains overvalued when current storage alone and 3-week projections are considered, with premiums of 23 cents and 14 cents, respectively, but, with a fair price of $3.42/MMBTU and a premium of just 2 cents, natural gas may be considered roughly fairly valued when all five projections are considered.
| | | | | |
| --- | --- | --- | --- | --- |
| | Fair Price | Last Price | Spread | Summary |
| Current Storage Only | $3.21 | $3.44 | +.23 | Overvalued |
| Current Storage + 3 Week Projections | $3.30 | $3.44 | +.14 | Overvalued |
| Current Storage + 5 Week Projections | $3.42 | $3.44 | +.03 | Fairly Valued |
With next week's storage report likely to be bullish with a possible >200 BCF withdrawal and the extended forecast modestly supportive of above-average demand, I expect natural gas to find some support at these levels, at least temporarily. However, with the commodity nearly fairly valued when 5-week projections are considered but significantly overvalued based on current storage alone, investors are clearly hanging their hats on the temperature forecast, leaving the commodity vulnerable to correction should forecasts trend higher. Further, as we move into February, the withdrawal season is beginning to run out of steam and, while the winter of 2012-2013 has been notably colder than last year, many investors will undoubtedly be disappointed as we approach March that less of a dent was made in the storage surplus, which may weigh on prices.
Not to be a wet blanket, but I find few compelling reasons at this juncture to get long natural gas in size. I would not be surprised to see the commodity waffle slowly back down into the $3.30's or even upper $3.20's, weather depending, as we move into February, lending some credence to a short-term short position to hedge any current longer term long positions.
However, per last week's Report, the EIA reported that natural gas production is 1% down from this week last year, suggesting that, coupled with weather-related freeze-offs, the year-long decline in rig count may be beginning to have a long-term effect on gross production. Based on this stat and the previously discussed season-end storage projection of <2,000 BCF, I expect the commodity will remain above a price-floor of $3.00/MMBTU. Should prices move lower into the $3.20s I will consider increasing my long position by going long the US Natural Gas Fund (NYSEARCA:UNG) or (cautiously) the leveraged ETFs BOIL or UGAZ, short the leveraged inverse ETFs KOLD or DGAZ, or long natural gas producers Chesapeake Energy (NYSE:CHK) or Southwestern Energy (NYSE:SWN).
Disclosure: I am long UNG, CHK, SD. I wrote this article myself, and it expresses my own opinions. I am not receiving compensation for it. I have no business relationship with any company whose stock is mentioned in this article.
Additional disclosure: I have no plans to initiate additional long or short positions in the next 72 hours. All projections and fundamental pricing models are released by Powerburn as experimental products and are not affiliated with nor endorsed by the EIA. While they are intended to provide accurate, up-to-date data, they should not be used alone in making investment decisions, or decisions of any kind. Powerburn does not make an express or implied warranty of any kind regarding the data information including, without limitation, any warranty of merchantability or fitness for a particular purpose or use.