By Brendan Gilmartin
Boeing (NYSE:BA) is scheduled to report 4Q earnings before the bell on Wednesday, January 30. After reaching a 52-week high of $78.02 on January 4, the shares have since retreated after several incidents involving the 787 Dreamliner and faulty lithium-ion battery used to start the auxiliary power unit (APU), resulting in several planes being grounded and warranting an investigation from the FAA and NTSB. The actual earnings release is typically available at 7:30 a.m. EST, and will follow with a conference call at 10:30 a.m. While the earnings are likely to draw close examination from analysts, the call and excerpts from the earnings release are expected to shed light on the faulty battery issue.

Outliers & Strategy
Key measures:
Earnings Per Share: The Street estimate is $1.19 (range is $1.02 - $1.28). (Source: Yahoo Finance)
Revenues: Revenues are seen rising 14.2% from the prior-year level to $22.36 bln.
Earnings Per Share Guidance (FY2013): Look for a possible outlook for 2013 that reflects the recent 787 issues. The current consensus is $5.13 for FY2013 (range: $4.68 and $5.65).
Revenues Guidance (FY2013): Revenue is seen rising 7.9% to $88.19 bln for 2013.
Keep a close eye on the following names on exposure to Boeing and the 787 Dreamliner:
Precision Castparts (NYSE:PCP): Casts the engine parts for the787; Has close to $7 mln in parts in each plane.
Rockwell Collins (NYSE:COL): Provides graphic-enhanced visual displays.
Spirit AeroSystems (NYSE:SPR): Makes the fuselage for the 787.
Recent News
01/24: Boeing said it continues to work with the NTSB and investigative agencies in Japan responsible for investigating two recent 787 incidents involving faulty batteries. No update was available at this time.
01/19: Barron's posted a piece on Boeing suggesting investors should steer clear pending the resolution to the battery incident.
01/16: Boeing is ordered by the FAA to cease operations of the 787 pending completion of an investigation into the faulty battery.
01/07: Several media agencies reported a fire aboard a 787 Japan Airlines Dreamliner in Boston's Logan Airport. This is the first of two incidents involving a faulty lithium-ion battery.
01/03: Boeing reported commercial airplane deliveries of 165 for the 4Q 2012 period and 601 for FY2012.
12/17: Boeing announced a 10% increase in the regular quarterly dividend to $0.485 per share. Concurrent with the dividend hike, Boeing resumed its repurchase program to total between $1.5 billion and $2.0 billion in 2013. CEO Jim McNerney attributed the increased return to shareholders to "strong cash generation, consistently solid core operating performance and a positive growth outlook." The share repurchases are expected to resume after the 4Q earnings release.
Technical Review
Boeing is coming off a recent 52-week high near $78.00 amid concerns over the fallout from the faulty battery in the 787 Dreamliner. The shares are currently sitting on support near $74.00, with downside risk to the 200-Day SMA near $72.50, followed by $69.00 (October nadir) in the event that 4Q results and guidance disappoint. (Chart courtesy of StockCharts.com)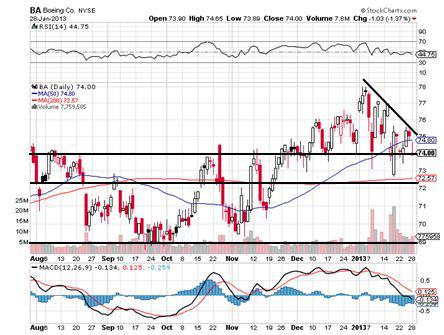 Summary
Boeing shares are coming off a 52-week high following a pair of incidents regarding the next-generation 787 Dreamliner, whereby faulty lithium-ion batteries were blamed for causing fires aboard the aircraft. Despite the headline risk and subsequent decision to ground the new aircraft, pending investigations from the NTSB and FAA, many are quick to point out the fix is pretty straightforward. Nevertheless, guidance for 2013 is at risk when Boeing posts earnings.
Disclaimer: By using this report, you acknowledge that Selerity, Inc. is in no way liable for losses or gains arising out of commentary, analysis, and or data in this report. Your investment decisions and recommendations are made entirely at your discretion. Selerity does not own securities in companies that they write about, is not an investment adviser, and the content contained herein is not an endorsement to buy or sell any securities. No content published as part of this report constitutes a recommendation that any particular investment, security, portfolio of securities, transaction or investment strategy is suitable for any specific person.
Disclosure: I have no positions in any stocks mentioned, and no plans to initiate any positions within the next 72 hours. I wrote this article myself, and it expresses my own opinions. I am not receiving compensation for it (other than from Seeking Alpha). I have no business relationship with any company whose stock is mentioned in this article.