It seems like the fight over Clearwire (CLWR) and its spectrum assets is nearly over. Following a volatile year, during which its common stock declined by 50% only to rise by 80% (see graph), Clearwire will have a new owner sometime in 2013. I suggested that Clearwire needs a new home in June of last year. Six months later, its majority shareholder secured financing from a Japanese company and it seems like Sprint (NYSE:S) will be officially reunited with Clearwire. This is one of the best possible outcomes for Clearwire as Sprint is familiar with the company and is already using its service. However, Dish (NASDAQ:DISH) made a counter proposal, which Clearwire clearly does not like, but could be forced to accept due to the higher price. Let's look at both Sprint and Dish proposals.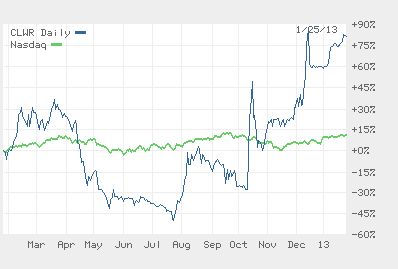 Sprint's Bid For Clearwire
The latest Sprint offer on the table is for $2.97 per share and the assumption of all debt (approximately $4.6 billion net of cash and other current assets). Sprint already owns about 50.4% of Clearwire's common stock and has secured the approval of three other major shareholders who control another 13% of Clearwire. In its own words, "Sprint believes its agreement to acquire Clearwire, which offers Clearwire shareholders certain and attractive value, is superior to the highly conditional DISH proposal."
In fact, Sprint already provides over one third of Clearwire's revenue and is the largest wholesale client of Clearwire. Clearwire and Sprint renewed their vows after signing an amendment to their previous agreement relating to Clearwire's LTE/4G broadband network. This new agreement is in the amount of $925.9 million and encompasses 2012 and 2013. In addition, Clearwire has two master agreements, which the company signed with Sprint in 2008 for ten years (five plus five). These agreements deal with leasing of tower and antenna sites and network services. It seems like Sprint and Clearwire have deep business connections and both companies depend on each other to some extent. A merger between the two companies could be easy to do operationally as well as culturally. While Clearwire will lose independence, it makes good business sense for Sprint to buy Clearwire.
Dish's Counter Bid For Clearwire
While Dish's proposal is not as straightforward as the one from Sprint, it has the price advantage. Dish is offering to purchase Clearwire at $3.30 per share or about 11.1% higher than Sprint's bid. The offer includes the following stipulations:
Acquire spectrum from Clearwire in exchange for $2.2 billion;

Sign a commercial agreement with Clearwire for services related to the spectrum;

Acquire 25% or more of Clearwire shares at $3.30 per share, allocate a number of directors on Clearwire's board commensurate with its stake in the company, receive certain minority protections, and request from Clearwire to cancel the interim financing contract with Sprint;

Finance the spectrum purchase with a debenture that will be used to repay some of Clearwire's current debt and certain other uses and conditions;

Provide financing for Clearwire to continue building its network on similar term as the current Sprint proposal; and

Deal protection and Sprint financing conditions.
The offer makes sense as it will allow Clearwire to continue providing services to Sprint, keep its independence, as it will likely have two major shareholders, and receive financing that will be used to reduce debt and/or build its network.
Which Way
Assuming Clearwire accepts Sprint's proposal, there are a number of hedge funds, owning minor shares in Clearwire, that have already indicated they (naturally) believe Sprint's offer price is too low. If Sprint goes on with the deal, it still leaves Clearwire, as well as Sprint, in a financing hole. Softbank (OTCPK:SFTBY) is injecting $8 billion into Sprint, of which Sprint will spend $5 billion to acquire Clearwire. This leaves a much smaller amount (about $3 billion) for Sprint to prop-up its own balance sheet, which has over $20 billion in long-term debt. In addition, Sprint currently spends over $1 billion a quarter to service its own debt.
If Clearwire and its directors accept Dish's proposal, Sprint and Dish will be partners in owning a company. It is difficult to see if this partnership will endure. Also, a deal between Dish and Clearwire will not have a negative effect on Softbank/Sprint deal. It appears that from operational and financial standpoints marrying Dish and Clearwire while keeping Sprint on the side makes sense. The question remains if the deal can be done from a technical stand-point, something that goes beyond this article.
Conclusion
From being a company shareholders were abandoning, Clearwire is suddenly wanted by two major companies. It makes sense for Clearwire's board to accept the higher offer, which will also allow Clearwire to keep Sprint as a customer and receive much needed financing from Dish. In any occasion, it seems like a deal will be done at a price of at least $2.97 per share unless Sprint/Softbank deal falls apart.
Disclosure: I have no positions in any stocks mentioned, and no plans to initiate any positions within the next 72 hours. I wrote this article myself, and it expresses my own opinions. I am not receiving compensation for it (other than from Seeking Alpha). I have no business relationship with any company whose stock is mentioned in this article.