I have long been a fan of the massive base of unconventional resource assets that Chesapeake Energy (NYSE:CHK) has assembled. The company did a great job of both identifying these new plays and employing the most effective "land machine" in the business to lock down that acreage.
How Chesapeake financed much of that land acquisition was also pretty fantastic. The model that Chesapeake used was to go out and acquire vast amounts of land, then bring in a Joint Venture partner who would purchase a 20% to 33% interest in that land at a price that fully refunded 100% of Chesapeake's land accumulation cost.
In other words, Chesapeake was able to retain a 67% to 80% interest in those properties at a net cost to Chesapeake of zero dollars.
The Joint Ventures involved were as follows (Source: CHK news releases):
1) Haynesville Joint Venture with Plains Exploration (NYSE:PXP) - The timing on this one was extremely fortunate, occurring as natural gas prices were over $10 immediately before the world fell apart in June 2008. Chesapeake sold 20% of its Haynesville acreage to Plains for $3.16 billion. That implied that the acreage retained by Chesapeake was worth $13.2 billion.

2) Marcellus Joint Venture with Statoil (NYSE:STO) - At a time when deals couldn't get done, Chesapeake got a deal done. In November 2008, Statoil paid $2.1 billion for a 32.5% interest in Chesapeake's Marcellus shale acreage. The implied value of the retained acreage for Chesapeake was $7 billion. The price received certainly reflected the market conditions of November 2008, but at the time, Chesapeake needed to strengthen its financial position.

3) Barnett Shale Joint Venture with Total (NYSE:TOT) - It is almost like Chesapeake is trying to learn new languages, this time teaming up with a French company. For $2.25 billion, Total got a 25% interest in Chesapeake's Barnett shale properties, which implied that the retained value was $6.8 billion.

4) Eagle Ford Joint Venture with CNOOC (NYSE:CEO) - Chesapeake put its Eagle Ford acreage position together with blinding speed in 2010. In November 2010, CNOOC bought a 33% interest in the land for $2.2 billion, implying that Chesapeake retained a land position worth $4.4 billion.

5) Niobrara Joint Venture with CNOOC - Same partner, different property. This time, the Niobrara, where CNOOC purchased a 33% interest for $1.3 billion, implying that the retained value is $2.6 billion to Chesapeake.
Add all of those together, and the implied retained value for Chesapeake is $34 billion. In total, Chesapeake paid $16.6 billion for the acreage involved in these transactions, and recovered $19.9 billion from its Joint Venture partners.
It is good work if you can get it.
Despite this success, Chesapeake still finds itself with a stretched balance sheet. The cause of this situation, as I've shown above, wasn't its aggressive land acquisition strategy -- it was a steep and sustained fall in natural gas prices.
That fall in natural gas prices really hit home for Chesapeake in 2012 as the company came into the winter largely unhedged, expecting a turn up in natural gas prices, only to have an extremely warm winter do the opposite.
When you have a balance sheet structured for $6 per mcf natural gas prices, and you are actually selling the commodity for less than half that, it creates a problem.
To fix the situation, Chesapeake has gone on an aggressive asset sale program, which is designed to reduce debt.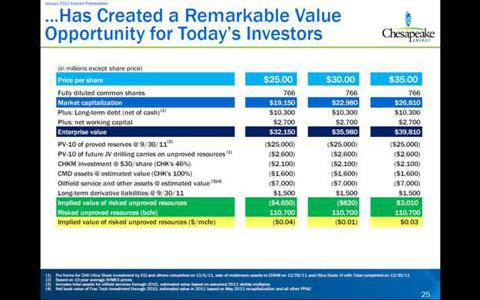 The slide above is from Chesapeake's January 2012 investor presentation. It shows the company with net debt (including negative working capital) of $13 billion. Since January of 2012, Chesapeake has completed the following asset sales in order to reduce debt:
- April 9, 2012: Obtained $1.25 billion from preferred shares in the Cleveland Tonkawa to a Blackstone led investor group
- April 9, 2012: Raised $744 million from a Volumetric production payment to Morgan Stanley
- April 9, 2012: Got $572 million for land in the Texoma Woodford play to Exxon
- June 8, 2012: Raised $4.0 billion selling midstream assets to Global Infrastructure Partners and Chesapeake Midstream Partners
- September 12, 2012: Announced raising $600 million selling non-core Utica shale assets
- September 12, 2012: Announced raising $3.3 billion selling Permian Basin assets to Royal Dutch Shell and Chevron
- December 11, 2012: Announced a $2.16 billion deal for midstream assets to Access Midstream partners
The total of the above sales is $12.6 billion. The final deal involving Access Midstream partners hasn't closed, but I didn't include a Joint Venture with Total in the Utica Shale of a similar amount that also closed during 2012. More specific detail on those transactions can be found here.
That is a lot of money raised selling assets. The slide below is from the Chesapeake January 2013 investor presentation, which shows how Chesapeake's debt has been impacted by all of this cash: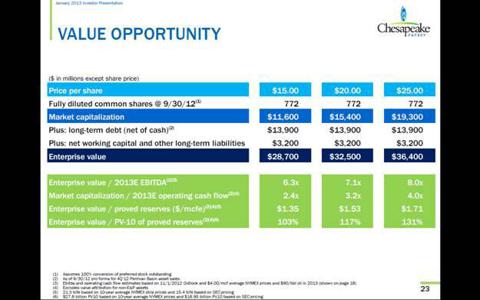 Net debt, including negative working capital, now totals $17.1 billion! It has increased by $4.1 billion, despite the huge dollar amount raised through assets sales.
That is pretty crazy. Over $12 billion in assets sold, and debt still increases. What happened?
Two things:
The first is that with unhedged natural gas production for almost all of 2012 and extremely low natural gas prices, Chesapeake basically had no operating cash flow for the entire year. Through the third quarter, Chesapeake had only $1.9 billion in cash flow from operations.
The second factor is that in an effort to make a transition from natural gas to more profitable liquids production, Chesapeake has had to spend a lot of money on development. Through just the end of the third quarter, Chesapeake had spent these amounts on development:
- $7.4 billion on well costs
- $2.6 billion on acquiring land
- $1.9 billion on additions to property and equipment
That is $11.9 billion of development spending, just through the end of the third quarter. That eats up all of the asset sale proceeds, and if Chesapeake spent at a similar amount in the fourth quarter, it explains why debt has actually increased.
So despite a year of hard work on the asset sale side of things, Chesapeake is still very much in the same boat in 2013 as it was in 2012. I still think the value of Chesapeake's net assets is far in excess of the current share price, but I fear a lengthy struggle ahead to get out from under this debt burden unless natural gas prices turn up.
I'm not currently a shareholder, but if I was, I would really be hoping for a sale of the entire company, which would likely be at a significant premium to the current share price, and would eliminate the risk of Chesapeake not being able to conquer this debt burden.
Disclosure: I have no positions in any stocks mentioned, and no plans to initiate any positions within the next 72 hours. I wrote this article myself, and it expresses my own opinions. I am not receiving compensation for it (other than from Seeking Alpha). I have no business relationship with any company whose stock is mentioned in this article.