Eight months ago, I published the "Swensen 6 ETF Portfolio" using ETFs that mirrored the large asset classes advocated in the Unconventional Success book. How has that portfolio performed, and did it meet the 8.4% projected return with a standard deviation of 14.2%? Below is this same portfolio using the Quantext Portfolio Planner software (designed by Geoff Considine) to analyze the six ETFs.
The portfolio returned 9.8% with a very low 5.8% standard deviation over the past eight months. This mix of ETFs lagged the S&P 500 by 0.5% points, as the S&P 500 returned 10.3% with a standard deviation of 11.8%, or about double the volatility of the "Swensen Six."
Looking forward, this portfolio of six ETFs is projected to return nearly 9% with a projected standard deviation of 7.8%, giving a Return/Risk ratio of over 1. Knowing how erratic markets are, it is highly unlikely the standard deviation will be as low as 7.8% over the next 12 months.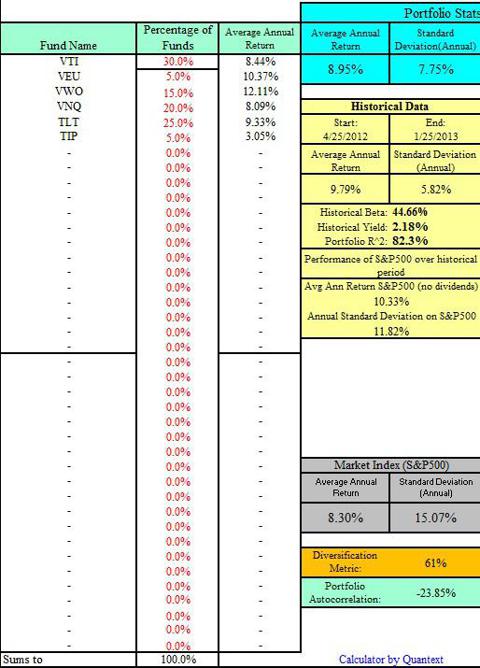 This portfolio has served investors well over the last year, and has a high probability of repeating a strong performance with respect to a broad market index funds such as Vanguard's VTSMX.
Disclosure: I am long VTI, VEU, VNQ, VWO, TLT, TIP. I wrote this article myself, and it expresses my own opinions. I am not receiving compensation for it (other than from Seeking Alpha). I have no business relationship with any company whose stock is mentioned in this article.