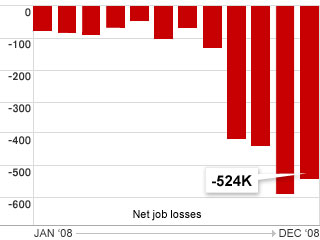 The news is bad, even a little worse than we expected:
NEW YORK (CNNMoney.com) — Another sobering government labor report released Friday showed the economy lost 524,000 jobs in December, bringing 2008's total job loss to just below 2.6 million.

Last year's steep drop in employment marked the highest yearly job-loss total since 1945, the year in which World War II ended.

Economists surveyed by Briefing.com had forecast a loss of 525,000 jobs in the month.

According to the Labor Department's monthly jobs report, the unemployment rate rose to 7.2% last month from 6.7% in November and higher than economists' forecasts of 7%.
And with October and November job numbers revised downward by 320,000 and 51,000, respectively, we've effectively lost 895,000 more jobs with just the new news in yesterday's report (524K + 320K + 51K).
That 2.6 million jobs have been lost in all of 2008 for all of the economy is startling, but that's a reduction in total jobs (private plus government) of "just" 1.9 percent. It's a much more distressing story when you dial down to what's happened to private-sector jobs, manufacturing jobs, and auto industry jobs:
Total private-sector jobs fell by 2.77 million in 2008, or a decline of 2.4 percent;
total manufacturing jobs fell by 791,000 in 2008, or a decline of 5.7 percent;
total production jobs in manufacturing fell by 712,000 in 2008, or a decline of 7.2 percent;
and total auto manufacturing jobs (motor vehicles and parts) fell by 161,500 in 2008–a 16.8 percent decline (from 962,600 jobs in December 2007 to just 801,100 jobs in December 2008).
Here a link to the December 2008 employment report from the Bureau of Labor Statistics, and to the historical data I used for the above calculations.