To begin, I make no attempt to predict or speculate on future macro economic trends. Instead, I tend to focus on companies who have a compelling value proposition relative to their peers within a particular industry. Predicting macroeconomic trends, in a consistent manner, is very difficult given the natural uncertainties prevailing in the market today. As such, my analysis tends to focus primarily on long term investing with an adequate margin of safety. This analysis is based on statistics from various sources. This mosaic approach allows for a more comprehensive and holistic view of the business. As such, I believe Wells Fargo (NYSE:WFC) to have a very compelling long term value proposition for the prudent investor.
Investment Thesis and Rationale
In regards to fundamental analysis, I find that the greatest bargains are within industries that are shunned by the general investing public. The financial services industry is no different in this regard. Marred by legislation (Dodd-Frank) that could potentially hamper fees, NII (Net interest margin), and overall revenue growth, investors have all but neglecting the industry. It is my contention therefore, that properly chosen financial securities, purchased at the current prices, have considerable value as our nation enters into a more robust recovery. Below is my rationale regarding Wells Fargo.
To begin, securities pass my criteria for investment if they satisfy all of the below mentioned criteria.
1) The company in question possesses a sustainable competitive advantage relative to peers in the industry. This can come in many forms including brand image, distribution network, or low cost funding.
2)The company must have the ability to generate large amounts of free cash flow
3)The company must have management that is shareholder oriented and ethical
4)Management must have a strong focus on maintaining margins, costs, and innovation
5)The stock of the company must sell at a market price point that is well below what the company would be worth to a private owner
6)The company must be located in a industry in which I can understand in a comprehensive manner
I believe Wells Fargo satisfies all of the above mentioned criteria from a fundamental perspective.
To start, I will argue that the biggest asset a bank possesses is actually listed as a liability. Deposits, and in particular core deposits are very important to overall bank operations. For one, core deposits provide financial institutions with a very low cost funding source to finance other banking activities. Core deposits are also very sticky services for consumers. Individuals with a checking relationship with a bank are usually more apt to purchase more financial services overall. Wells Fargo continues to increase its cross sell penetration with its consumers year after year confirming this theory. Finally, core deposits are also less volatile during periods of economic turmoil. As such, Wells Fargo, even in the midst of the worst financial crisis of our lifetime was still able to purchase Wachovia. Core deposits are also very compelling as it relates to net interest margin. Due primarily to the fact that many core deposits are within non interest bearing accounts, banking institutions funding a large portion of their loans through core deposits usually have higher margins. Wells Fargo is no exception to this rule with higher margins than its larger bank competitors.
What is also very compelling is that Wells Fargo has the largest deposit growth system in America. Competitors such as Bank of America (NYSE:BAC), Citigroup (NYSE:CIT) and JP Morgan (NYSE:JPM) can not replicate this system. This distribution network combined with its very low cost funding provide the company with a durable competitive advantage relative to peers. In addition, the diversity of its earnings provides the company with a very predictable stream of earnings. This diversity allows the company to navigate through various interest rate cycles and economic circumstances. For instance, the bank is now earning a substantial amount of earnings through mortgage refinance. Much like its peers JPM, BAC, USB, and others, mortgage refinance continues to be a tailwind for the industry overall. This is due primarily to the low interest rate environment prevailing today. Once interest rates begin to rise, refinancing will taper off, but other aspects of the business will prosper. This is due primarily to the diversified earnings stream the company possesses. Below is the graphical representation of the companies fee revenue. This graph, shown at the Goldman Sachs U.S. Finanacial Services Conference, highlights the diversified earnings power of the company.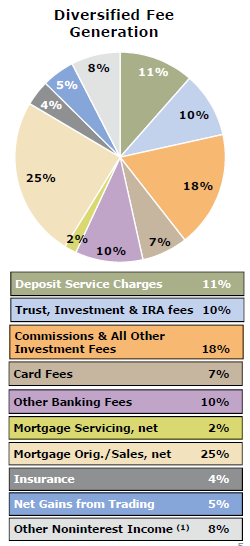 I estimate that the company currently has an earnings power of roughly $3.48 to $4.18 a share. A substantial amount of this earnings power, I suspect, will be generated from its commanding lead in the mortgage origination business. Wells currently has 33% market share within the overall mortgage market. As mentioned earlier in the article, Wells also possesses the best deposit growth system in America. With over 9000 locations, Wells has a low cost funding source which allows it to maintain high margins, low volatility, and a strong balance sheet. The company's ROA is the highest among its large peers (1.41%). Its efficiency ratio is also the best among its large peers (.58) excluding USB. Wells Fargo's deposit growth system provides it with the ability to generate substantial cash flows in which its competitors cannot replicate. It addition Wells business model of selling more products to consumers within each step of their investment life cycle is also extremely profitable. Currently, cross sell in the west is roughly 6.1 products, while cross sell in the east is roughly 5 products. This cross sell will be a significant driver of earnings growth in 2013. Below is a chart from a Wells Fargo presentation, highlighting the earnings growth trend. Notice that the earnings per share of 88 cents is up nearly 22% from one year ago.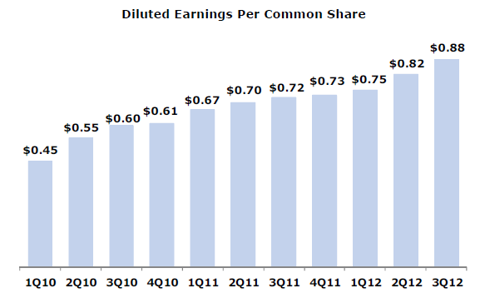 My 12-month target price of $45 is 12X my lower earnings estimate of $3.78. The target multiple is very conservative from a historical context. Below are the price multiples of Wells over the last 10 years. This information can be viewed using the following link.
Data for this Date Range
 
Dec. 13, 2012
10.49
Sept. 30, 2012
10.86
June 30, 2012
11.07
March 31, 2012
11.77
Dec. 31, 2011
9.773
Sept. 30, 2011
8.933
June 30, 2011
10.88
March 31, 2011
13.05
Dec. 31, 2010
13.95
Sept. 30, 2010
15.13
June 30, 2010
15.80
March 31, 2010
18.98
Dec. 31, 2009
15.42
Sept. 30, 2009
36.60
June 30, 2009
34.66
March 31, 2009
21.58
Dec. 31, 2008
42.11
Sept. 30, 2008
18.49
June 30, 2008
10.89
March 31, 2008
12.54
Dec. 31, 2007
12.68
Sept. 30, 2007
13.75
June 30, 2007
13.58
March 31, 2007
13.61
Dec. 31, 2006
14.40
 
 
Sept. 30, 2006
14.95
June 30, 2006
14.21
March 31, 2006
13.83
Dec. 31, 2005
13.96
Sept. 30, 2005
13.28
June 30, 2005
14.42
March 31, 2005
14.41
Dec. 31, 2004
15.16
Sept. 30, 2004
14.91
June 30, 2004
14.68
March 31, 2004
14.92
Dec. 31, 2003
16.13
Sept. 30, 2003
14.47
June 30, 2003
14.48
March 31, 2003
13.24
Dec. 31, 2002
As you can see during normalized periods (2002- 2005) the ratio averages roughly 14-16. A ratio of 12 therefore is justified in my assumptions. This multiple is above the current multiples of two of the largest three banks in the U.S. This reflects my view of higher projected loan growth for Wells Fargo in combination with its deposit growth system, and lower non interest expenses relative to peers. Wells Fargo has the ability to distribute its products to more people within America. Its cross sell performance proves that the company can do so effectively irrespective of macro economic trends. Revenue growth is a function of the overall success of cross sell. Below is chart highlighting the overall revenue growth and asset productivity of Wells Fargo relative to its peers in the industry.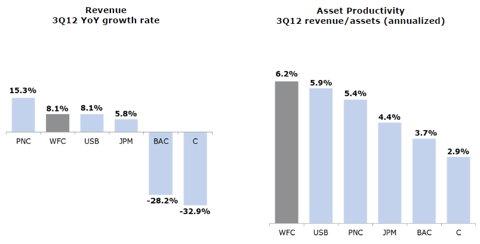 As mentioned earlier, Wells Fargo has commanding positions in numerous segments within the financial arena. Wells Fargo is currently the #1 mortgage servicer in America, the #1 commercial real estate originator, the #1 middle market commercial lender, and the #1 small business lender. These positions are pivotal to Wells Fargo, and will be demanded by many of its customers. However, due in part to both fiscal and monetary policies, companies, along with consumers have large amounts of cash. Corporate balance sheets look very healthy. Consumers are continuing their trend of saving. However, as the economy recovers, these cash assets will be deployed into higher yielding endeavors. As such, I expect loan growth to rise between 1.0% to 2.5% in 2013, due to mortgage demand on the part of consumers. The net interest margin, however, I believe will fall further due to the Federal Reserves accommodative interest rate policies.
What I find particularly encouraging is the credit quality of the loan portfolio of Wells Fargo. WFC's allowance for loan losses is down from its early 2010 peak reflecting much higher credit quality of its loan portfolio. The vast majority of Wells Fargo's consumer credit profile have FICO scores between 620-725. High credit quality of consumers, combined with a reduction of consumer debt has allowed the company to reduce LLP substantially.
As in 2010 and 2011, I believe the company should expect declining loan loss provisions to be an important driver of earnings growth in 2013, albeit to a slower degree. In fact, provisions for loan losses may probably increase near the later half of 2013 as Wells loosens credit terms.
Over the past year Wells has delivered strong mortgage banking revenues due primarily to low and accommodative interest rate policies. Much like many of its peers, credit cards and consumer real estate has been particularly strong. I expect this trend to continue in 2013 with continued pressure on the net interest margin as low interest rates prevail. Finally, in my view, it is likely that mortgage banking will continue to be a driver of growth as low interest rates continue to persist
More on Wells Fargo's positioning
The macro environment is well poised for an economic recovery in regards to housing. Particularly for the middle class, housing is very important as it accounts for a vast majority of a families net worth. With 33% market share, a low cost deposit franchise, and prudent risk management policies, Wells is well positioned to take advantage of this impending trend.
Consumers are deleveraging. They are saving more, paying down debt, and postponing large amounts of consumption. Housing inventory is declining while household formation is increasing. In many of the more prominent housing areas (Nevada, Miami, Phoenix) housing prices have now recovered. In many areas, it is now cheaper to purchase a home than it is to rent an apartment. Homes are now more affordable with the 30 year mortgage rate at roughly 3.34%. Consumer confidence is rising while jobs are becoming more bountiful. All of these factors bode well for a housing recovery in 2013 or 2014. With a large market share and locations in all 50 states, I believe Wells can capitalize substantially on this trend in the future.
Regulation
Regulation, and it particular Dodd-Frank, will have profound implications on the industry overall. The larger banks including JPM and BAC will not be as profitable as they once were. Returns on both assets and equity will be significantly impacted as leverage has been restricted. Leverage, as many of you know, is a double edged sword. Leverage amplifies gains but it can also amplifies losses. When leverage is excessive, as it was during the financial crisis, institutions can easily become insolvent. A small change in asset value can easily wipe out shareholders. For example lets assume that Allen Jackson bank has $100 in assets, has $10 in equity and is levered 10 to 1. In this situation a 1% decline in assets could potentially eliminate all shareholder equity in Allen Jackson bank. This risk is very important for financial stock investors as institutions that use excessive leverage, in an unintelligent manner, can cause substantial losses. Regulation attempts to mitigate this situation by limited leverage industry wide. This reduction in leverage however will reduce shareholder returns. Banks, particularly those with large asset bases, will be required to hold excess capital as well. In addition, unwritten rules regarding Basel III may also impose stricter capital requirements. These regulations have many unintended consequences that have yet to be fully realized. For one, banks will now be looking to cut costs as revenue and loan demand is tepid. Bank of America, Citigroup, Morgan Stanley, Goldman Sachs and American Express have all announced job cuts. In addition, due to the Durbin Amendment restricting interchange fees, banks are also looking to replace lost revenue sources. As such, fees for checking accounts, introduction of new products such as prepaid cards (which are not subject to the Durbin Amendment), and other services will all be impacted.
Overall, I believe Wells Fargo to be well positioned for the coming economic recovery. I make no attempt to predict when this recovery will occur. However, when it does, housing and financial services will be apart of it. Wells Fargo, due primarily to its low cost funding, unmatched distribution network, cross sell effectiveness, diversity of earnings, prudent risk management, and leading market positions, is well poised to take advantage of this impending recovery. Thank you for your time, and I welcome any comments or questions you may have regarding this article.
Disclosure: I am long WFC, BAC, JPM, USB. I wrote this article myself, and it expresses my own opinions. I am not receiving compensation for it (other than from Seeking Alpha). I have no business relationship with any company whose stock is mentioned in this article.