This is a continuation of this article.
Dividend seeking investors who are either in retirement or close to it are a rather unique bunch. We tend to avoid the high flying juggernauts and opt for stocks that pay us to own them while having a lower risk profile.
At our stage in life, the roller coaster rides can cause more chills than thrills, so that many stocks are not on our radar any longer. That does not mean we are right or wrong, it simply means our focus is different from that of other investors. That being said, there are times when one of those magical stocks of truly great companies actually becomes one of "ours."
Apple (NASDAQ:AAPL) fits perfectly into the Team Alpha Retirement Portfolio, which now consists of McDonald's (NYSE:MCD), Exxon Mobil (NYSE:XOM), Johnson & Johnson (NYSE:JNJ), AT&T (NYSE:T), General Electric (NYSE:GE), BlackRock Kelso Capital (NASDAQ:BKCC), KKR Financial (KFN), Procter & Gamble (NYSE:PG), CSX Corp. (NYSE:CSX), Realty Income (NYSE:O), Coca-Cola (NYSE:KO), Linn Co, LLC (LNCO), Wal-Mart (NYSE:WMT), Cisco (NASDAQ:CSCO), Bristol-Myers Squibb (NYSE:BMY), Healthcare Select Sector SPDR (NYSEARCA:XLV), General Dynamics (NYSE:GD), and iShares S&P U.S. Preferred Stock Index Fund (NYSEARCA:PFF).
Why Apple Now?
Apple has been crushed over the last month or so. A drop in share price of over 35% has taken the stock down to levels not seen in over 12 months.
As much of a parabolic rise Apple shares had seen, now we have a "parabolic" drop that, quite frankly, makes little sense. As far as I am concerned, the valuation of this company defies logic and offers just the right opportunity for an income seeking investor to take advantage of a bruised, but not rotten, Apple.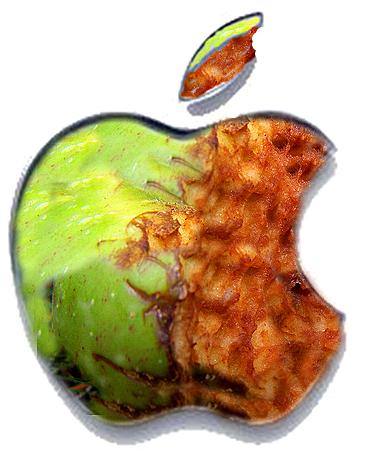 In this article of just a few weeks ago, I detailed the basic fundamentals that should lead any investor to consider placing this stock in the heart of just about any portfolio.
Now those fundamentals have made it an even greater bargain for dividend seeking investors:
An enterprise value of roughly $450 billion makes Apple the 2nd largest company on the planet, now trailing only Exxon Mobil for that distinction.
An approximate $140 billion in cash without any debt. (Think about that for a minute)
A 35% operating margin as of last quarter (industry or sector average is about 29%).
YOY revenue growth of 18% and flat YOY earnings growth.
A current dividend yield of about 2.5% based on today's share price, with only a 6% payout ratio.
Nearly 70% of all outstanding shares are held by institutions.
An ESS Rating of "Bullish" to "Very Bullish"
A 2013 forward P/E of only 9.40, making this one of the most undervalued growth stocks ever recorded (the industry or sector average is about 12.50).
If the company is still growing at a 20% top line growth rate, making plenty of money, and has $140 billion in cash with no debt, I truly believe that we are on the verge of seeing Apple become a DIVIDEND WINNER, for our retirement portfolio!
Some decent capital appreciation would be nice as well.
A Perfect Fit For "Team Alpha"
Now that Apple sports a competitive dividend yield of roughly 2.5%, with a tiny payout ratio of 6%, the stock can be included right in the middle of this portfolio as a core holding.
Given the fact that the company is still on a growth path, investors who seek dividend winning stocks have an opportunity to get in on the "ground floor" of a new entry in the "dividend" class. I have no idea if they will raise dividends every year for the next 3 decades in a row, but I cannot think of another company that has as much going for it to actually enter the dividend winners circle.
I feel pretty comfortable adding shares to the Team Alpha portfolio today, for the dividend as well as some considerable capital appreciation. Add to that the income received from the dividend, and we have our newest core holding.
My Opinion
Using the cash reserves in the portfolio allows us to add 10 shares of Apple at today's price. This will give us an allocation of roughly 4% in the stock.
We will add to this position if the share price drops further, even if we have to reduce some of our shares in other stocks within the portfolio. For now however, we own Apple at a bargain basement price.
Please do your own research before making any investment decisions. Do not rely on this article or my opinions as they might differ from your own objectives and financial circumstances.
Disclosure: I am long AAPL, BKCC, BMY, CSCO, CSX, GE, GD, JNJ, KO, KFN, LNCO, MCD, O, PFF, T, WMT, XLF, XOM. I wrote this article myself, and it expresses my own opinions. I am not receiving compensation for it (other than from Seeking Alpha). I have no business relationship with any company whose stock is mentioned in this article.