By Jeff Pietsch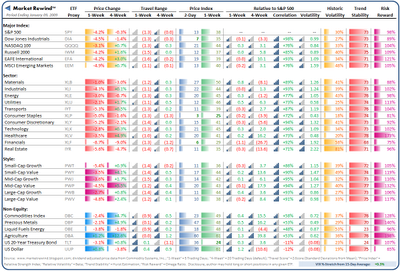 (Glossary)
The second week of 2009 took back about half of the New Year's rally, leaving the S&P 500 down -4.2% on the worst jobs reports in some sixteen years indicating the unemployment rate to now be about 7.2% [Chart] (Bloomberg - Biggest Job Losses Since 1945). Week Three of 2009 features holiday retail sales and various price index reports, among others, as follows:
As we head towards the U.S. presidential inauguration, traders will no doubt be keeping a close tab on the first fourth quarter earnings announcements, Citigroup's (NYSE:C) merger talks with Morgan Stanley (NYSE:MS) (Bloomberg - MS & C $3B Merger), and developments in the Middle-East alike (AP - Gaza Escalation).

Lastly, note below how the overbought readings from just last week have quickly turned to near oversold. Now, back to the table above,where last year's leading Consumer Staples (NYSEARCA:XLP) group looks particularly enticing for a short-term trade on an RSI reversion basis. Financials (NYSEARCA:XLF) are a close second, but in both cases, news risks outlined above may impact these opportunities, so play it safe.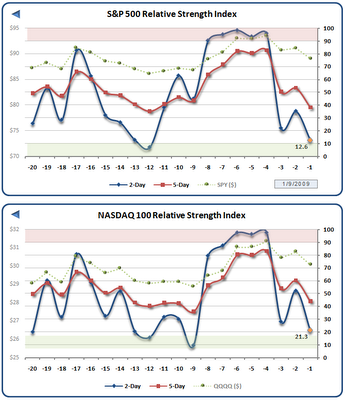 As always, enjoy your weekend!