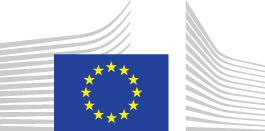 Last Thursday the European Union announced an ambitious package of measures to ensure the build-up of natural gas fueling stations across Europe with common standards for their design and use. In addition to natural gas, the strategy will also support bio-fuels, hydrogen, and electrical charging infrastructure. The natural gas centric policy focuses on building LNG ports and LNG/CNG refueling stations at strategic points on the Trans European highway system.
As I reported in my November 2012 article China Vs. U.S.: Who Is Leading The Natural Gas Transportation Race, China has recently launched its own strategic plan to prioritize natural gas transportation. Its ironic (and quite pathetic) that China and the EU, both of which are not major natural gas producers and pay significantly higher prices for it, have launched long-term strategic natural gas transportation policies while here in the U.S., the largest producer of natural gas in the world and paying the cheapest prices, policymakers have barely paid lip service to the issue. In fact, it appears the U.S. is poised to export its clean and cheap natural gas to fuel the infrastructure other economic regions will be building. That way, we can use more expensive and dirty gasoline ("oil") to power our vehicles. What a country!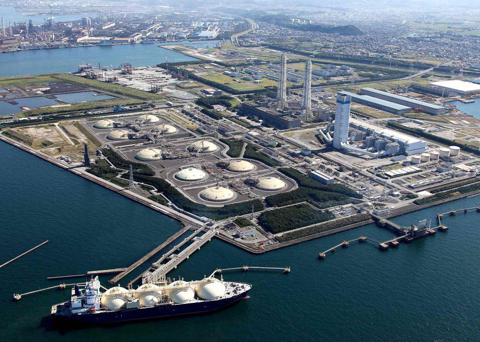 Excerpts from the EU press release:
Clean fuel is being held back by three main barriers: the high cost of vehicles, a low level of consumer acceptance, and the lack of recharging and refueling stations. It is a vicious circle. Refueling stations are not being built because there are not enough vehicles. Vehicles are not sold at competitive prices because there is not enough demand. Consumers do not buy the vehicles because they are expensive and the stations are not there. The Commission is therefore proposing a package of binding targets on Member States for a minimum level of infrastructure for clean fuels such as electricity, hydrogen and natural gas, as well as common EU wide standards for equipment needed.

EC Vice President Siim Kallas responsible for Transport said. "Developing innovative and alternative fuels is an obvious way to make Europe's economy more resource efficient, to reduce our overdependence on oil and develop a transport industry which is ready to respond to the demands of the 21st century. Between them, China and the US plan to have more than 6 million electric vehicles on the road by 2020. This is major opportunity for Europe to establish a strong position in a fast growing global market."

The Clean Power for Transport Package consists of a Communication on a European alternative fuels strategy, a Directive focusing on infrastructure and standards and an accompanying document describing an action plan for the development of Liquefied Natural Gas ("LNG") in shipping.
The natural gas strategy will support waterborne transport by proposing LNG refueling stations be installed in all 139 maritime and inland ports on the Trans European Core Network by 2020 and 2025 respectively. This covers all major EU ports.
The strategy also covers LNG used for trucking. There are currently only 38 filling stations in the EU. The Commission is proposing that by 2020, refueling stations are installed every 400 km (250 miles) along the roads of the Trans European Core Network.
Compressed natural gas ("CNG") is mainly used for cars. One million vehicles currently use this fuel representing 0.5% of the European fleet. The strategy aims to increase this figure ten-fold by 2020. The Commission proposal will ensure that publicly accessible refueling points, with common standards, are available Europe-wide with maximum distances of 150 Km (95 miles) by 2020.
Where is America's Natural Gas Transportation Strategy?
The EU is implementing exactly the policy I have for years been advising U.S. energy policymakers: build out an LNG/CNG refueling infrastructure at strategic intervals on the interstate highway system. This would allow long-haul truckers and natural gas vehicles to travel coast-to-coast and border-to-border across the nation. Instead, Clean Energy Fuels (NASDAQ:CLNE) is going it alone with its "America's Natural Gas Highway" project.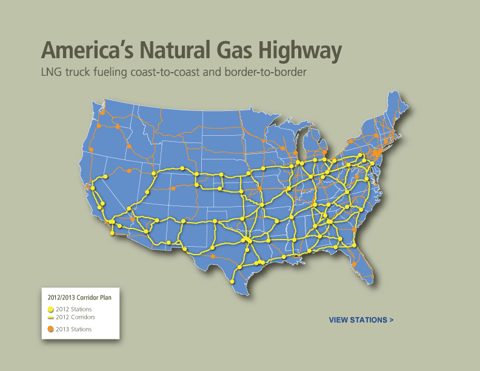 Long term, the natural gas transportation policies in China and the EU will be bullish for companies like Westport Innovations (NASDAQ:WPRT), Fuel Systems Solutions (NASDAQ:FSYS), and Cummins Inc. (NYSE:CMI). In the EU, adopting a natural gas transportation policy is very bullish for StatOil (NYSE:STO), the #2 provider of natural gas to the European continent.
In the shorter term, the EU strategy of constructing LNG terminals at all of its ports may provide new growth opportunities for Foster Wheeler AG (FWLT).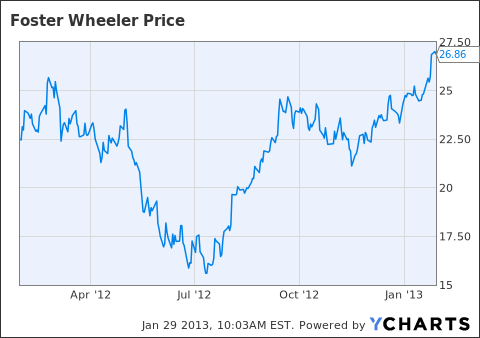 FWLT = $26.86
Mkt Cap = $2.83 Billion
P/E ((ttm)) = 17.3
EPS ((ttm)) = $1.55
Div (Yield) = N/A
Foster Wheeler is a global engineering and construction company and power equipment supplier, with a reputation for delivering high quality, technically advanced, reliable facilities. The company is already involved in several LNG projects in the EU, including the 1 million ton/year plant at the Escombreras Dock in Cartegena, Spain. This plant is currently in operation. Foster Wheeler was also awarded the contract to expand the Enagas LNG terminal in Andalucia, Spain.
Foster Wheeler has a business unit focusing on LNG and gas-to-liquids. They are a key player in LNG liquefaction, with a proven track record in designing and building large, complex process plants. Their latest completed liquefaction train, the North West Shelf Venture's Train 5 in Australia, was designed and built in modular form. They are now taking the modular design and build concept even further on the first train of Woodside's new Pluto LNG complex, also in Australia. Foster's liquefaction experience has also been applied to the early development of Santos' planned LNG development in Australia, which will be one of the first LNG facilities in the world to use coal-bed methane, or coal seam gas, as feedstock.
FWLT engineered and built the benchmark Oman LNG plant for Shell, which according to Shell, is the lowest cost grass roots LNG plant, per tonne of product, ever built.
The total list of worldwide LNG projects is staggering. It is likely Foster Wheeler is going to get its share of new construction projects.
The company recently signed a three-year deal with STO. The contract is for front-end engineering design (OTC:FEED) services for future projects at the Kårstø and Kollsnes processing plants, located in Norway north of Stavanger and north-west of Bergen, respectively.
The Kårstø processing plant plays a key role in the transport and treatment of gas and condensate from twenty-eight fields on the Norwegian continental shelf, which fields are connected to the plant via pipelines. The Kårstø complex ranks as the world's third largest export port for liquefied petroleum gases (NYSE:LPG) and is the biggest in Europe. The processing plant at Kollsnes treats gas from the Troll, Kvitebjørn and Visund fields in the North Sea, and can handle up to 143 million standard cubic meters per day.
The company's Q3 2012 earnings report was impressive. Net income for the third quarter of 2012 was $58.2 million, or $0.54 per diluted share, compared with $36.9 million, or $0.31 per diluted share, in the third quarter of 2011. The Global Engineering and Construction Group booked a record-level of scope new orders, which generated a 31% sequential-quarter increase in scope backlog to more than $1.7 billion. The company repurchased 1,944,210 shares during the third quarter of 2012 for approximately $40 million. As of September 30, 2012, the company had approximately $460 million remaining under its authorized share repurchase program.
The future looks quite bright for Foster Wheeler. New strategic natural gas policies in the EU should provide an additional tailwind for the company going forward. With such a small market cap (less than $3 billion), there is always the possibility of a takeover. It seems to me Foster Wheeler would be an excellent fit in a company like General Electric (NYSE:GE) or Siemans AG (SI).
Disclosure: I am long STO. I wrote this article myself, and it expresses my own opinions. I am not receiving compensation for it (other than from Seeking Alpha). I have no business relationship with any company whose stock is mentioned in this article.
Additional disclosure: I am an engineer, not a CFA. Please do your own research and contact your investment adviser. I am not responsible for investment decisions you make. Thanks for reading and good luck!