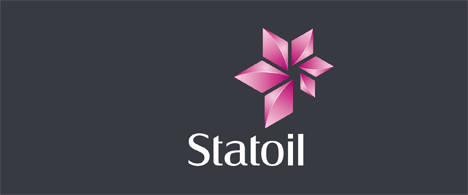 Statoil (NYSE:STO) is one of the largest international integrated oil companies in the world. The company has significant operations in Norway, Brazil, Africa, and the United States. Statoil is the second-largest natural gas supplier in Europe and the sixth-largest in the world. Equity production was 1.81 million boe/d in the third quarter of 2012.
As the stock chart below shows, the Statoil ADR traded on the NYSE has gone nowhere over the last five years.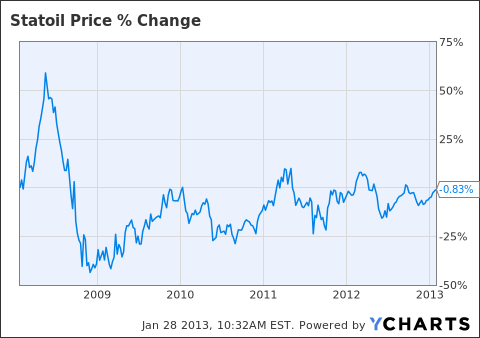 STO data by YCharts
STO currently has a P/E=5.9. This compares to 9.7 for Exxon Mobil (NYSE:XOM), 9.5 for Chevron (NYSE:CVX) and 7.5 for Conoco Phillips (NYSE:COP).
The dividend yield for STO is 3.4%. This is above XOM's 2.5% payout as well as CVX's 3.1% yield. COP beats them all with 4.3% yield.
This article will examine the company in an attempt to discover why the stock has been flat over the past five years and why it appears to be severely undervalued in relation to its U.S. peer group.
Financial Performance
From a financial point of view, Statoil has been performing quite well. Full-year 2011 results show a nice increase in cash flow from operations. In addition, the Return On Average Capital Employed metric ("ROACE") has more than doubled since 2009.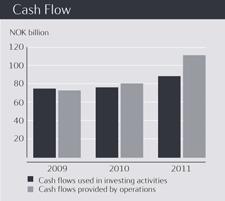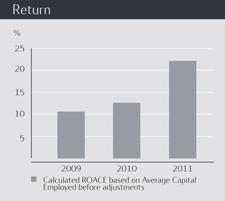 Likewise, net income has increased dramatically since 2009. Full-year 2011 net operating income was 211.8 billion ((NYSE:NOK)) versus 137.3 billion in 2010 (up 54%).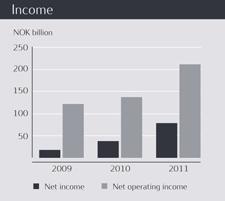 For the nine months of 2012 already reported, STO's net operating income is up 6% from the year-earlier period, net income is up 7%, and earnings per share up 5%.
It is hard to blame the stock's activity on the company's financial performance. In fact, the financial results look quite good and the company is obviously on the right trajectory.
Production
Perhaps the reason for the lagging stock price is on the production front. Let's take a look. The company's production profile since 2006 can be seen in the following graphic from the company's 2011 annual report.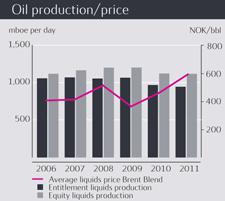 As we can see from the graphic, production rose from 2006-2008, leveled off in 2009, and dropped a bit in 2010 and 2011. No one likes to see a drop in production, but at least it occurred during a period of higher realized prices (as shown by the pink line in the graphic).
For 2012, production results are looking much better. A quote from the latest earnings report (2012 Q3):
By ramping up new fields, we have grown production year to date by 10% compared to the same period last year, and 8% compared to the 2011 average.
As for future production, the company has adopted a strategic long-term plan to reach 2.5 million boe/day:
After the divestments of NCS assets, Statoil expects 2013 production to be lower than in 2012. However, the company is on track for an average growth of 2 to 3% from 2012 to 2016 and equity production above 2.5 million barrels per day of oil equivalent in 2020.
Production will be down in 2013 due to the sale of the Wintershall assets and intentionally lower U.S. natural gas production due to low prices. Statoil's production from the divested assets in the first half of 2012 was 39,000 barrels of oil equivalent per day. The transaction is expected to close in the second half of 2013.
Equity production was 1.81 million boe/d in the third quarter of 2012. Quarter after quarter the company reiterates it is "on plan" to achieve its 2020 target of 2.5 million boe/d.
It's hard to blame the stock's lagging performance on the company's production results. Many other large oil companies have had trouble growing production organically, yet their stocks are trading at richer valuations.
Reserves
Perhaps lack of reserve replacement is the culprit. From the 2011 annual report, we get a good summary of proven reserve levels since 2006: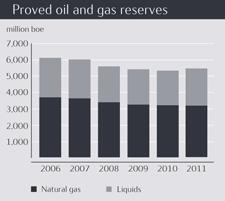 At first glance, the proved reserves profile does not look good: it drops steadily from 2006 through 2010. However, there was an uptick in 2011, which was due to a growth in liquids reserves.
The company's proved oil and gas reserves were 5.426 billion barrels at 2011 year end. This was an increase from 2010's 5.325 billion barrels. A thorough discussion of the company's reserves, as of 2011 year end, can be found here.
The reserve replacement ratio for 2011 was 1.17. The rolling three-year average is 0.92. While these numbers are certainly not stellar, 2012's reserve replacement ratio could surprise to the upside. Over the past two years, Statoil has had arguably the best exploration results of any large integrated oil company. A summary of major discoveries can be found here and include:
April 1, 2011: Skrugard prospect in the Barents Sea, one of the most important discoveries on the Norwegian Continental Sh

elf (

(NYSE:NCS)

) in th

e last decade. The estimated volume of the discovery is between 150-250 million recoverable barrels of oil equival

ent (

(NYSE:BOE)

), wh

ile Statoil sees opportunities for further upside in the license of up to 250 million barrels - for a potential total of 500 million boe.
August 8, 2011: Aldous Major South prospect in the North Sea - a core area for StatOil. Preliminary volumes are estimated to be between 200 and 400 million barrels of oil equivalent for this part of the structure in PL 265, and Statoil expects additional upside in the

license

both north and south of the discovery. On August 16, STO confirmed communication between the Aldous and Avaldsnes oil discoveries. Combined the company estimates an oil structure of between 500 million and 1.2 billion barrels of recoverable oil equivalent.
January 9, 2012: Havis Prospect in the Barents Sea. Statoil estimates the volumes in Havis to be between 200 and 300 million barrels of recoverable oil equivalents. The provisional, updated total volume estimate for the Skrugard and Havis discoveries in PL532 is in the region of 400-600 million barrels of recoverable oil equivalents.
February 12, 2012: Offshore Tanzania Block 2 license.

The

logging results showed a high-impact discovery so far proving up to 5 Tcf of gas in-place.
June 13, 2012: Offshore Tanzania -

The

Lavani well

confirmed

a new high-impact discovery with a preliminary resource estimate of 3 trillion cubic feet (Tcf) of gas in place. The Lavani well has encountered 95 meters of excellent quality reservoir sandstone with high porosity and high permeability.
And this is not even a complete list (refer to the website link above for a complete list). I know of no other major integrated oil company that can compare with STO's exploration results over the past two years. Point is: proved reserves will be headed much higher. It will be interesting to see what reserves the company reports at year-end 2012.
Bottom line: the oft-repeated opinion that the NCS was "played out" was put to rest with STO's high impact discoveries in 2011-12. Since the NCS is STO's backyard, these discoveries were very bullish for the company. That said, STO has operations all over the globe, including extensive assets in the U.S., Brazil, and Africa.
After these stellar exploration results, concerns about STO's long-term reserves certainly can't be the excuse for such a low multiple on the stock.
Management
Management could be the reason for the stock's action - or, in this case, the lack of it. However, it seems to me management has delivered on the financials, production, and exploration results - so how can it be blamed? Besides, someone left a comment in one of my earlier articles on STO that the top-10 executives at the company earn less than Exxon CEO Rex Tillerson. At the time of the comment, it looked to be true. I haven't checked lately and will leave that as an exercise for the reader. And remember, most analysts agreed STO bought out a leading Bakken oil producer (Brigham Exploration) for a song. Bad management does not seem to be evident, nor can it be blamed for the lack of stock price appreciation.
Norwegian Government Ownership
In the past, readers have left comments to my STO related articles saying they would never buy the stock because of the big stake the Norwegian government holds (67%). When I ask why, they have commonly said things like no company could take them over. To which I reply: who could take over XOM or CVX? Or they say the government will mismanage the company. To which I reply: the company is very transparent (just check out statoil.com to see this) and the government is certainly not impacting the company's financial or exploration performance. In fact, the government seems to be a positive influence by keeping executive pay realistic and in helping resolve strikes. I don't get it. As long as the company increases production, dividends and replaces reserves - why wouldn't a shareholder want to own it?
So What's Left?
Reason #1: P/E Compression
At the end of my analysis, I concluded there were two reasons for the stock's under performance. The first is simple P/E compression as shown in the following YChart.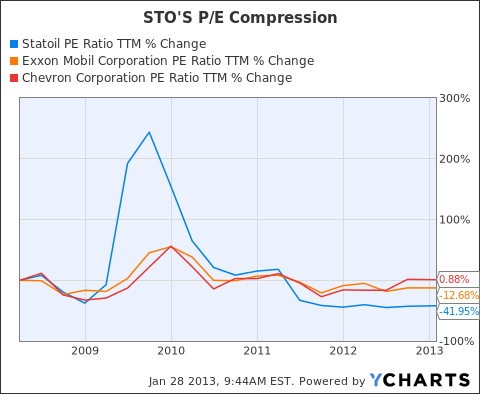 STO PE Ratio TTM data by YCharts
As noted earlier, STO's current P/E=5.9. XOM and CVX are both trading at a P/E over 9. Were STO to have a P/E=9, the stock would be trading around $40/share instead of today's $26.
All things being equal, this issue should resolve itself in the market. Perhaps a big increase in 2012 reserve replacements cold be the key catalyst here.
Reason #2: A Once Yearly Dividend
The second reason STO trades at a discount to its peers, I believe, is its ridiculous policy of a once yearly dividend payment. I know of no other major integrated oil company in its peer group that does this. Please leave me a comment if you know otherwise. The consequence of this policy is that, every year, STO trades up going into the ex-dividend date (sometime in mid-May, paid in early June), then sells off after the ex-div date and does nothing for the remainder of the year. Year after year.
So why does the company insist on this once yearly dividend? Although I am satisfied with the overall dividend yield, it seems to me STO shareholders are paying a "price appreciation penalty" due to the dividend policy. Many American ADR holders get blindsided by the once a year payout, don't understand it, and sell the stock once they figure out they have to wait 12 months for the next dividend payout.
I have contacted the company on this issue many times. Last year I actually got a reply from a STO Investor Relations official:
Thank you for your e-mail. The Norwegian Ministry of Finance has circulated a white paper on frequency of dividends in which it proposes that companies can pay dividends more frequently. Statoil is, as you would expect, a keen supporter of this proposal. I will follow up towards our legal and governments affair too. See where we are on this matter.
I've not heard another word on the matter. But the key is the Norwegian government can't be blamed on this policy.
Bottom line is this: STO's management needs to take action so that its stock catches up with its peer group. I admire the company's performance, especially in the exploration field and the brilliant takeover of Brigham Exploration from under the noses of its American competitors. But STO needs to be more shareholder friendly. It needs to take steps to increase shareholder return. Otherwise, the stock seems quite capable of languishing at $26 for another five years.
StatOil will report Q4 2012 earnings on February 7, 2013, and the earnings conference will be available via webcast.
As cynical as this article is about STO and the lack of stock price appreciation, I think the outlook for production and dividend growth at the company is very good indeed. You can bank the dividend and wait for the production growth the company plans. Or, if you prefer to trade, you can make easy money by buying STO at under $23 and selling it at over $26 (13%). It seems to happen year after year ... after year.
Disclosure: I am long COP, CVX, STO, XOM. I wrote this article myself, and it expresses my own opinions. I am not receiving compensation for it (other than from Seeking Alpha). I have no business relationship with any company whose stock is mentioned in this article.
Additional disclosure: I am an engineer, not a CFA. Please do your own research and contact your investment adviser. I am not responsible for investment decisions you make. Thanks for reading and good luck!