Nobody likes to work harder for the same money. It's absolutely frustrating.
Apple (NASDAQ:AAPL) is finding itself in that very position. Apple's earnings were flat last quarter despite selling more iProducts than the year before. In a nut shell, as Apple churns out more iProduct, it makes less money per item.
Adding up the quarter's iPhones, iPads, iPods and computers, Apple sold an aggregate 87.5 million iProducts. During the year-ago quarter, Apple moved 73 million. Yet, in both quarters, Apple earned $13 billion. (If you want to get even more bummed out, operating income actually dropped by $100 million this quarter.)
Why is this happening? Average unit profits at Apple are decreasing. Apple earns less from every unit sold than it did a year ago. The company made $197 before taxes on each unit sold in the quarter just reported; last year, it earned $241 a unit. This 22% unit profit decline is difficult to make that up on volume.
That's Business 101: Unit profit X Units = Profits. If unit profits decline, you'll need to sell more just to keep up.
Take a look at Apple's unit profits by quarter over the last 7 year. They are starting to drop. That hasn't happened for 8 years.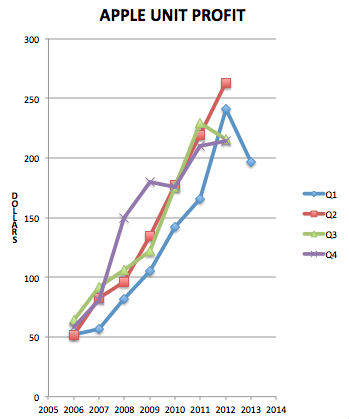 (Unit profits calculated as operating income per unit. My data, sourced from 10Qs)
You might blame decreased unit profits on product mix: Fewer high margin iPhone 5s and more lower margin iPads were purchased this quarter. Perhaps Apple launched too many new products at once and is experiencing greater initial costs, problems that will go away. Maybe next quarter, Apple will reverse the trend. Perhaps.
I'm skeptical. This isn't the first time Apple's unit profit declined. In the July quarter, unit profits dropped as well. In the October quarter, unit profits were flat. This is a pattern that's getting entrenched.
It all comes down to this - Apple's products have sold at humongous premiums, far exceeding any competing company. That marketplace largesse never lasts, something Apple longs are finding out the hard way. Amazon gets criticized for its nosebleed valuation. Well, Apple has been getting nosebleed pricing. It has been able to extract wads of cash from its customers and carriers. On average, Apple makes an incredible $197 on each item it sells (and that includes all the shuffles and nanos as well as the iPhones and iPads.)
That's miles above the competition. Amazon (NASDAQ:AMZN) is willing to take a zero unit profit to move its tablets. A similar strategy for an Amazon smartphone could be a game changer. Samsung (OTC:SSNLF) taking market share in the global market by selling excellent smartphones and tablets at a lower unit profit. Using IDC smartphone estimates and Samsung's mobile operating income, Samsung earns approximately $92 dollars a unit, less half Apple's $197. Chinese manufacturers as Huawei and ZTE are content with tiny profit margins to move their goods. Apple has credible competition willing to take zero to half its unit profits. As a result, Apple's high margins will come under pressure.
Apple's unit profits are unsustainable at their current level and have already fallen by 22%. Even at a diminished $197, they can still fall a lot further. You can only make up so much on volume. Apple's future earnings are vulnerable to sinking unit profits.
Disclosure: I have no positions in any stocks mentioned, and no plans to initiate any positions within the next 72 hours. I wrote this article myself, and it expresses my own opinions. I am not receiving compensation for it (other than from Seeking Alpha). I have no business relationship with any company whose stock is mentioned in this article.
Additional disclosure: The opinions in this document are for informational and educational purposes only and should not be construed as a recommendation to buy or sell the stocks mentioned. Past performance of the companies discussed may not continue and the companies may not achieve the earnings growth as predicted. The information in this document is believed to be accurate, but under no circumstances should a person act upon the information contained within. We do not recommend that anyone act upon any investment information without first consulting an investment advisor as to the suitability of such investments for his specific situation.