Valero Energy (NYSE:VLO) is an independent petroleum refining and marketing company based in San Antonio, TX. Trading sharply higher this week, Valero has been able to capitalize on increased mid-continent domestic production. Margins have increased as Valero has proved perfectly capable of handling the Canadian heavy crude coming from North Dakota and Saskatchewan; the same cannot be said of the east and west coast refineries stuck processing imported and expensive offshore product. Hess Corporation's (NYSE:HES) decision to close its Port Reading, NJ refinery in February is further evidence of the growing discrepancy between mid-con refiners (including Marathon (NYSE:MPC) and HollyFrontier (NYSE:HFC)) and those on the edges of the US.
Investors have caught on to Valero's advantage, sending the company up from its 52-week low of $20.37 low on June 4 to $43.73 at 3:25 pm CST on January 29, a climb of 115%. The latest boost was provided by better-than-expected Q4 earnings released on January 29. Q4 EPS of $1.88 easily beat the $1.18 average estimate. The average analyst estimate for Q4 revenues was $31.0 billion; Valero produced revenues of $34.7 billion.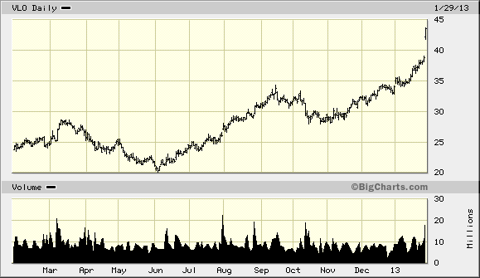 Valero looks like a stock on the up-and-up, but to a value investor first glance begs caution - have the past six months eliminated an opportunity for a bargain purchase?
The answer is no. Valero is undervalued, and has been since I first valued them in December 2011. I purchased shares at $21.14 on December 8, 2011 and again at $27.69 on March 27, 2012. My target price has steadily increased as Valero continues to improve revenue and margins.
I arrive at my target price by building a comparable basket of similar refiners and comparing the basket average price/performance ratios to Valero. If you wish to recreate my valuation please try your own on ValueMyStock.com, a site dedicated to providing investors with dynamic value investing tools. The Valuator tool is what drives my investing decisions. My most recent valuation (January 29) shows Valero as a solid buy. Using HollyFrontier, Murphy Oil Corporation (NYSE:MUR), Ultrapar Holdings Inc. (NYSE:UGP) and Marathon Petroleum Corporation as comparables, I calculate a target price of $72 for a 40% margin of safety.
Disclosure: I am long VLO. I wrote this article myself, and it expresses my own opinions. I am not receiving compensation for it. I have no business relationship with any company whose stock is mentioned in this article.