By Todd M.
Overview
Citrix Systems (NASDAQ:CTXS) is set to report fourth quarter 2012 earnings after the close on Wednesday, January 30, at 4:15 p.m. EST, with a conference call to follow at 4:45 p.m. EST. Citrix is an enterprise IT provider that offers cloud-based solutions, as well as products such as GoToMeeting and XenApp. Following a disappointing release from competitor VMware, look for Citrix to garner extra attention this quarter.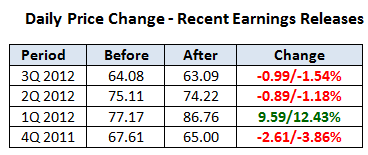 Outliers & Strategy
Non-GAAP Earnings Per Share: This is typically the value that is comparable to estimates. Analysts are looking for Non-GAAP EPS to come in at $0.84, with a range of $0.82 to $0.89. The year ago EPS was $0.78.
Revenues: Consensus estimates for revenues are $705.73mln, which represents a Y/Y growth of 13.90%. The range of estimates is $700mln to $710mln.
Adjusted Earnings Per Share Guidance (FY2013): Analysts see Citrix guiding Non-GAAP earnings per share between $3.01-$3.23, with a consensus of $3.14.
Revenues Guidance (FY2013): Analysts see revenues guidance for full year 2013 coming in at $2.91bln, with a range of $2.87bln-$2.95bln. The outlook measures will be very important, given the fact that

VMware's guidance caused a sell-off in Citrix.

Implied Volatility: Using the February 16 $70 strike, traders are expecting an approximately $8.10 move after earnings are disseminated. This corresponds to a move of about 11.60%.
Recent News
01/28: VMware (NYSE:VMW), a competitor in cloud-based solutions, reported disappointing revenues guidance for 1Q2013, sending

VMware shares down ~20.00%, which caused shares of Citrix to drop ~5.00%. EMC Corp. (EMC), however, reported revenues guidance for its Fiscal Year 2013 of $23.50 bln, in line with consensus estimates.

01/09: According to a post on StreetInsider.com, Jefferies upgraded Citrix shares from Hold to Buy, while increasing its price target from $70 to $80. Jefferies cites confirmation that enterprise solutions remain a priority, expansion of software solutions, and potential for solid growth in the Data Center business segment.
01/03: Citrix completed its acquisition of ZenPrise, a leader in mobile device management. This will allow the company to integrate ZenPrise with Citrix CloudGateway and Me@Work solutions moving forward.
Technical Review
Citrix shares are up 11.91% this quarter, sitting between its 200-day SMA and 50-day SMA. Therefore, these should serve as initial support and resistance levels headed into earnings. Beyond those points, look for stronger support near $64, should earnings disappoint. Conversely, if earnings surprise to the upside, significant resistance can be found at the aforementioned 200-day SMA near $72, followed by $76 (the top of early October's decline). (Chart courtesy of StockCharts.com)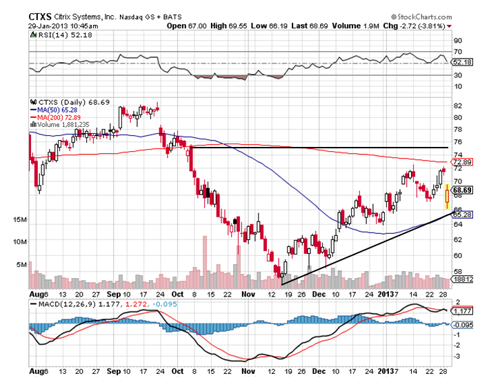 Summary
Citrix Systems has had a solid 3-month run, reflecting positive sell-side sentiment, an improving economic backdrop, and an increase in enterprise spending. However, it is important to note the implications of VMware's guidance on its competitors. Ahead of the upcoming earnings release, expectations have been dampened in the entire sector. If Citrix reports solid numbers, coupled with a better than expected outlook, there could be significant upside following earnings dissemination.
Disclaimer: By using this report, you acknowledge that Selerity, Inc. is in no way liable for losses or gains arising out of commentary, analysis, and or data in this report. Your investment decisions and recommendations are made entirely at your discretion. Selerity does not own securities in companies that they write about, is not an investment adviser, and the content contained herein is not an endorsement to buy or sell any securities. No content published as part of this report constitutes a recommendation that any particular investment, security, portfolio of securities, transaction or investment strategy is suitable for any specific person.
Disclosure: I have no positions in any stocks mentioned, and no plans to initiate any positions within the next 72 hours. I wrote this article myself, and it expresses my own opinions. I am not receiving compensation for it (other than from Seeking Alpha). I have no business relationship with any company whose stock is mentioned in this article.