VIX - Market Sentiment:
Tuesday, S&P futures were trading slightly up to flat heading into the opening bell. Futures started the day around the 1498 level and sold off to a low of 1491 just before 7:00. Then buyers again stepped in and actually pushed futures to highs not seen in quite some time, trading through the vaunted 1500 level yet again. Some analyst say the market could run to 1525 before selling it down and honestly, I can't see why anybody would in this market. The truth is, good or bad news causes most equities to go higher, with the exception of names like Apple (NASDAQ:AAPL). Names like Caterpillar (NYSE:CAT) and Tiffany (NYSE:TIF) both reported terrible quarters, yet continued to march higher. The NYMO continued to reverse lower, showing again we are nowhere near "Overbought," and closed Monday with a reading of +18.05, a 17.10 point decrease.
The spot CBOE Volatility Index (VIX) and futures traded lower today as the market charged through the 1500 level. Volatility ETF (NYSEARCA:VXX), 2x ETF (NASDAQ:TVIX), and alternative 2x ETF (NYSEARCA:UVXY) continued to follow futures lower across the board. Just like in Monday's Sonar report (here), March 15 strike puts have been red hot and continue to trade heavy option volume. Other VIX volume catching my eye today were buyers of the March 20 and June 20 strike calls in larger blocks. Net premium definitely goes to the volatility bulls today, although much could be attributed to short call covers, as shorting volatility has been all the rage of late.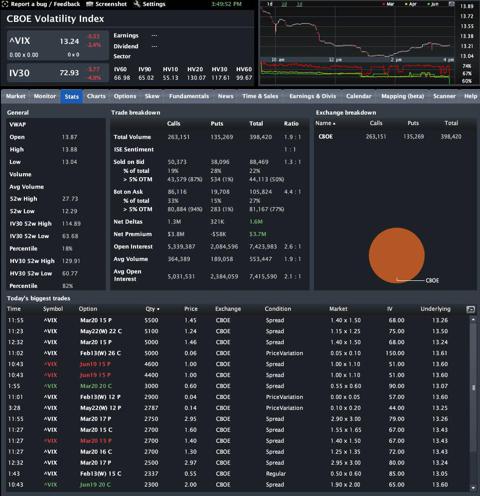 Statistics and Screenshot Provided By LiveVol
VIX futures are below:
Yesterday
· February VIX futures 14.58
· March VIX futures 15.35
· April VIX futures 16.23
Today
· February VIX futures 14.05
· March VIX futures 14.95 (New low)
· April VIX futures 15.90 (New low)
Options Paper:
Just like yesterday's action, option volume continued to be mostly lethargic, with huge volume more than 10% coming in Pfizer (NYSE:PFE) options. Again, this is nothing more than a dividend steal by large institutions and hedge funds, as more than 1.3M contracts traded. S&P ETF (NYSEARCA:SPY) followed this with just 1.27M contracts with 30 minutes left to trade, almost 1M short of average. On the heavy side today, Facebook (NASDAQ:FB), Research in Motion (RIMM), Ford (NYSE:F) and Amazon (NASDAQ:AMZN) all traded more than average today. AMZN, of course, reports tonight and FB reports tomorrow, as volatility continues to rise. The AMZN implied move has gone from 20.85 to 26.75 in just 4 short days, expecting a 10% move after earnings. I'm not going to play AMZN earnings, as bulls and bears are buying options all over the place, and I hate buying when vol is this high. For those willing to stomach the risk, calendar and diagonal option strategies make a ton of sense for those willing to bet they will move big.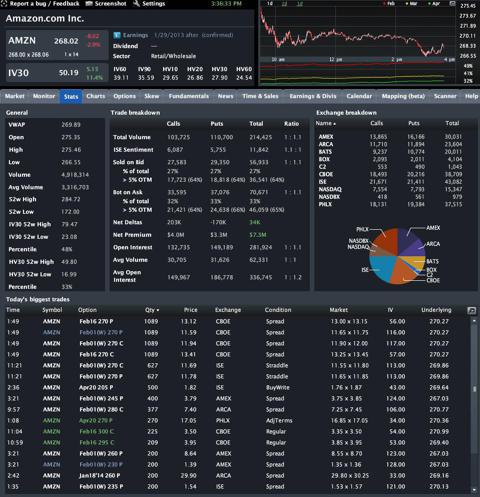 Statistics and Screenshot Provided By LiveVol
Celsion (NASDAQ:CLSN) is a name that is no stranger to my sonar report, just like my long Keryx (NASDAQ:KERX). Today again, CLSN for the third straight day continued to see put buying pressure, this time with more than 51% of the 20K+ puts bought on the ask. Today, the heavy buyers were the February strikes across multiple strikes -- 5, 4, 2, and 1.5 -- taking home almost 400K in put protection on this name. The most interesting part here is implied volatility again hit a 52 week high, pushing up another 48% or 11.2% relative to 483.82. The most intriguing part is again the February 17 strike straddle, which as been gaining in open interest for quite some time now. The 17.00 straddle can and has been bought over the last few weeks, and now goes for an astonishing 11.25 ask. This simply means that whoever is buying this expects CLSN to be above 28.25 or below 5.75 on February expiration. Volatility sellers made a ton of money back in January, as the results were pushed off a month, which will either make or break this company. Options volume continues to soar on this name, and today traded almost 2x average daily volume, with puts outnumbering calls 1.4 to 1.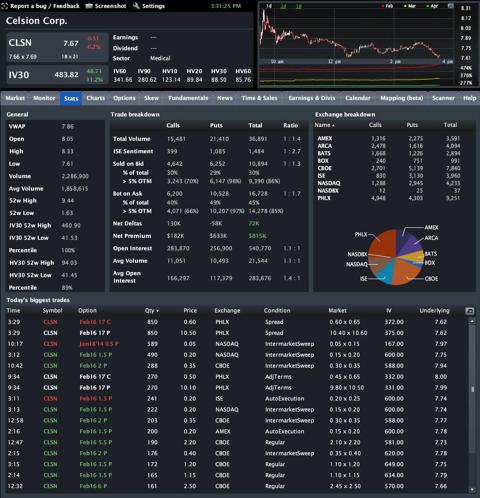 Statistics and Screenshot Provided By LiveVol
Popular ETFs and equity names with bullish/bearish paper:
Bullish Option Flows - ISE & % OTM calls bought on offer
Harman (NYSE:HAR) 71% or the 2.8K OTM calls bought
EnCana (NYSE:ECA) 70%
Teva Pharma (NYSE:TEVA) 60% of the 6.3K OTM calls bought
Sequenom (NASDAQ:SQNM) 59% - interesting on down 5% day
Express Scripts (NASDAQ:ESRX) 57% - Puts also bought heavy - see below
Arch Coal (ACI) 49%
US Airways (LCC) 45% or the 52K calls bought appear to be call rolls
Bearish Option Flows - ISE & % OTM puts bought on offer
Weatherford (NYSE:WFT) 83% of the 2.6K OTM puts bought
ESRX - 81% or 2.2K OTM puts bought
Aruba Networks (NASDAQ:ARUN) 75% or 3.7K OTM puts bought
Navistar (NYSE:NAV) 64%
Wells Fargo (NYSE:WFC) 62% - 12K OTM puts bought
Walgreen (WAG) 53% - Put rolls continue to dominate
Disclosure: I am long AGNC, BA, CBB, CONE, INTC, KERX, KOS, MTGE, NRG, PG, QCOM, TUMI, VHC, VOD, and I am short DDD, EDU, SPY.
Trades today: Closed PSX long, Closed MDR long, Closed VECO short, Closed CRM short, Sold EDU puts against position.
I wrote this article myself, and it expresses my own opinions. I am not receiving compensation for it (other than from Seeking Alpha). I have no business relationship with any company whose stock is mentioned in this article.
Disclaimer: The opinions in this document are for informational and educational purposes only and should not be construed as a recommendation to buy or sell the stocks mentioned or to solicit transactions or clients. Past performance of the companies discussed may not continue and the companies may not achieve the earnings growth as predicted. The information in this document is believed to be accurate, but under no circumstances should a person act upon the information contained within. I do not recommend that anyone act upon any investment information without first consulting an investment professional as to the suitability of such investments for his or her specific situation.