With the prospect for "wars and rumors of wars" on an unsettling rise, now could be a good time to take a closer look at defense stocks.
The backdrop to 2009 thus far reminds me of that old New Testament line: "And ye shall hear of wars and rumors of wars."
And in fact, "wars and rumors of wars" is a fair description of what we're seeing now.
In the Middle East, we have Israel at war with Hamas. In China and Russia, simmering public tensions have the authorities deeply concerned. Ukraine, too, is wrapped up with Russia in a natural gas dispute that has (literally) left Europe in the cold.
In Iceland, protesters throw food and garbage at Parliament for lack of a better way to express their fury. In Pakistan, the national security adviser has just been fired over mounting tensions with India. And things got so bad in Greece at one point, the riot police ran out of tear gas.
Meanwhile, the more traditional bad apple countries – Iran, North Korea and so on – have remained uncharacteristically quiet. Can that last?
An Unwelcome Surprise
For now, the world is still deeply mired in economic concerns. Questions abound, like: Will deflation be vanquished? Will China and India grow fast enough to keep the good times on track? Can the oil producers maintain order in the face of collapsing revenue? In the name of emergency stimulus, will America spend far too much for its own good? Will it spend enough?
With all this on the plate, an outbreak of wider-scale war is probably the last thing on most leaders' minds. But as they say, when it rains, it pours...
A serious, multi-country conflict (or the intensely real threat of one) would be considered a truly out-of-the-blue, "black swan" type surprise for the year 2009.
But if it comes to pass, it wouldn't be quite the black swan (unexpected event) one might think. This is because economic turmoil and geopolitical turmoil have a natural link.
Playing the Nationalism Card
The linkage comes from the fact that when a country like Russia or China runs into difficulty, the leadership at the top finds itself in peril.
This goes doubly true for regimes that have made a sort of "prosperity bargain" with the public: "We deliver the economic goods, you ignore the unsavory aspects of our control."
In conditions like the ones we face now – when the proverbial solid waste hits the proverbial oscillating wind device – the prosperity bargain begins to fray. If it frays badly enough, a new playbook is required.
One time-tested response is to play the nationalism card – i.e., turn public anger away from home affairs and towards an outside enemy.
This added dimension makes the threat of further "wars and rumors of wars" a bit too close for comfort.
Whither Defense Stocks?
All this pot-stirring could warrant a closer look at defense stocks.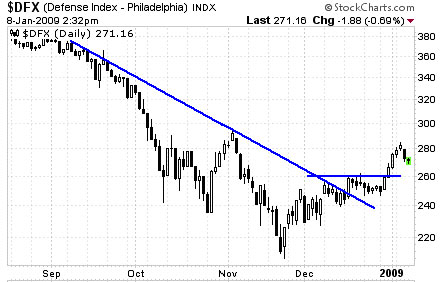 The Philly Defense Index – loaded up with big, muscular names like Northrop Grumman (NYSE:NOC), Lockheed Martin (NYSE:LMT) and General Dynamics Corp (NYSE:GD) – has held its own in the 2009 rally thus far.
Another reason to be interested in defense is the possibility of gravy from an ever-expanding Obama stimulus plan. As the White House and Congress plan to shovel huge amounts of money into the economy, one of the challenges they will face is deploying large amounts of cash quickly without wasting it. (To a large degree that will happen anyway, but that's a different kettle of fish...)
Take California, for example – a state on the brink of, or perhaps deep in the thick of, fiscal peril.
Could the state that was the epicenter of the housing bubble (and bust) benefit from a marked revival of defense spending, considering what a boon the defense industry has been to California's economy in the past?
Surely the thought has crossed a few minds.
Martin Feldstein, Chairman of the Council of Economic Advisers under President Reagan, has also argued in the Wall Street Journal that defense would be an ideal recipient of mass-stimulus spending. We're due to spend the money anyway, Feldstein says... there is a shortage of time in which to make good decisions, and this is clearly an area that needs the cash. In sum, Feldstein concludes, a cool $30 billion a year or so should do the trick.
Nimble and High-Tech
I turned to my pal Zach Scheidt (retired hedge fund manager, trader extraordinaire and editor of Death Cross Trader) to get his take on what looks good in the defense space.
Zach's advice, at least the way I heard it, boiled down to a focus on nimble and high-tech. As he has in the past, Zach pointed out that some of the mid- and small-cap names have greater potential to "move the needle" in terms of profit growth than the big, lumbering large caps do.
Zach's preference for high-tech made perfect sense to me, given the U.S. military's severe shortage of manpower at the moment. We are spread so thin around the world these days, it seems a given that Uncle Sam would want to pay up for any possible tech edge that could help with the strain on the troop situation.
I also asked Zach if there were any defense names in particular on his radar screen. And since this is a guy who knows U.S. equities like the back of his hand, of course he said yes...
"One of the most interesting companies I am following in this industry," Zach told me, "is a company called AeroVironment, Inc (NASDAQ:AVAV)."
"One of the company's most intriguing products is a small, un-manned airplane that can be carried onto the battlefield. If soldiers want to know what is over the next ridge or in the next valley, they can launch the plane by hand. Sophisticated cameras and radio equipment relay information to headquarters and the front line."
"This type of technology," Zach further explains, "shows how the current military is thinking outside the box when it comes to warfare. The rules are changing as tactics and constraints continue to evolve. And new systems and technology will play a major part in equipping the military for future missions."
I asked Zach if he would consider AVAV a buy right now.
"Not just yet," he said. "The stock is a bit expensive here, as investors are rightfully excited about the prospects and the share price has gotten ahead of itself. But a pullback in the coming weeks or months could provide a solid entry-point for this long-term winner in the defense space."
One thing I've discovered, too, is just how valuable the input of the Taipan readership can be... do you have any interesting high-tech defense companies on your radar screen, or particular insights into how Uncle Sam might be deploying his defense cash? If so, we'd love to hear about 'em.
Stock position: None.