Deckers Outdoor Corp. (NASDAQ:DECK) was once a great growth stock that at times seemed unstoppable, but the shares which were trading around $70 in April, 2012, traded down to about $30 in November over growth concerns. However, these concerns seem overblown and the stock probably never should have traded that low had end of the year tax loss selling not pushed it down so hard. Concerns that the Fiscal Cliff debate would reduce consumer spending over the holidays now seem misplaced. More recently, Deckers shares have been rebounding and the rally might have plenty of room left.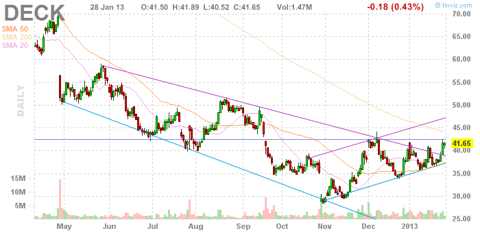 As the chart above shows, Deckers shares have been in a solid uptrend since November and it appears poised to continue building on these gains. Deckers makes footwear, clothing and related gear which is sold around the world. It has a number of popular brands which include UGG Australia, Teva, Sanuk, Mozo, Tsubo, and others. The UGG brand is a top-selling line of footwear and since it is so important in terms of revenues for Deckers, analysts and investors were quick to get concerned about whether its popularity would fade and some shareholders sold the stock when it seemed as if growth was slowing in late 2012.
However, there appears to be plenty of growth left for this and Decker's other brands, especially in emerging market countries. An analyst at Sterne Agee believes that Deckers is poised to see improvements in both inventory levels, sales and profit margins in 2013. Stern Agee analysts also see new products as helping revenues and the bottom line in the second half of 2013. The company set a $65 price target for the stock, which implies upside of about 65% from current levels near $40.
Analysts expect earnings to jump from about $3.35 per share in 2012 to around $3.72 per share, which puts the price to earnings ratio at just about 11. This looks cheap when you consider that the average PE multiple for the S&P 500 Index (NYSEARCA:SPY) is now around 15 times earnings. While clothing and footwear companies have the risk of becoming unfashionable and are always subject to fickle consumer's tastes, Deckers, and in particular the UGG brand, has remained a steady seller around the world. That trend does not appear likely to end soon, especially as the economy is showing signs of stability and even improvement in China, Europe and the U.S. With the shares trading for less than half of the 52-week high of $92.27, and with the stock back in rally mode, it makes sense to consider these shares, especially on dips.
Here are some key points for DECK:
Current share price: $41.65
The 52 week range is $28.53 to $92.27
Earnings estimates for 2012: $3.35 per share
Earnings estimates for 2013: $3.72 per share
Annual dividend: none
Data is sourced from Yahoo Finance. No guarantees or representations are made. Hawkinvest is not a registered investment advisor and does not provide specific investment advice. The information is for informational purposes only. You should always consult a financial advisor.
Disclosure: I have no positions in any stocks mentioned, and no plans to initiate any positions within the next 72 hours. I wrote this article myself, and it expresses my own opinions. I am not receiving compensation for it (other than from Seeking Alpha). I have no business relationship with any company whose stock is mentioned in this article.