Yum! Brands (NYSE:YUM), with more than 14,000 KFCs, 13,000 Pizza Huts and 6,000 Taco Bells sounds like a fast-food investment right along with McDonald's (NYSE:MCD) 34,000 restaurants, but in the last few years, YUM has become a way to invest in China without plunking money down on a Chinese company you don't know much about, and which might not have the same rigorous reporting requirements that U.S. companies are subject to.
In 2001, YUM got 44% of its sales and 50% of operating income from China. Five-year sales growth has been 12% in China, and only 2% in the U.S.
When China sneezes, YUM gets pneumonia. On November 29, 2012 the company announced that same-store China sales had fallen 4% and the market knocked the stock down a whopping 10%. And then, on January 7, 2013, YUM stock dropped another 4.3% when the company revised the 4% decline in China sales to 6% (this time apparently due to food safety investigations of some of YUM's chicken suppliers).
So what's in store next week when YUM announces full-year earnings, and for the next year as well? That is the subject of this article.
When checking out YUM's competition, most people think about McDonald's, but there are some huge differences in the way they conduct their business which makes operating statistical comparisons specious. Yet lots of people try -- "McDonald's Has Higher Net Profit Margins Than Competitors", for example. Yes, MCD might have a 14.5% operating margin, and YUM only 8.8%, as this article points out, but in many respects, you are comparing apples and oranges. About 80% of MCD's restaurants are franchisees, which pay about 4% of sales as a service fee (plus rent, if MCD owns the real estate). There is not a whole lot of variable costs to charge against rental income compared to the large operating costs of a company-owned restaurant (operating margins on franchisee sales is about 83%). In China, YUM owns 90% of its 5,400 stores. Clearly, its variable operating costs will be much higher than if those had been franchised as MCD does, and YUM's operating margins will be considerably lower.
YUM is probably more concerned with what is going on in China than it is whether Americans are eating pizza at Pizza Hut or burgers at McDonald's. Rather than comparing YUM to MCD, a better comparison might be to Apple (NASDAQ:AAPL), where Tim Cook has said that China will represent 45% of future sales. Or to Starbucks (NASDAQ:SBUX) -- "Starbucks Growth Is Increasingly About China" (SBUX reported an 11% growth rate for same-store sales in China/Asia Pacific region).
When a company becomes dependent on an economy that is halfway around the world (and mysterious to most Americans in many ways), it is a little scary to predict how well that company will do next year.
So let's take a peek at how things have been going: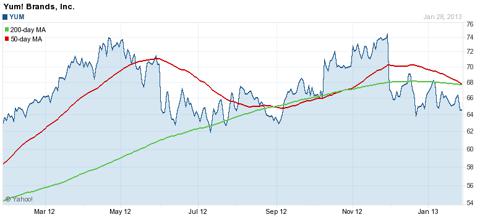 The last year has seen lots of ups and downs, but the current stock price is almost exactly where it was one year ago. For those who believe in moving average indicators, things don't look so good. YUM is well below both the 50-day and 200-day averages. Many analysts believe that when the stock breaks below the 200-day moving average, it will remain under that average for the next 200 days. (Of course, we really shouldn't look back to test that assumption, at least this year -- three times, the stock has fallen below the 200-day moving average and each time, it has managed to get back above it in about 3 weeks' time. Just an example of why I don't pay much attention to moving average indicators, but since so many people swear by them, they often create self-fulfilling prophecies, and we all must at least check them out.)
Analysts seem to be lukewarm about YUM. While the majority of analysts rate YUM a "buy" or "strong buy," about a third of them rate it a "hold." In my opinion, a "hold" rating is tantamount to "dump it" when you see that so many analysts rate so many other companies much higher.
YUM pays a decent dividend (2.1%), and has increased dividend payments every year for the last 8 years, beginning in 2004 with a payment of $0.10 per share up to the current $1.14 per share. The dividend is pretty well covered (payout ratio is 34%, which compares favorably to MCD's 54% rate).
YUM recently authorized a $1 billion stock repurchase program, and announced that it had repurchased $815 million of shares of common stock at an average price of $66 over the last year (it should have waited until now to buy shares -- they are cheaper now). Growing dividends and sizable stock purchases generally provide important support for a stock.
YUM's P/E (19.1) is higher than MCD's (17.1) but so is its five-year growth forecast (11.4% vs. MCD's 9.2%). If SBUX is a more appropriate comparison benchmark, its P/E is 30 while its growth is forecast at 17.9%. There is clearly a high positive correlation between P/E ratios and the 5-year growth forecast for all three companies.
But regardless of the numbers, whatever is happening in China seems to have an emotional content that strongly affects YUM's stock price performance more than just about anything else. And there are some indications that the news from China might not be good.
A recent Seeking Alpha article researched by a Singapore firm concluded that: "KFC China will experience diminishing returns if it continues to expand into areas with lower spending power. This, coupled with a decline in store traffic, heightened competition, a cooling economy, and rising food safety scrutiny, KFC China will have plenty of challenges to tackle in the coming years."
On the other hand, I wonder how Starbucks continues to grow sales in China with its expensive coffees if the typical middle-class person finds KFC a luxury purchase.
Bottom line, I think there will not be a big move either way in YUM stock once the earnings are announced after the close on Monday, February 4th. At the annual investor meeting less than a month from the end of the 2012 year, the company confirmed its 13% per share growth rate guidance for 2012 (surely it had a pretty good feel for the numbers, since 11 of 12 months were already in the books).
Even more importantly, the company reaffirmed guidance for 2013, and expects to deliver another 10% earnings per share growth, as it has done for the past 13 years.
The bad news about China is now public, and should not be as much of a concern as it once was. As George Acs opined, "People like to eat and once they get hooked on fast and convenient food, a little economic slowdown isn't going to get in their way. The American experience bears that out. Why in the world would the Chinese be any different? Besides, does anyone really care about possible food safety concerns in the Chinese market that came to light today? …how often can you get into YUM shares at this level? I've been waiting for a few months, and I am hungry."
Since I believe that the stock won't tank because the bad news from China is already out, and the stock won't skyrocket because the fear that things might just get worse in China are also out there, here is what I would do to take advantage that the February options are trading (as they usually do) at a heightened implied volatility (IV) in advance of Monday's earnings announcement.
With YUM trading at $63.95 at the close today, I will buy April-February calendar spreads at two strikes above and two strikes below the stock price:

The above positions will cost about $4500 to place, and this is what the risk profile graph looks like (assuming that IV of the April options will remain unchanged):

Of course, we all know that IV of the April options will indeed tumble after the announcement, and the above gains will not materialize. IV for the April options is currently 24, and will probably fall to 20 -- this should just about cut the above projections in half, but even if that is true, we are looking at a 20% gain for the trades, as long as the stock does not fluctuate more than 5% in either direction after the announcement.
In the last month, I have outlined in Seeking Alpha articles and personally carried out similar pre-announcement trades on eBay (NASDAQ:EBAY), Starbucks, and Herbalife (NYSE:HLF), and each time, the stock moved less than 5% after the announcement, and my positions gained at least 10% after commissions (and one play gained 44% in a week).
Disclosure: I am long AAPL, and I expect to place options spreads on YUM within the next 72 hours. I wrote this article myself, and it expresses my own opinions. I am not receiving compensation for it (other than from Seeking Alpha). I have no business relationship with any company whose stock is mentioned in this article.