At this juncture, it is difficult to make a reasoned judgment regarding near-term market direction. The current market rally may be in jeopardy and they may soon retest the lows set in November. The other possible scenario is that the market may be experiencing a brief respite before the trend resumes. While this uncertainty might cause one to throw up their hands and give up, it is essential to continue analyzing the market!
As I indicated earlier in the week, the market was extremely overheated. In all fairness to the indexes, the S&P 500 and NASDAQ were both up over 20% from their November lows, so it makes sense for them to lose momentum. Many were expecting a large bear market rally sooner rather than later (myself included). However, the new year is young and anything can happen.
One concern for the S&P 500 is that the current rally broke through its trendline. The NASDAQ has yet to break its trend, but it may soon follow suit. While the 50 day moving averages currently provide support, it is highly likely that it will be tested on each index. If it does not hold, 850 (85 on SPY) will be the support level for the S&P 500 and the 1500 area (29 on QQQQ) on the NASDAQ. If these areas are breached, expect a retest of the November lows.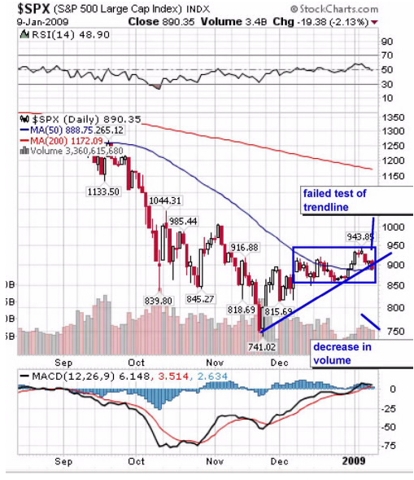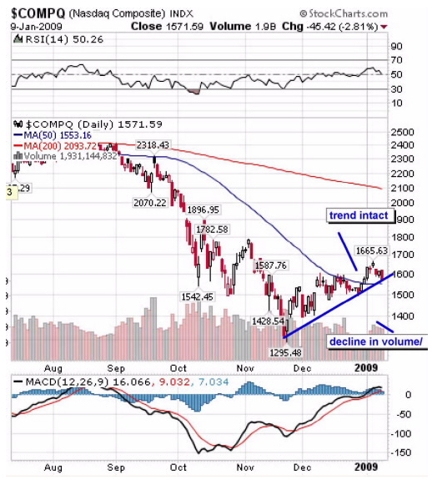 As can be expected, volatility increased this week. The VIX climbed from a low of 37 to a closing high of 43. However, a positive sign was that it did not breach resistance at 45. The VIX also continues to be caught in a downtrend. A continued decrease in volatility bodes well for the market in the future.
Another slightly good sign is that as the market pulled back, volume decreased. Unfortunately for bulls, the phrase "volume confirms price" applies more to uptrends than downtrends. If there are no buyers, stocks can continue declining.
Some analysts are predicting a pre-inauguration rally. On its face, this hypothesis is not far-fetched. It would not be surprising if over-exuberance for the new administration provided fuel for the rally to resume. However, hope is not a viable trading strategy. The best course of action is to study the market and base decisions on firm trading rules, not hype peddled on television.
Disclosure: No long or short positions held.