About a month ago, I wrote that Phillips 66 (NYSE:PSX) was a solid buy even near its highs. Since then, Phillips 66 stock has been on fire, rising over 18%, compared with a 7.5% gain for the S&P. I have owned Phillips 66 since it was spun off by ConocoPhillips (NYSE:COP) and it has turned into my best performing stock, increasing in value by 90% in 9 months.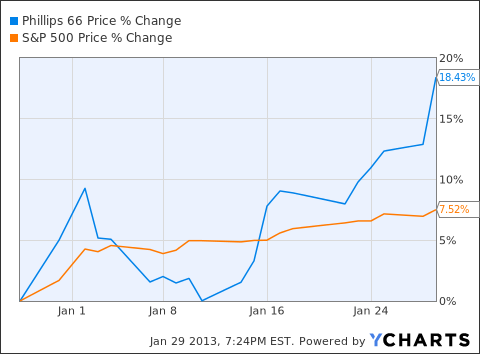 PSX data by YCharts
Phillips 66 has been benefiting from increased use of cheaper U.S.-based sources of crude oil. Phillips 66 has been increasing its use of railroads to ship cheap Bakken crude to its refineries. An example of this was on January 8, when Phillips 66 announced a five-year commitment to ship some 50,000 barrel-per-day of Bakken crude oil by rail to its Linden, New Jersey refinery.
Phillips 66 will be releasing its Q4 and full-year 2012 financial results tomorrow (Wednesday). Q4 EPS for Phillips 66 is estimated to come in at $1.68. Q4 revenue is estimated to come in at $46.0B. Q4 results for Phillips 66 may come in even stronger than what is estimated, if they are anywhere close to what competitor Valero Energy (NYSE:VLO) reported. Valero absolutely crushed estimates, with Q4 EPS of $1.82, beating estimates by more than $0.60. The Valero results sent shares of refiners, including Phillips 66, surging.
Phillips 66 is still fairly inexpensive, with a forward PE ratio of only 8.8. FY 2013 EPS is estimated to come in at $6.80. Phillips 66 rewarded its shareholders in 2012 with two large dividend increases and a $1B expansion of its share buyback program. With the increases in 2012, the quarterly dividend for Phillips 66 is now $0.3125 per share, for a dividend yield of 2.08%. Expectations are high for tomorrow's earnings release. Though, with the incredible beat by Valero, I expect Phillips 66 to easily exceed estimates. In my opinion, Phillips 66 is still a stock worth owning even at these levels.
Disclosure: I am long COP, PSX. I wrote this article myself, and it expresses my own opinions. I am not receiving compensation for it (other than from Seeking Alpha). I have no business relationship with any company whose stock is mentioned in this article.