Tuesday's market sentiment was driven by extreme greed with the Fear & Greed Index at 94, which had increased from the previous close of 93. As reported by CBOE, the total put/call ratio was 0.97 for the day. The index put/call ratio was 1.14, and the equity put/call ratio was 0.68. The CBOE volatility index (VIX) put/call ratio was 0.51. The top stock had been identified through our daily options scanning process, with the scanning criteria where the daily call volume ratio was above 2.00 (2x of the average call volume) with a call volume above 10,000.
| | | | |
| --- | --- | --- | --- |
| Name (Ticker) | Call Volume | Average Call Volume | Daily Volume Ratio |
| Devon Energy Corporation (NYSE:DVN) | 14,685 | 3,503 | 4.19 |
Source: Schaeffer's Research
Unusual option activities can be an indicator or precursor of a major movement for the underlying stock. This article will try to identify the bullish factors for Devon Energy Corporation.
Devon Energy Corporation
Devon Energy Corporation, an independent energy company, engages in the exploration, development and production of oil, natural gas and natural gas liquids, NGLs. The company's operations are concentrated in North American onshore areas in the United States and Canada. The company has a broad portfolio of growth-oriented oil and gas assets and a rock solid balance sheet. DVN's acreage includes sizable positions in the Rocky Mountains, Permian Basin, and Barnett and Cana-Woodford Shales, as well as conventional development projects and oil sands complexes in Canada. DVN closed at $56.96 with a 4.40% gain on January 29, 2013. DVN has been trading in the range of $50.89-$76.34 in the past 52 weeks.
Bullish Factors
On January 10, 2013, Zacks upgraded DVN to Neutral from Underperform. In Q3, 2012, DVN's EPS beat the Zacks consensus estimate due to lower marketing and midstream operating expenses and a decline in tax charges.

Capital discipline. Devon has been rationally allocating its resources to projects that are vital for its future growth. The company focuses on its oil and liquids-rich opportunities, and the majority of its drilling programs are centered around oil-focused properties.

International partnership. DVN had partnered with international companies, such as Japan's Sumitomo Corporation and China's Sinopec, to expand its portfolio, thus to increase its production capabilities and improve financial results.

Increasing efficiency and reducing operating costs. DVN intends to merge its U.S personnel into a single operations group, which is expected to be completed in Q1 2013.

Strong buyback activity. DVN had repurchased at least 5% of its outstanding shares over the trailing 12 month period and is on the top list of "The Online Investor" for strong stock buyback activity.
Fundamentally, DVN has an enterprise value of $25.80B with a market cap of $23.07B. DVN has a total cash of $7.53B and a total debt of $11.24B. DVN has an operating cash flow of $5.82B and a levered free cash flow of -3.32B. DVN has a forward annual dividend yield of 1.50% with a payout ratio of 46.00%. DVN has lower revenue growth (3 year average) of -6.2, which is lower than the industry average of -2.8. DVN has lower operating margin of 10.3%, ttm, and net margin of 6.9%, ttm, as compared to the industry averages of 24.9% and 13.1%, ttm, respectively. DVN has a lower ROE of 3.1 as compared to the average of 8.7. DVN has a P/E of 31.9, which is higher than DVN'5 year average of 7.2. DVN has a forward P/E of 10.6, which is lower than S&P 500's 13.3.
Valuation and Dividend Comparison with Major Competitors
| | | | | |
| --- | --- | --- | --- | --- |
| | P/S | P/B | P/E | Dividend Yield (%) |
| Devon Energy Corp | 2.3 | 1.0 | 31.9 | 1.5 |
| CNOOC, Ltd (NYSE:CEO) | 2.4 | 2.0 | 9.1 | 2.4 |
| Anadarko Petroleum Corp. (NYSE:APC) | 2.9 | 1.9 | 21.7 | 0.4 |
| Canadian Natural Resources Ltd. (NYSE:CNQ) | 2.0 | 1.4 | 14.4 | 1.4 |
| EOG Resources (NYSE:EOG) | 2.9 | 2.4 | 28.0 | 0.6 |
Competition. CNOOC, Ltd has the lowest P/E of 9.1 with the largest market cap of $93.34B. CNOOC also has the highest dividend yield of 2.4%. On January 18, 2013, Dow Jones reported that China's National Development and Reform Commission approved CNOOC Ltd's acquisition of Canadian oil-and-gas company Nexen Inc. in December. CNOOC Ltd also increased 2.61% and closed at $209.07 on January 29, 2013.
Technically, the MACD (12, 26, 9) is showing a bullish trend with diverging MACD difference. The momentum indicator, RSI (14), is showing a strong buying momentum at 67.48. DVN is currently trading between 50-day MA of $53.21 and 200-day MA of $58.13, as seen from the chart below.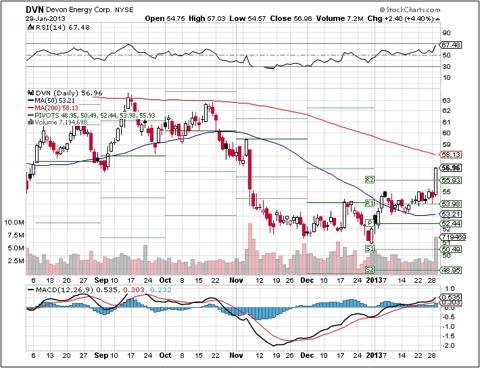 Source: StockCharts.com
Reviewing Options
The most active call was July 19, 2013 call at the strike price of $70.00 with a volume of 4,415 and an open interest of 248. The implied volatility is 22.6, and the chance of breakeven is 14.11. The historical volatility for DVN is 16.21 for 1 month, 23.41 for 3 months, and 25.11 for 1 year.
For bullish investors, a credit put spread of April 20, 2013 $50/$52.5 will be reviewed.
Short 1x April 20, 2013 put at the strike price of $52.50 for the credit of $0.93

Buy 1x April 20, 2013 put at the strike price of $50.00 for the cost of $0.49
The maximum profit is $0.44, and the maximum risk/margin requirement is $2.06 ($2.5 loss - $0.44 credit received). If DVN closes above $52.50 on April 20, 2013, 21.36% return on margin will be gained. If DVN falls below $52.50 upon options expiration, DVN stock will be acquired at $52.06, which is 8.6% less than the current price of $56.96.
Note: All numbers/prices are quoted from the closing of January 29, 2013 with the data provided from Barron's, Morningstar, Schaeffer's Investment Research, Inc., Google Finance, and Yahoo Finance. Investors and traders are recommended to do their own due diligence and research before making any trading/investing decisions.
Disclosure: I have no positions in any stocks mentioned, and no plans to initiate any positions within the next 72 hours. I wrote this article myself, and it expresses my own opinions. I am not receiving compensation for it (other than from Seeking Alpha). I have no business relationship with any company whose stock is mentioned in this article.