On Tuesday, January 29, Chesapeake Energy (NYSE:CHK) announced that its billionaire co-founder, chief executive, and president, Aubrey McClendon, has "agreed to retire" by April 1. The market is taking this ouster of McClendon as a positive sign, despite the fact that his successor is still unknown.
McClendon's management of Chesapeake came under significant scrutiny in 2012, as questions about the billionaire's financing agreements with the company began to circulate, and investors wondered whether McClendon's high-risk antics and questionable cash management made him the right person to lead the large energy company.
In April of 2012, Chesapeake directors started investigating whether some of Aubrey McClendon's personal financial transactions conflicted with his duties to the company. The investigation followed media reports claiming that McClendon used personally held minority stakes in wells that were majority owned by Chesapeake as collateral for his personal loans. The subsequent media and investor investigation came at a time when natural gas prices were in a state of rapid decline, and these events helped push CHK shares down.
In the wake of those declines, activist investor Carl Icahn took a large position in Chesapeake and combined his voting power with CHK's largest shareholder, Southeastern Asset Management, to put five new directors on the board and forced McClendon to give up his chairman role last May. Archie Dunham, former chairman of ConocoPhillips (NYSE:COP), then replaced McClendon as chairman and the board also reduced its compensation by 20%.
The board also reduced McClendon's personal use of corporate airplanes. Chesapeake recently added that McClendon agreed to reimburse the company for personal use of its aircraft at a sum of more than $250,000 a year, which is below the prior expected and anticipated standard of more than $500,000 a year. Chesapeake has also indicated that it will end McClendon's well-investment program within 2014, which is sooner than an originally indicated termination date of the end of 2015. These perks are part of what the market did not like about McClendon's leadership.
Beyond announcing McClendon's departure, Chesapeake also noted it had concluded its review of the financing agreements and other related matters between McClendon and Chesapeake, finding no improper conduct. This does not mean that there was no improper conduct, as the company may be attempting to sweep its CEO's indiscretions under the rug and into its past.
McClendon's history with Chesapeake is mixed. In 1989, McClendon co-founded Chesapeake with the company's former president, Tom L. Ward, who is currently the CEO of SandRidge Energy Corporation (NYSE: SD), another Oklahoma City-based energy company. Chesapeake went public in 1993, and McClendon grew the company into the second-largest producer of natural gas and a top-20 oil producer by focusing on accumulating domestic energy assets, and particularly on shale gas assets.
The public opinion of McClendon's leadership at Chesapeake has varied dramatically over the past decade. In 2008, as natural gas prices tanked, McClendon was forced to sell approximately 33.4 million shares in Chesapeake, representing about 90% of his stock in the company, to meet a margin call. Between 2007 and 2008, McClendon lost nearly $2 billion in his position within Chesapeake.
Many argued that it was reckless for a CEO to hold such a sizable position on margin in their company, and that his forced selling of shares exacerbated their decline in value. See a chart of CHK shares over the last decade: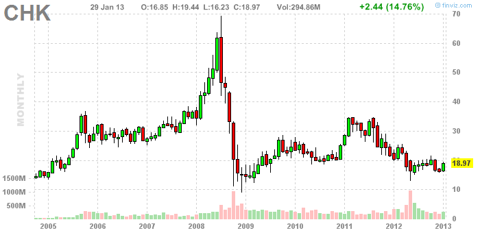 Also in 2008, McClendon was the highest paid CEO among all companies in the S&P 500, having received a total compensation package valued at about $112 million, including a one-time payment of $75 million. Many argued that this bonus payment was improper given the margin call, and that it was possibly only made because McClendon needed the cash. Since then, McClendon's leadership at Chesapeake was questioned, with doubt peaking last year.
This announcement of McClendon's pending departure is the second leadership announcement from Chesapeake in January. On January 7, Chesapeake reported that it withheld Aubrey McClendon's annual bonus and that it also substantially cut 2012 incentive compensation for executives, and reduced executive perks. Chesapeake also stated it will develop annual and long-term incentive compensation plans that will correlate executive pay to the company's performance. The board's Compensation Committee determined that 2012 executive bonuses should be reduced by more than 50% compared to 2011.
In 2012, shares of CHK declined by about one quarter and the company lost $1.07 billion through the first three quarters of the year, with CHK scheduled to report its Q4 results on February 18 of this year. Chesapeake's net debt increased to more than $16 billion in 2012, forcing the company to put assets up for sale including oilfields and pipelines. Additionally, the company has indicated it will introduce proposals at this year's annual meeting to change voting standards and strengthen shareholder control, and that it shall continue to seek changes in Oklahoma law that would allow investors to vote on the entire board of directors in 2013.
One significant problem that Chesapeake still suffers from is that the company is still in the midst of its asset sale plan, while natural gas prices remain historically depressed. See a 5-year chart of natural gas prices, below:

Selling natural gas property while the commodity is depressed is not ideal. Moreover, the known need to shed assets must result in a buyer's market and potential fire sale pricing of the assets Chesapeake intends to sell. Recent major energy asset sales such as China's state-owned oil company CNOOC's pending takeover of Nexen Energy (NXY) indicate that there is strong global appetite for energy assets, but Chesapeake would have tremendous difficulty in clearing the sale of its domestic natural gas to a foreign state-owned entity. Additionally, continued discourse over the shale fracking could make many would-be buyers wary of increasing their exposure to shale assets before more information is available. As a result, the most probable purchasers of CHK assets would appear to be domestic exploration and production MLPs.
Given Chesapeake's continued measures to rectify its issues, it appears that the company is poised to appreciate in 2013. Chesapeake's continued efforts to change the company from within should yield not only cost savings, but also an increased rate of comfort with the company by the investor community. New asset sales, further corporate changes and/or new allocations by other known investors are also probable catalysts within 2013. Chesapeake appears poised to appreciate into its February 18 earnings report, and, provided the report is positive, recognize continued strength going forward.
Disclosure: I am long CHK. I wrote this article myself, and it expresses my own opinions. I am not receiving compensation for it (other than from Seeking Alpha). I have no business relationship with any company whose stock is mentioned in this article.