Stuck in a Rut
In 2000, a Federal judge ruled that Microsoft (NASDAQ:MSFT) was a monopoly, and a consent decree, administered by the Department of Justice, was slapped on the company for an entire decade.
Microsoft retreated into a cautious, safe posture, and despite massive billions in share buybacks, increasing earnings, a huge cash stockpile, and a growing dividend stream, the stock has been stuck in the same range, frustrating many investors. Along with Cisco (NASDAQ:CSCO), it became one of the most hated stocks of all time.
Finally, in May 12th, 2011, the Department of Justice consent decree expired, and the sleeping giant began to emerge.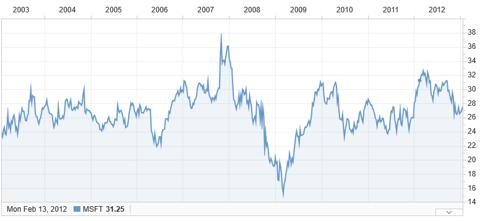 Source: MSN
Consumerization of Technology
With Apple (NASDAQ:AAPL) and Google (NASDAQ:GOOG) free to compete, the focus shifted to the consumer, and a new trend took place, called the Consumerization of Technology.
Disruptive technology was typically created and adopted in the government and academic sectors. These institutions did not have to answer to quarterly earnings profit motives, had huge pockets, and could absorb the risk if the technology did not work out.
Once the technology matured and became profitable, big business jumped in and further adopted it. As big businesses produced economies of scale, the commoditization cycle took place, making the technology affordable for consumers.
Apple flipped the script, and turned this cycle back around, by forging the smart phone and tablet markets. Business and governments, and even the US Army, are adopting these portable technologies, and this is where most of the technology focus has been the past 5 years.
Enterprise Sleeper Strategy
However, while all eyes have been on flashy consumers, Apple still has no clear enterprise strategy, and they may simply be okay with that. After all, technology companies do not have to dominate every single market.
Most press has been focusing on Windows 8 and the "PC Is Dead" hysteria, and many have been overlooking the growth story in Microsoft's enterprise division. Windows is a huge chunk of Microsoft's revenue, but it does not even make up half of it.
Microsoft's diversified revenue streams give it a tremendous amount of resilience to grow existing markets, while attacking new ones, gaining strength and fast-tracking experience the first movers have already provided.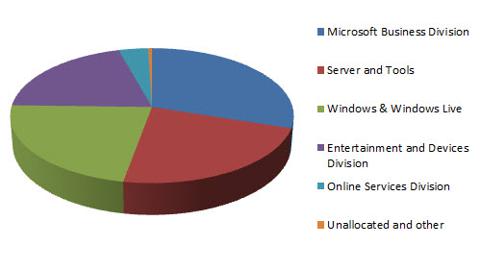 Chart: ZDNet
Gloves Back Off
The way is to avoid what is strong and to strike at what is weak. - Sun Tzu
Do you remember Lotus 1-2-3, dbase, Paradox, Wordperfect, or even…the Bank Street Writer? (Or you hardcore pros using vi editor or EDT, I challenge you to try and outnerd me). Even though most of these products still exist, you probably don't use them, because Microsoft ran them all out of the market, taking their leadership titles. Now, Microsoft is at it again.
While Google and Apple are busy fighting each other in the consumer markets for supremacy, Microsoft has been quietly making major moves in the enterprise space.
Microsoft is the master of taking revenues from the low end, by capitalizing on the commoditization cycle. I believe Microsoft will take a loss leader strategy in the enterprise, offering its existing customers a very low price, bundling its offerings in bulk with other product lines, initially sacrificing margins for revenue growth.
Grocery stores do this with milk, Cisco did this for years with its networking gear, and Google is doing it with Android. Once you get people in the door, they will buy something else in your store.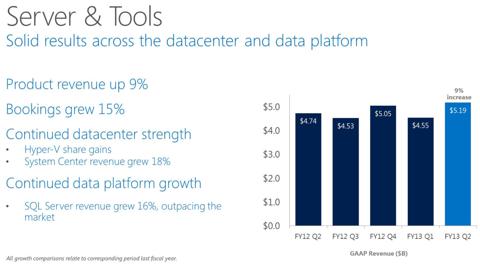 Source: Microsoft
Great Wall
The worst policy of all is to besiege walled cities. - Sun Tzu
Microsoft has a huge competitive advantage that never gets mentioned in any articles, and that is the Active Directory, the winner of the directory services fight in the 1990s against Novell NetWare (NASDAQ:NOVL).
A boring, plumbing piece of technology, Active Directory (called "AD" in the industry), is the glue that holds everything in the enterprise together. AD is the gold standard of directory services, making very complicated configuration on other platforms as simple as a right click.
Enterprise software vendors always support AD integration as their preferred choice, and this offers Microsoft a tremendous, protected platform to build off of and a competitive advantage to exploit.
Currently, software vendors are developing their own mobile strategies, but this often results in a clumsy integration effort, requiring difficult or expensive middleware solutions to tie mobile devices into the backend.
With its tablet and mobile strategy built on top of this unified, integrated ecosystem of Windows 8 and Active Directory, Microsoft has pulled off a brilliant move, by building a wall, preventing Apple and Google from getting into the enterprise.
Striking Soft Targets
There are two obvious targets Microsoft is going after in the enterprise.
This first is VMware (NYSE:VMW), a darling of the QE-induced cloud computing run-up. Microsoft's answer to VMware is Hyper-V, which has been gaining tremendous traction. VMware has responded defensively with its marketing, addressing Microsoft's claims in public, instead of acting like a market leader. The parallel here was Microsoft's own misstep during its Vista days, when it came out with the "I'm a PC," counter-ads.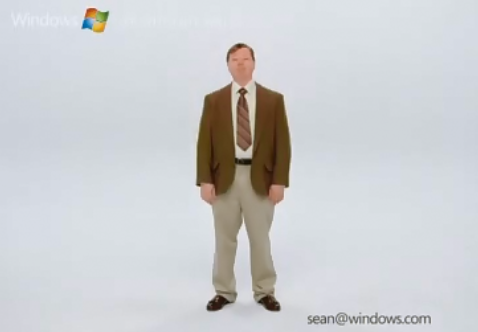 Source: Microsoft
The problem with these ads is that you are telling the world that your competitor has defined the playing field, and you are a player on it. Your goal is to define and own the field, not be a guest on it. This shows weakness. VMware unfortunately had to cut employees, and this seems ironic, considering its response ads to Microsoft featured its own employees.
The second target is Research in Motion (RIMM), which is currently considered an enterprise mobile solution leader, due to its backend integration capabilities, along with its reputation as a solid choice for security.
The recent contract win for Windows 8 in the Department of Defense is a huge step towards answering security questions.
The Nokia Lumia/Windows Phone 8 combination continues to earn positive reviews, and the Lumia line is selling better than expected. Microsoft is closing the apps gap extremely fast, and features continue to become streamlined across all vendors.
Aggressive Windows 8 tablets and phone strategies, along with the strength of Microsoft's super easy enterprise integration capabilities, should give it a leg up on competitors.
Dell Offer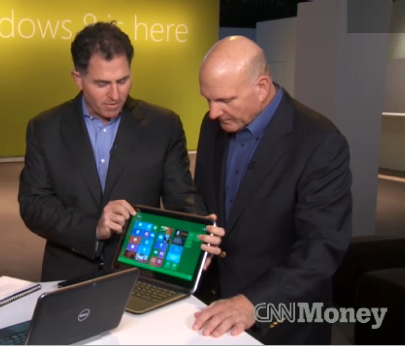 Dell (NASDAQ:DELL) has been acquiring software and services assets, transforming itself from a commodity hardware provider, and into a solutions provider, the model pioneered by IBM (NYSE:IBM).
In doing so, Dell has picked up some tremendous assets in the enterprise for businesses to manage their data centers and application landscapes more effectively.
While everyone seems to be focused on this as a move to manage the OEM supply chain, and that may be true, I think this move is absolutely brilliant for other reasons, again, being the enterprise.
Companies that really need to take note are VMware, Red Hat (NYSE:RHT), and especially HP (NYSE:HPQ), who can't figure out exactly what it is, and should have been taking this data center unification path this whole time.
If the Dell acquisition does go through, Microsoft would be doing now with Hyper-V, System Center, and Dell, what it did years ago with Windows NT and Active Directory, building an integration web that is nearly unbreakable, and yes, even in the cloud.
Check out the body language here between Ballmer and Dell himself - it's clear these guys look like old college buddies back for a reunion and ready to take on the next challenge, confident and trusting in each other's abilities.
OEM Partnerships
The case has been made that Microsoft risks antagonizing its hardware partners by making a bid for Dell.
However, this is business, and these same OEM partners have been quick to offer customers Linux, both on the server, and now, with Chrome Books, to consumers.
Engineering Standards Leadership
A commenter nailed it here, when he wrote about why Intel (NASDAQ:INTC) had to lead with Ultrabooks. Apple set a very high engineering standard, and so Microsoft needed to assume risk and take a leadership position with Surface, so the OEMs would follow.
Ballmer knew, from an engineering and quality standpoint, that the Surface had to be a slam dunk. He had to push the envelope and set the standard, bringing out Surface as the model for the OEMs to copy. The Apple iPad had set a very high standard for usability and reliability, to a place where it should be, and consumers responded.
Criticism 1 - Sloppy Transition Alienating Windows 7 Loyalists
As much as I think Microsoft is a solid long-term investment I do have two big criticisms.
The first is that the transition from Windows 7 to Windows 8, for traditional desktops users, who lack a touchscreen, was not executed very well at all. The perception is that Microsoft threw it out there and then just expected users to intuitively learn up the new interface.
For touchscreen users, the Metro UI is a no-brainer, however, Windows 7 desktop users have often felt lost and alienated, due to lack of the traditional start menu, and this has caused tremendous frustration, even among Windows loyalists.
Simply doing little things, like reminding users they just needed to hit the Windows key to move back and forth between screens, would have been a big step.
Third Party developers are already making a killing selling start menu replacements. For those of you frustrated by the missing start menu, you can install Start8, Startisback, or the free Classicshell.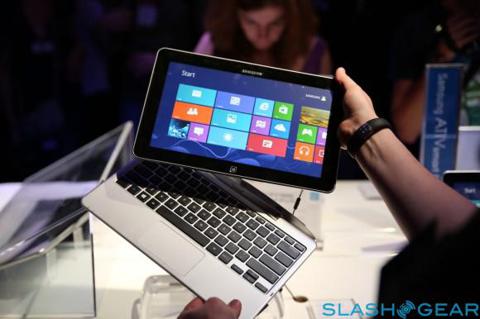 Criticism 2 - Cannibalistic Culture Acts as a Ceiling
A house divided against itself cannot stand. - Lincoln
Out of all the things Microsoft could change to improve innovation, I personally believe changing the company culture would have the biggest benefit to help create value and drive future growth.
Microsoft is well-known for promoting a system of bell-shaped yearly reviews for its employees. This means that there will always be employees classified as superstars, some in the middle tier, and the rest classified in the slacker tier.
So even if you did an outstanding job, if the perception of your peers is viewed as being superior, you still end up in the bottom tier. On the other hand, if everyone is doing a terrible job, someone is still viewed as being an exceptional performer.
This type of system was the same system used at Enron, and is also known as the third most common deadly disease of Western management as identified by Dr. Deming.
The problem with this type of system is that it encourages self-promotion over technology and merit.
This means great ideas are not always the ones that rise to the top - it's the LOUDEST ideas that will turn out as winners. The system also is at odds with the same culture of blunt honesty, results and efficiency that engineers and technologists are known for and expect from their peers.
The result of a system like this is that it encourages shenanigans, politics, one-upmanship, cliques, and scares potential talent away from joining.
Let the technologists focus on technology and let the sellers sell. Good technology sells itself.
Microsoft Trading Strategies
Microsoft trades in a range, and can be scalped at the low end for trading, or because of its growing dividend, and AAA rated credit, bought low to hold long for the income, and intermediate term capital appreciation.
I do believe the stock has the ability to finally break out of its range, with the removal of the DoJ consent decree. However, I believe removing the review process culture would do more to grow the company than anything else.
From a sampling of Seeking Alpha articles and comments, I find these same trading ideas mentioned often:
K202 has a great strategy for selling options against Microsoft
Many will also simply buy the stock or sell puts on 52 week lows
Others buy or sell puts at low end (24) of the 10 year trading range
I personally look to go long based on the Graham Number price target and sell options based on short-term technical moves
SWOT Analysis
Microsoft scores very well on fundamentals, with very high dividend growth, huge cash stockpile, almost no debt, a respectable payout ratio, low P/E and low PEG.
However, current price is a too high for me, and the O-Metrix score is also low, showing limited strength of price appreciation.
I am long the stock but do not want to accumulate more at these price levels unless fundamentals change.
Founded: 1975
Cash: $66 billion
5-year dividend Growth: 14.87
Yield: 3.30%
Payout Ratio: 0.47
Debt/Equity: 0.2
P/E - ttm : 15.3
5-Year PEG: 1.18
Percentage over Graham Number: 47.96% (Target Price 18.84)
O-Metrix Score: 4.76
Composite Opinions
Stock Scouter Rating: 6/10
Morningstar: 4/5
Strengths
Enterprise technology leader, near monopoly on desktop tools
Very deep, easy to manage integration between product lines
Huge cash stockpile and consistent, growing cash flows
Strong brand leadership
Decades of customer base familiar with products
AAA rated credit
Weaknesses
Behind in web presence, mobile, and tablets, although catching up
Company review culture encourages infighting, and promotion over technology
Opportunities
Tablet and mobile markets undergoing commoditization cycle
Best ecosystem allows easy adoption of high growth product lines such as Hyper-V and System Center
Deep enterprise penetration allows huge leverage to pick off weaker opponents like VMware and Research in Motion
Expiration of Department of Justice consent decree in 2011 allows management to take an aggressive stance
Windows 8 Metro UI blends well with large touch screens
Threats
Windows 8 UI transition can be risky if not executed well
Fear over slower PC growth
Continual threats against Office anchor
Alliances with OEM hardware partners could sour if not managed well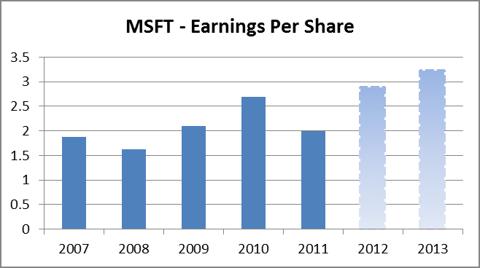 Data: MSN. Charts: Stock Market Functions Add-in for Excel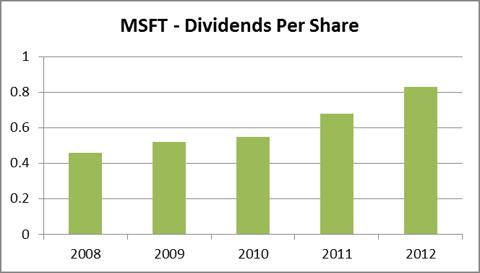 Data: MSN. Charts: Stock Market Functions Add-in for Excel
Conclusion
Microsoft is making all the right moves on a strategic level, however, some of its execution in consumer markets, while improved, is lacking.
Although I feel Microsoft could be handling its Windows 8 transition better, and dislike the company review system, I find its fundamentals to be exceptional, with wide moats, and a diversified product line, so consider it a Technology Staple for the long term, and perfect stock for my I-GARP style.
I am already long Microsoft and will buy more on major pullbacks; however, considering my current low price target may only be available during market panics or economic downturns, I will sell options to earn additional income on my existing holdings.
Disclosure: I am long MSFT, INTC, HPQ. I wrote this article myself, and it expresses my own opinions. I am not receiving compensation for it (other than from Seeking Alpha). I have no business relationship with any company whose stock is mentioned in this article.
Additional disclosure: I hold a very small position in HPQ but have no conviction in the stock and will not be adding at any price.