It's that time of year - Barron's Roundtable -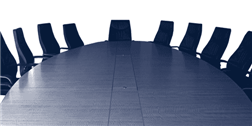 the 10 "investment experts" who generously share their investment ideas for the coming year.
"For those who care to keep score" (now why would anyone care about something so trivial as that?), Barron's tracks last year's picks. Let's see - it doesn't look like any of them made money in 2008, but then again who did? Still, you have to wonder if Mario Gabelli dreamed he'd drop 90.5% on Lin TV (TVL) or if Archie MacAllaster thought he'd lose 65% on Bank of America (NYSE:BAC). On the other hand, some of last year's shorts were no less than prescient: Marc Faber shorted DryShips (NASDAQ:DRYS) (-85%), emerging markets and China (hmm... maybe Faber did make money); Fred Hickey shorted Research In Motion (RIMM) (-61%) and Amazon.com (NASDAQ:AMZN) (-42%).
Consensus is that 2009 will be horrid for the economy, but may be an exciting year for stockpickers who have an unprecedented opportunity to bargain shop. Barron's splits up the Roundtable's stock picks into three issues - this week we get Meryl Witmer and Fred Hickey. But first, a few snippets from the bunch on the big picture:
The stock market has rallied about 20%, and could go up 40% or 50%, as the little bull market did. Then reality is going to set in -- the reality that the economy is terrible, the unemployment rate is going to rise, the Fed's policies are imprecise. The dollar could get killed sometime this year, causing all kinds of problems. We have a more protectionist Congress. Deficit spending is unlikely to work. In sum, we have a date with more traditional bear-market levels. You'll see the single-digit P/Es [price/earnings multiples] that were typical in 1982, '74 even 1930 and '32. The market will go down significantly, and then make a bottom. - Fred Hickey

Giving a tax cut to people who spend the money at Wal-Mart on products made in China isn't going to do it. - Scott Black

Around the world, governments are throwing money at the system to revitalize debt growth. When an economy is credit-addicted and debt growth slows, it is a catastrophe. With the Fed buying up everything and boosting the federal deficit, hyperinflation will be the result down the line. - Marc Faber

We were all children of the bull market, but the bull market is over. Deleveraging will become the context for the next five to 10 years. It will lead to lower profit margins and higher interest rates. - Bill Gross

I can't believe you people can't find one good thing to say about the market, and at its low last year the market was down more than 50%. The bad news is in the market. - Archie MacAllaster

Come April or May, the numbers will be a lot better than in the fourth quarter. Car dealers tell us they are starting to sell cars, but the buyers still need financing... But once a new president comes in and enacts fiscal stimulus and promises tax cuts, things will start changing. - Mario Gabelli
Meryl Witmer's Picks
Fred Hickey's Picks
That's all for this week, but before we go, here's what some other stockpickers are looking at this year: