The Federal Government has lowered interest rates to zero and is buying its own debt with money it borrows from China. Inflationary you say? Nope, not a chance.
The National Debt has almost doubled in the last 4 years and the annual deficit is now north of $1.6 Trillion (that's with a "T"). Our response? Why, raise the debt ceiling of course...For the 14th time in the last dozen years.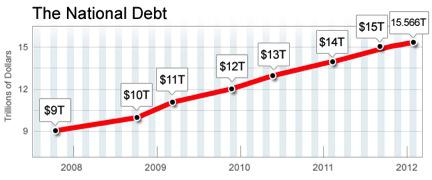 Our economy is expected to grow at a rate of maybe 2% in the next year, while Germany will be lucky to see 1.5%, and Japan officially just slid into a recession. Meanwhile the S&P 500 just reached another 5 year high and the VIX fear index is comatose at 13.6, a level not seen since late 2006 and then only briefly, when the economy was humming along at 3.5% annual growth in GDP. (OK, I don't know if 3.5% annual GDP is exactly "humming along" but it looks pretty good from where we sit today)
Apple (NASDAQ:AAPL) just finished up a record year, selling more iPhones and iPads than ever before. They had YOY revenue growth of 18% on QUARTERLY revenue of $54.5 BILLION, an EPS of $13.81, margins of 38%, AND a dividend yield of over 2%. Yet the stock is down 10% since reporting those numbers. Oh, did I mention it has a P/E of just 10?
Meanwhile video service company Netflix (NASDAQ:NFLX) managed to post a small ($.13/share) profit and - TA DA! - is up 62% on that amazing news and trading at a current P/E of 559 and a 12 month forward P/E (based upon its own rosy projections) of 140.
I dunno, maybe I'm living in some bizarro world where everything is the reverse of what it should be. Maybe I'm living inside that Seinfeld episode where everything George does is the exact opposite of what he thinks he should do and it works out great. Perhaps that's it. It must be, because....Does any of this make sense to you?
Apparently, at least with respect to Netflix, the answer is "yes it does", as there seems to be no shortage of analysts or stock prognosticators that are very bullish on the stock arguing that the company's strong competitive position, not only here in the U.S., but in overseas markets as well, provides excellent potential for continued future growth. After stumbling 18 months ago with two back to back price increases and a poorly advised and even more poorly executed plan to split the company, management points to the steady increase in streaming subscriptions and the slowing of defections in the DVD clients (see chart below) as proof positive that this is just the beginning of the next leg up for the company.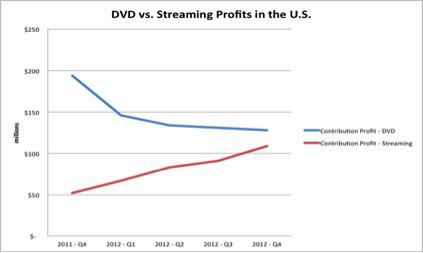 No doubt about it, this stock has momentum going for it lately. So what now? Should I get on board this train before it leaves the station? Has it had its run or is there still more upside left? Indeed, the stock is still almost 50% below its closing high of $298.73/share on July 13, 2011.
I'm not a joiner by nature, but even my Instinct says "BUY!!! QUICK!!!! GET IT WHILE YOU CAN!!!." If you look at my disclaimer you can see that I'm long AAPL. Of course like many AAPL investors I've been spanked pretty good here since September and things haven't been getting any better lately. "Maybe," my Instinct is whispering,..."maybe NFLX is the stock that can help make up for some of that lost ground."
But my Logic says "Hold up there a sec Alice. Look at those numbers above. I mean really? ARE -YOU-KIDDING-ME??!" Logic dictates that when a stock - any stock - is up over 60% in THREE DAYS it's time to sell - not buy! Remember, selling doesn't mean you don't like the stock. It just means you are taking what the market is giving and perhaps waiting for a pull back to dip in and buy again - at a lower price.
What Shoud You Do?
Like the character George in that Seinfeld episode, I'm going to suck it up and do the exact opposite of what my Instinct is telling me I should do. No only am I NOT going to buy into NFLX at these prices, I'm going to purchase some March puts because Logic tells me that (1) gaps need to be filled and that's one heck of a gap between where it closed last Wednesday to where it opened the next day and (2) with short interest at 31% of the float prior to earnings, a very large part of this huge move up is the result of a classic short squeeze which will run its course in short order and the stock will trade back down to more reasonable levels.
Of course things in this bizarro world don't always make a lot of sense so who really knows what "reasonable" is anymore? Whatever your definition, I doubt very much if it's measured at 559 times earnings.
Disclosure: I have no positions in any stocks mentioned, but may initiate a long position in T, AAPL, MIMV.OB, OTCPK:STEV over the next 72 hours. I wrote this article myself, and it expresses my own opinions. I am not receiving compensation for it. I have no business relationship with any company whose stock is mentioned in this article.