When it comes to investing, some like to look for patterns. If a stock has a pattern that seems to continue, you might look to take advantage of it. One name I've followed tremendously that follows an interesting pattern is cigarette giant Philip Morris (NYSE:PM). This stock has rewarded investors over the past couple of years, and is one of the best value names out there thanks to a solid dividend and aggressive share repurchase plan. It has been one of my best recommendations over time, both on the "time to buy" and "time to sell/avoid" periods.
About a month ago, I encouraged investors to look at Philip Morris again under $83 a share, as the stock was "approaching the sweet spot". As I've detailed several times, Philip Morris trades at a sizable premium to other names in the space, and you have to wait for that premium to come down a bit before buying. The name also loves to pull back from $90 or more, and it has done that numerous times over the past year. At $83, the premium made sense and the stock looked like a good buy. However, we are now back near the "avoid" zone, and so it is time to take a step back. Philip Morris is still one of my top value names for 2013, but I can't recommend this name near $90 when I've recommended entering at $82 to $85 in the past. Here's why.
Current Expectations:
When comparing Philip Morris, I've looked at four other names, which I'll stick with, for consistency. They are Lorillard (NYSE:LO), Altria (NYSE:MO), Reynolds American (NYSE:RAI), and British American Tobacco (NYSEMKT:BTI). The following table is one I've used in several articles for this industry. It shows the currently expected growth, in terms of both earnings per share and revenues, for 2012 and 2013, along with a two-year total. The yellow highlight shows the highest number amongst those names for the period and figure shown, and red text shows negative numbers.

Those are where expectations stand as of Tuesday. But a current number is meaningless unless you know where the number was previously. So below I will describe the changes in each name's forecast since my last article a few weeks ago.
Philip Morris has seen its revenue growth forecast for 2013 reduced a bit, from 6.1% to 5.2%. That has taken the two-year total down from 7.4% to 6.4%. At the same time, analysts have taken down their 2013 EPS forecast from $5.81 to $5.79. That represents a decline in the growth forecast from 11.5% to 11.1%, and the two-year total is now down to 18.6% from 19.1%. Philip Morris still leads in three of the six categories, but the leads in terms of earnings per share growth have come down. As these names report their 2012 results, we can shift to the 2013/2014 growth forecasts for my next update.
Lorillard's revenue forecast has not changed over the past month. Now, a couple of the earnings growth numbers appear to have changed, but I must provide one caution here. The company split its stock 3 for 1 a few weeks ago, so the new earnings per share numbers may be rounded slightly. That will throw off the percentages slightly. On the face of it, the 2012 earnings growth forecast has been reduced from 6.3% to 6.1%. The 2013 number has been increased from 8.6% to 9.0%, and the two-year has edged up from 15.5% to 15.6%. That's not a large move, and again, it could be somewhat due to rounding after the stock split.
For Altria, the only number that has changed is the two-year revenue total, which has increased from 5.8% to 5.9%. Now, neither of the individual year numbers changed at all, because the revenue increase wasn't enough to move the individual yearly percentages. Altria did not see any changes to its earnings per share forecast. Reynolds American has not seen any changes to either its revenue or earnings forecasts.
British American has seen its revenue forecast for 2012 decreased from 1.2% growth to a decline of 0.1%. 2013 revenue growth has been taken down from 3.7% to 3.1%. The two-year growth total has come down from 4.9% to 3.0%. The earnings forecast has also taken another hit. The 2012 earnings per share drop has been increased from 19.2% to 20.4%. The 2013 earnings figure has been reduced from 8.3% growth to 7.4% growth. The two-year total has gone from a drop of 12.5% to a drop of 14.4%.
Current valuations:
I always say that growth is important, but the more important part is how much are you paying for that growth. Well, the following table shows valuation metrics for each, as of my last update and now.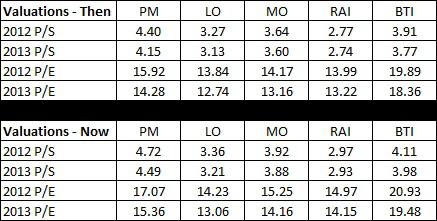 Philip Morris trades at a premium, and that premium is getting bigger. I stated in my last article that I needed to provide two premiums because of the situation with British American. British American is followed by a small number of analysts, and one analyst changed their numbers so dramatically that it threw off all of the numbers. Thus, I started providing a premium table for PM against the other four names, as well as one that was excluding BTI. Here are the premiums as of my last update and as of now.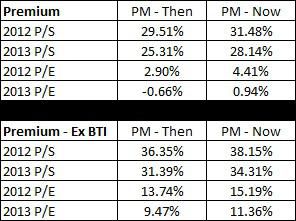 Since 2012 has ended and we are now waiting on those results, I'm going to focus on the 2013 valuation numbers. Look at the two premiums for the 2013 period, ex-BTI. The price to sales premium has jumped nearly 3 percentage points, but in the rate of change, you are talking about a 9.3% jump in premium. On a price to earnings front, you're up almost 2 percentage points, but that's a 19.86% rise in the rate of change, or premium. That means that you are paying 20% more of a premium than you were a month ago. To me, that says it is time to take a step back.
The analyst take:
Don't just take my word for it when it comes to Philip Morris. It's always good to see what the analysts say. The following table shows the average rating, where a 1.0 is a strong buy and a 3.0 is a hold. The table also shows the average, or mean, price target currently, and the upside to that target from Tuesday's close.

At my last update, Philip Morris was tied with Altria for the 2nd best rating, behind British American. Philip Morris' rating has stayed the same, but Altria's has improved slightly, meaning Philip Morris is now in 3rd place, or middle of the pack. Additionally, Philip Morris had the most upside to analyst target price as of my last update. It has now fallen into 2nd place by a fair margin.
The pullbacks from $90 plus:
I've always mentioned that Philip Morris' stock loves to run up above $90, then pull back. Since it first hit $90 early in 2012, there have been 8 full pullbacks of at least $4 (most starting above $90), with 6 of those pullbacks being over $5. A list of them is below, from there high to low points.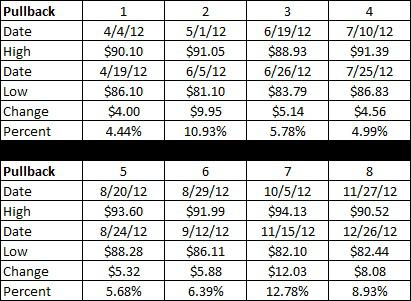 The recent high in PM shares was $90.29 about a week ago. We've already come down $1.38 since that point, meaning if the pattern continues, the pullback has started again. I don't want to say this stock is totally predictable, but there has been a bit of a pattern over the past several months.
One point of concern:
I usually only discuss balance sheets in earnings wrap-ups, but Philip Morris has lost some momentum in the past couple of months. We've had trouble getting back to $92, and the lows have been near $82. I think some of the concern has to do with the company's balance sheet. In order to maintain this aggressive buyback, the company has issued a bit of debt over the past year or so. Additionally, the company's working capital has been negative at the end of four of the past seven quarters. That also means the current ratio is below 1. I put together some key financial ratios at the end of the past eight quarters. Dollar values in millions.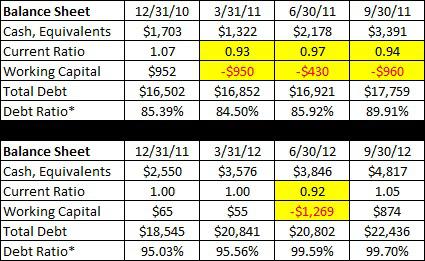 *Debt ratio is calculated as total liabilities / total assets. These numbers do not include the redeemable non-controlling interests.
Total debt has increased by roughly $6 billion in the past seven quarters, pushing the debt (liabilities to assets) ratio from 85.4% to 99.7%. It is quite possible that we could go over 100% when they report the end of 2012 results. The amount of cash has increased, but that's really due to the increase in debt.
Now, a lot of this debt is long-term, so it isn't due right away. But the issue here is that if this trend continues, it might be harder for the company to grow the dividend or aggressively buy back the stock down the road. I'm not calling for a cut in either anytime soon, but if the balance sheet gets worse, these fears will increase. I'd like to see the debt ratio start improving over the next few quarters. One of the reasons why this name trades at a premium to those in this space is this huge buyback. If it were to slow down, that premium could rapidly deteriorate, which wouldn't be good for long investors.
Final Thoughts:
Philip Morris shares are up about $6 since my last update, and that has pushed shares back up to the unreasonable level. The premium against other names in the space has increased quite a bit, and the dividend yield is 28 basis points less than at my last update. Additionally, earnings expectations for the company in 2013 have come down slightly. The stock feels like it is ready for one of its patented pullbacks, and so I wouldn't be jumping in at these levels. Philip Morris may be my top value pick for 2013, but at these levels, investors need to take a step back.
Disclosure: I have no positions in any stocks mentioned, and no plans to initiate any positions within the next 72 hours. I wrote this article myself, and it expresses my own opinions. I am not receiving compensation for it (other than from Seeking Alpha). I have no business relationship with any company whose stock is mentioned in this article.
Additional disclosure: Investors are always reminded that before making any investment, you should do your own proper due diligence on any name directly or indirectly mentioned in this article. Investors should also consider seeking advice from a broker or financial adviser before making any investment decisions. Any material in this article should be considered general information, and not relied on as a formal investment recommendation.