In this article I will lay out why you should consider purchasing Silver Wheaton (SLW) at current levels. Gold and silver are still down heavily since hitting highs in September and October of 2012. As such, the most popular gold and silver ETFs, such as the SPDR Gold Trust (NYSEARCA:GLD) and the iShares Silver Trust (NYSEARCA:SLV) have lost 7% and 12% respectively since the highs last fall. The ETFs that track many of the companies that mine and sell these metals such as the Market Vectors Gold Miners ETF (NYSEARCA:GDX), the Market Vectors Junior Gold Miners ETF (NYSEARCA:GDXJ) and the Global X Silver Miners (NYSEARCA:SIL) are down even further in the last three months compared with the metals they produce, losing 17.9%, 20.1% and 15.4%, respectively. Given these recent sell-offs in the precious metals sector, I am reiterating that the gold and silver stocks, including those mentioned above, are now strong buys after their significant sell-offs.
The reasons to be bullish on precious metal prices and subsequently on the companies that mine and/or sell them are simple. The endless central bank easy money policies in place will debase fiat currencies globally. This means the purchasing power of those currencies will be reduced, thus strengthening precious metal demand. Further, it is well known that gold, and to some degree silver and platinum, tend to have an inverse relationship with the dollar. The debt crisis in the United States that is eating the value away of the dollar over time further strengthens the case for the precious metals. I have outlined the bullish case in further detail in sections of prior work, and have also opined that silver could outperform gold in the next few years.
In this article, I highlight a recently beaten down SLW, which in my opinion, represents the best silver stock in the industry. At the time of this writing, SLW currently trades at $33.70 and has a 52-week trading range of $22.94 to $41.30. The stock is down about 10% since the start of the year and represents a good opportunity to initiate or add to a position. The stock has dropped on average volume this month. On average, about 3.65 million shares exchange hands daily, and most trading sessions volume has been around this number. The company trades at a 21.8 P/E multiple but only a 0.62 PEG ratio and currently yields 0.8% (the company temporarily reduced its quarterly dividend to 7 cents and I anticipate it returning to prior levels this year). SLW's earnings per share are estimated to grow at a rate of 36% in the next five years. The company also has a strong balance sheet with a debt-to-equity ratio that is decreasing. SLW also has more proven and probable reserves of silver in its portfolio than other major silver companies (Figure 1).
Figure 1. Silver reserves for Silver Wheaton versus other major silver companies.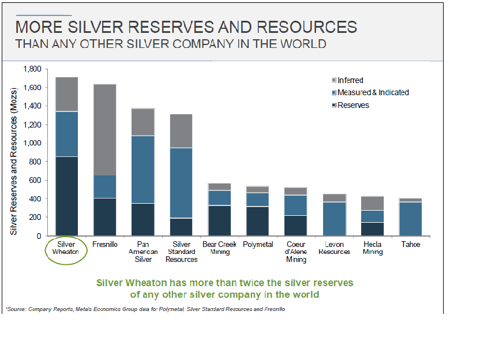 The share price of SLW has been depressed as of late due to the weakness in silver in the last month or so. Silver prices dropped heavily since October, losing about 15% and took a large drop in December. Silver has rebounded a bit in January and I expect SLW will soon follow.
Why Silver Wheaton?
Although there are many strong silver companies, SLW has been by far my favorite silver stock. I further believe it could not only outperform silver in the next year, but also the bulk of other silver companies. SLW is a worldwide silver streaming company. Streaming is a very unique and long-term solvent business approach in the gold and silver space. The company offers a superior alternative to traditional precious metal mining stocks because in general the approach SLW takes offers a stronger opportunity for revenue growth with lower long-term overhead than mining companies, many of which are in unstable jurisdictions. Rather than mine for metals directly, SLW generates its profits by providing up front financing for other companies in the mining space looking to expand and drill for precious metals. In exchange for the up-front financing of these companies, the SLW acquires the right to purchase a portion of production generated from the mines at a fixed cost
SLW has contracts with companies around the world to purchase silver production in bulk at prices well below market value. Once SLW acquires the silver at the predetermined upfront investment cost, it then proceeds to sell the silver at higher prices. The company currently has 4 development projects, 15 long-term silver purchase agreements, and two long-term precious metal purchase agreements whereby it acquires silver and gold production from companies located in Greece, Sweden, Peru, Chile, Argentina, Portugal, Mexico and the United States (See Figure 2). According to the company, "the predetermined price that SLW pays for future silver production is approximately $4.00 per ounce, with a small inflationary adjustment, ensuring that costs are fixed."
Figure 2. Geographic location of established silver and gold streams for Silver Wheaton as of January 20, 2013.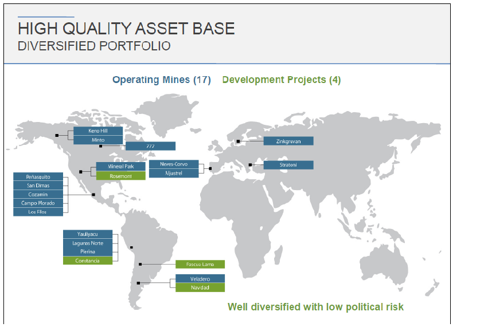 SLW represents an excellent investment to gain exposure to silver as SLW offers significant leverage to the price of silver with minimal downside risks. No additional capital expenditures or exploration costs are required by SLW, besides the initial payments the company makes to silver miners to secure the rights to purchase low cost silver. Further, SLW benefits from the production and exploration growth of its operating partners. It does not face the rising labor cost issues that actual miners face. So long as the mines are producing, SLW will have a consistent stream of silver, and in turn, a stream of revenue. The higher the price of silver goes, the better the top and bottom lines will be. This efficient business model creates long-term shareholder value. SLW has important contracts in place with the likes of Goldcorp (NYSE:GG) and Barrick Gold (NYSE:ABX).
SLW's Recent Performance
The recently reported third-quarter earnings were below analysts' estimates, primarily due to irregularities between ounces sold and timing of shipments. However, management stated that cash flow and dividends both will increase through the last three months of this year as sales begin to catch up with production. Production was up in the third quarter, rising to 7.69 million ounces of silver, however sales rose less than 1% to just 5.14 million ounces. Sales dropped by 13% to $161.3 million. Net income dropped by 11% from last year's $135 million to $119.7 million. Although the quarter was weaker than expected, the company looks strong going forward and is leveraged to silver prices. So long as silver holds its value (or the more likely case, appreciates over time) the stock should perform well.
SLW's Future Activity
SLW continues to seek out and strike new deals for purchase agreements on proved and prolific silver reserves. SLW will seek to continue its partnerships with large miners such as GG and ABX as these existing contracts are very profitable and will produce rapid revenue and earnings growth well into the future. Silver Wheaton recently inked a new contract with Hudbay mineral (NYSE:HBM), which will add immediate cash flow with future costs fixed at current levels. Based upon its current agreements, attributable production for 2012 was approximately 28 million silver equivalent ounces, including 42,000 ounces of gold. By 2016, annual attributable production is anticipated to increase significantly to approximately 48 million silver equivalent ounces, including 100,000 ounces of gold. The company is on solid financial footing and has over $550 million in cash with almost no debt. With its proven business model, SLW is and will continue to be a long-term winner.
Summary
Global central bank stimulus will undoubtedly debase currencies worldwide, and thus, the tailwinds are in place to sustain a long-term bull market in precious metals. The dollar is likely to only weaken in coming years due to the United States' addiction to high debt and easy money policies. We have had a major pullback from the recent highs a few months ago thus presenting an entry point opportunity for the long-term investor. Precious metal streaming is one of my favorite business models as the risk is much lower compared with traditional mining companies. I believe SLW is a strong buy at current levels and that the stock will likely outperform its peers that engage in traditional mining activities over the next year.
Disclosure: I am long SLW, ABX. I wrote this article myself, and it expresses my own opinions. I am not receiving compensation for it (other than from Seeking Alpha). I have no business relationship with any company whose stock is mentioned in this article.