On Monday, January 28, 2013, China Central Television Channel One (CCTV-1), the largest national Chinese government-run news network, aired a special investigative report titled "Investigation of the Truth Behind Longwei Petrochemical" verifying our findings on the Longwei Petroleum (LPH) fraud.
See the CCTV video here.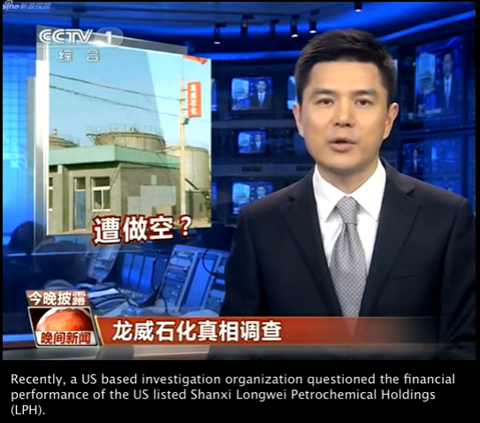 To our knowledge this is the first time that China's state-run CCTV has come down so strongly against a China-based company accused of fraud. CCTV cites our report several times, makes several similar observations, and arrives at the same conclusion.
Highlights of the CCTV special report include:
Overgrown vegetation still covering the rail spur to the Gujiao facility.
No employee or tanker truck traffic for the five hours (between 12 and 5pm) that the reporter filmed the Gujiao facility.
No fueling attendant and rusty equipment at the Taiyuan facility.
Local residents and businessmen convey the fact that LPH has not had much business for years.
Most interesting was the CCTV reporter's visit to the Taiyuan City State Administration of Taxation office (the "SAT" is China's version of the IRS). According to the SAT officer, LPH's reported revenue for 2012 was only RMB 2.64 million or approximately $426,000 dollars!
Given that even the Chinese government run television has sided against LPH and its Chairman Cai Yongjun, what now remains is for CFO Michael Toups, the independent directors and auditor Russell Anderson to explain their seemingly negligent performance in preventing Chairman Cai's fraud and more importantly why until now they have not done anything since January 3, 2013 to protect shareholders by bringing clarity to the situation. We here at GeoInvesting continue to watch with much interest for any statements from LPH's fee collectors who in our opinion have so far neglected their fiduciary responsibilities to shareholders.
Disclosure: I am short LPH. I wrote this article myself, and it expresses my own opinions. I am not receiving compensation for it. I have no business relationship with any company whose stock is mentioned in this article.
Additional disclosure: Subtitles and translation of CCTV video provided by GeoInvesting.