The favorite game on Wall Street seems to be "the earnings game" - aka pure gambling. Roll heavily into a stock ahead of earnings, roll the dice, and hope it comes up your way.
Shaw Group (SGR)
- one of the Obama infrastructure stocks - had
earnings Thursday
and put on a huge gain off of earnings that were none- too- impressive. But they pumped up their prospects of getting US taxdollars from New Deal 2.0 and The Street loved it. It's so very random, but this is the casino we play in.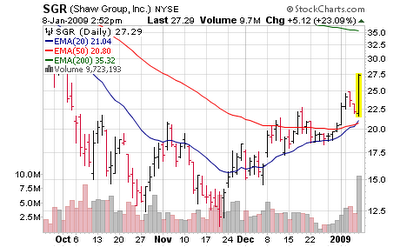 Shaw has a quite spotty history of hitting its quarterly numbers, but when President Midas has your back, none of it really matters. [
Jul 10: Shaw Group - Solid, not Spectacular
] [
Apr 9: Shaw Group Misses Its Numbers
] .But to show just how bad these stocks have been hit, we sold our position [
May 13: Closing Shaw Group
] in May in the low $50s, and after yesterday's gain (which added a quarter of value in 1 session) the stock is still in the mid to upper $20s.
Shaw Group Inc. posted a loss Thursday for its first quarter as the Japanese yen strengthened against the U.S. dollar, eroding the engineering and construction company's returns on its stake in nuclear power plant builder Westinghouse. Excluding the Westinghouse results, however, Shaw's adjusted profit beat analyst estimates. (I love that sort of accounting; well if you exclude 1/4th of our business - we made money!) The Shaw Group holds a 20 percent stake in Westinghouse Electric Co., the majority of which is owned by Japan's Toshiba Corp.
For the three months ended Nov. 30, the company lost $39.9 million, or 48 cents per share, compared with profit in the year-earlier period of $2.2 million, or 3 cents per share. The company's fiscal year ends in August. Excluding results from Westinghouse, Shaw said it would have earned $62.8 million, or 75 cents per share, in the quarter

-- well above analyst estimates of 66 cents per share, according to a Thomson Reuters poll. Such expectations exclude Westinghouse operating segment results.
Revenue rose to $1.9 billion from $1.71 billion, close to the $1.91 billion analysts expected. New awards for the quarter totaled $1.1 billion, driven primarily by a large combined cycle, natural gas-fired power plant contract.
The most important thing for these type of companies is
continued backlog levels
(or even better growth) which is most likely the main reason (ex-Obama) that people were pleased with the results.
As of Nov. 30, Shaw's backlog of unfilled orders totaled $14.8 billion, in line with the year-ago period when its backlog was $14.0 billion. Shaw estimates that $6.0 billion, or 41.0% of its backlog, will be converted to sales in the coming year.
But
most important
!
Looking ahead, Shaw Group said its environmental and infrastructure business is operating in a segment that's

"

well-positioned" to capitalize on any federal stimulus emerging from Washington. Shaw Group cited potential work on levees, coastal restoration and environmental remediation, among other projects, although it hasn't yet factored any specific projections in its financial forecasts.
When I did my analysis of infrastructure stocks in early December (boy, that was a basket of stocks I should of been buying hand over fist) [
Dec 3: Back of Envelope Look at Infrastructure
], I split the global engineering and construction firms into those that had premium valuations and those did not; for some odd reason Shaw Group was with the "big 2" in terms of premium valuation. But again, this earnings season action is so unpredictable; even if you knew the numbers/guidance ahead of time, you just don't know what the market will do with the stock the next day.
Disclosure: No position