Introduction
Nokia (NYSE:NOK)'s Q4 2012 results have surprised many by turning speculation into reality, and sales could have been even higher if the company had not encountered supply issues with its new Lumia 920 device. But does this mean that the Finnish giant - which generated nearly 5 billion Euros (or $6.7 billion) in losses, eliminated 16,500 workers from mobile phone business, shut down factories across Europe and sold its Helsinki headquarters - is a worthy threat to the industry leaders? Let's have a look.
Nokia's Q4 2012 has been a long time coming. After years of advertising bombardments across both Europe and the United States, the Finnish former giant has finally had a 'good' quarter due to its 86.3 million sales of mobile phones. These numbers include 9.3 million Asha smartphones and 4.4 million Lumia smartphones. While this is a commendable achievement, as Windows phone sales have finally eclipsed Symbian sales, Nokia still cannot match the unparalleled sales of Apple's iPhone and Google's Android OS, which totaled 47.8 million and 136 million respectively. But the 4.4 million Lumia sales are considered to be a shift in smartphone preferences, due to the heavy advertisements for these phones across continents.
Tracking Financials
The company strengthened its net cash position in Q4 2012 by approximately 800 million Euros (or $1,076 mil). The company's total operating margin stood at 7.9%, while the operating margin for devices in particular improved by 1.3% quarter-on-quarter. This is due to the notable increase in gross margin and unexpected decrease in operating expenses. In almost all of the financial comparisons, Nokia seems to have delivered a worse performance in Q4 2012 than it did in Q3 2012. However, with the prospect of having positive market sentiment on its side, Nokia looks to be in a potentially far better position today than it was a year ago. Unlike performance in recent quarters, Nokia generated underlying profitability and had an EPS of 0.05 Euros (or $0.067) for Q4 2012.
For the first time in 143 years, the company's CEO Stephen Elop has decided to omit a dividend. This move, which saved the company 750 million Euros (or $1,008 mil), in addition to the cash generation in Q4 2012, will go a long way to ensure the company's liquidity, especially since it recently sold its own headquarters to raise cash. The company, which is now much smaller than it used to be, is keeping a close eye on its expenses and costs. While it would be unwise to expect such huge jumps in revenue generation for Q1 2013, Nokia looks to have wrestled its way out of stormy seas as its philosophy of offering a third alternative in smartphone and low-end mobile devices gains pace.
Stock Performance
Nokia has a market capitalization of $15.7 billion and its share price at the time of writing was $4.21. Its 52-week range is from $1.63 to $5.87, and the stock has gained 12% since its impressive Q4 2012 results were announced. However, the rise in stock price is also proving to be a speculative heaven for short-sellers, which may be the reason why the gain in price is down from 25% to 12%. With a price-to-earnings ratio of -3.7, Nokia's performance looks strong.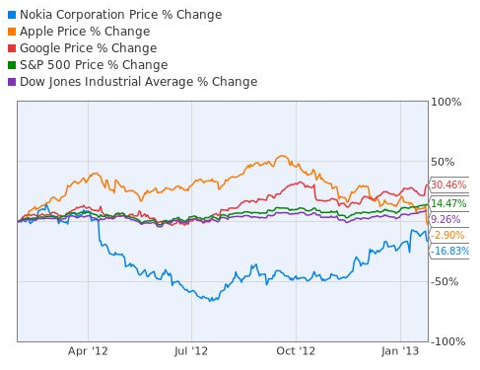 An illustration of the company's performance on the stock market against its peers Apple (NASDAQ:AAPL) and Google (NASDAQ:GOOG) shows that Nokia's supposed revival is still being shadowed by the industry's established giants. To provide a broader picture, the comparison also includes the S&P 500 and the Dow Jones Industrial Average. While its competitors continue to gain market share and share price in an extremely competitive industry, Nokia is unable to hold its ground, let alone exploit its potential for better performance on the stock market. Over the past year, the company has lost 16.83% of its share price.
Future Expectations
The mobile industry is extremely competitive, and it seems somewhat unfortunate that Nokia is still lagging so far behind Apple and Google even after spending so much money on research and development. Furthermore, the products are increasingly converging towards the same hardware basics, making it essential to show differentiation of any newly-launched device. Nokia has strived to create innovative products as it launched wireless charging and a 41-megapixel cell phone camera. Furthermore, the company's strength in navigation is also providing a boost to the Microsoft Windows 8 software on the cellphones.
Nokia's thorough restructuring has paid off as it reported a positive underlying profit margin in its core mobile business for the first time in a year, but it is premature to call this a sign of Nokia's return - especially when the company heads themselves expect losses in the next quarter. Furthermore, if the company expects to continue having successful product launches, it needs to improve its supply chain management so that stores do not run out of popular products as they did with the Lumia. Making progress against its competitors is also only going to get harder for Nokia; the company will have a tough time surpassing even Research In Motion after the launch of its BB10. Samsung is also a major competitor, and even Amazon (NASDAQ:AMZN) may be entering the smartphone market.
Make or Break for Investors
From a neutral point of view, Nokia's stock has shown indications of progress, but these are not enough to lure either long-term or prudent investors. After all, the company's smartphone success did occur during the winter holiday season, so it remains to be seen whether the demand for Nokia phones will continue. For short-sellers and profiteering investors, Nokia perhaps offers an opportunity to make money each time it is about to announce its quarterly updates. However, there seems to be little else profitable about Nokia.
My opinion is also supported by Morningstar's analysis of the stock, as 5/9 suggest a hold, while 3/9 suggest sell and 1/9 provided an underperform rating for Nokia. Depending on the pace of new innovations of Lumia products, Nokia's price can further scale the stock market.
Bottom Line
It is just too soon to talk about Nokia's revival. The company is nowhere near the home stretch and still has a lot of difficulties to tackle, the biggest of which is an increasingly competitive marketplace. Investors should wait at least one more quarter before investing in this stock, as it is showing few signs of stability or encouragement.
Disclosure: I have no positions in any stocks mentioned, and no plans to initiate any positions within the next 72 hours. I wrote this article myself, and it expresses my own opinions. I am not receiving compensation for it (other than from Seeking Alpha). I have no business relationship with any company whose stock is mentioned in this article.