There was a lot of news out yesterday in the commodities space, and it seems that the raiders of the '80s are back to drilling where drilling oil is cheapest, the exchanges. For those not old enough to remember T. Boone Pickens once said that he would rather drill for oil on the exchanges than wild cat in the field. Well it seems that we are back to those days and executives working ways to increase shareholder value up front rather than allow assets to be developed and allow for timely development. It makes for exciting times, but we find ourselves wondering just what effect this shall have on future production and growth for the industry with everything seemingly front loaded.
Commodity prices this morning are as follows:
Gold: $1665.10/ounce up by $4.30/ounce
Silver: $31.425/ounce up by $0.241/ounce
Oil: $97.63/barrel up by $0.06/barrel
RBOB Gas: $2.9728/gallon down by $0.006/gallon
Natural Gas: $3.283/MMbtu down by $0.025/MMbtu
Oil & Natural Gas
The big news last night after the market closed was that Chesapeake Energy (NYSE:CHK) announced that CEO Aubrey McClendon would be stepping down effective April 1st. In the meantime he has handed over day-to-day management to other executives and although his retirement was announced yesterday no successor has been named as the company has hired an executive search firm to find suitable candidates for them. Our guess is we see an ex-CEO or other high ranking executive from one of the large E&P companies or integrated oil companies come on board. The stock shot up in after hours by over 10% on the news and speculation started swirling about the possibility of the company being for sale, however the company quickly issued a statement saying that a sale was not in the works and/or plans right now. Our belief is that everything is for sale at some price and the fact that the board has been purged and Aubrey essentially booted certainly opens up the possibility to a buyout; the probability of them being open to a deal is far greater now that it was only a few months ago to say the least.
In other news Hess (NYSE:HES) saw shares increase dramatically for the second day in a row as Elliott Management stated that they wanted to get board representation and move to have a strategic review done. They would like to see the company spin-off its retail operations and Bakken assets in order to unlock value for investors. Based on their initial valuations and research conducted to date, the firm thinks that Hess shares could be worth as much as $126/share if the company took the route they are proposing. Investors seem to like the idea of the spin-offs and realizing this value as shares rose another $5.63 (9.01%) yesterday to close at $68.11/share. This is by no means a done deal, but bondholders are worried and it is obvious that current management and the board are going to fight this tooth and nail. Even if the retail division is spun-off, we highly doubt that the company would spin-off any of its top-tier shale plays. In other words both the Bakken and Utica will stay.
As an aside, we want to point out that Devon Energy (NYSE:DVN) rose $2.40 (4.40%) yesterday to close at $56.96/share. The stock finally broke through the $55/share level which had served as resistance recently and as this happened in the early morning Briefing picked it up and put it on their news ticker. If the rally can hold the stock might be able to build a bit of momentum from here but if not the shares could have some further consolidating to do before a genuine move higher can take place. If you are in it stay, if not you should wait for confirmation of the move either higher or lower.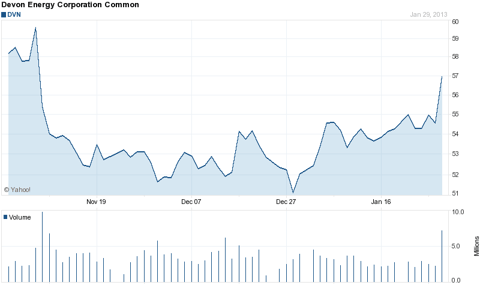 Chart courtesy of Yahoo Finance.
Refiners
For anyone who thought that the refiners were not in a bull market or that it was going to suddenly end as previous upturns had ended in recent years, think again. Valero (NYSE:VLO) stunned investors yesterday with an earnings report which forced us to refresh our page to make sure that we had the correct page up and everything was kosher. Turns out that the company did in fact beat their EPS estimates by $0.59/share as Q4 earnings came in at $1.82/share whereas analysts were expecting "only" $1.23/share. This huge beat was on the back of HIGHER MARGINS, which is something we have been discussing and has been a large part of this improvement in the business for the refiners. Domestic oil production is really benefitting the industry and having a huge impact economically. The company also said yesterday that they were looking to ship by rail, barge and other means cheap crudes to continue lowering costs.
The news from Valero was good news for everyone else in the industry as they all seemed to rise. HollyFrontier (NYSE:HFC) was a beneficiary with their shares rising $2.55 (5.32%) to close at $50.50/share, which was also a new all-time high. We would expect the entire sector to continue to do well and with Hess having shut down some refining capacity and other units on the East Coast being down for servicing we could see even higher margins as less supply will only cause prices to creep higher. HollyFrontier reports their earnings on February 26th, so investors still have some time to wait for that report but by all indications it should be strong.
Disclosure: I have no positions in any stocks mentioned, and no plans to initiate any positions within the next 72 hours. I wrote this article myself, and it expresses my own opinions. I am not receiving compensation for it (other than from Seeking Alpha). I have no business relationship with any company whose stock is mentioned in this article.