By Jason Napodano, CFA
On July 31, 2012, Depomed (DEPO) submitted a New Drug Application (NDA) for Serada to the U.S. FDA. Serada is Depomed's proprietary extended release formulation of gabapentin in development for the treatment of moderate to severe vasomotor symptoms ("hot flashes"). We remind investors that management at Depomed met with the U.S. FDA in a Type-B "pre-NDA" meeting in April 2012. Following that meeting, management believed the data from the BREEZE-1, -2, and -3 trials, "Warrants submission of an NDA for the FDA's review and consideration." The FDA formally accepted the application on October 15, 2012 and established a Prescription Drug User Fee Act (PDUFA) action date of May 31, 2013.
However, investors may not have to wait until the last day of May to get a sense on whether or not the FDA will approve Serada. The agency's Reproductive Health Drugs Advisory Committee will discuss the Serada NDA at an Advisory Committee meeting scheduled for March 4, 2013. We think Serada represents tremendous upside to the Depomed story, a stock we feel is cheap even without Serada on the market. Case in point, Depomed is currently trading with a market capitalization of $355 million, or roughly 2.5X our projected 2013 revenues of $142 million. The company exited 2012 with $80 million in cash. In 2012, Depomed booked over $40 million in royalties on Glumetza, sold through partner Santarus (SNTS). Booking similar amounts over the next three years prior to the patent expiration in 2016 nets a present value of at least $100 million. Prescriptions of Gralise for the week ended January 18, 2013 show the drug annualizing well over $30 million and growing steadily. We think Gralise, the company's flagship pain / neurology product is easily worth another $100 million in present value. Throw in anti-inflammatory pain medication, Zipsor, promoted in the number two position behind Gralise, and some royalties on big pharma drugs like Merck's (NYSE:MRK) Janumet-XR and J&J's (NYSE:JNJ) Nucynta-ER and investors can see that buying Depomed today gets you Serada for free.
Below we discuss the data from the three phase 3 trials studying Serada for the treatment of menopausal hot flashes. But before we get into the data, investors should note the FDA's guidance on study considerations for a menopausal hot flashes therapy. First, since this is a new indication for gabapentin extended release, the agency requires two placebo-controlled phase 3 clinical trials to establish safety and efficacy. The FDA encourages study participants be enrolled who have a minimum of 7 to 8 moderate to severe hot flashes per day, or 50 to 60 per week at baseline. The primary endpoints should be as follows:
Mean change in frequency of moderate to severe vasomotor symptoms from baseline to week 4.
Mean change in frequency of moderate to severe vasomotor symptoms from baseline to week 12.
Mean change in severity of moderate to severe vasomotor symptoms from baseline to week 4.
Mean change in severity of moderate to severe vasomotor symptoms from baseline to week 12.
The FDA gives leeway with respect to secondary endpoints. Besides the four required primary endpoints noted above, Depomed studied Serada on a mean change in frequency and severity at 24 weeks, as well as incorporated both a patient and clinician global impression of change (P/C-GIC), insomnia severity index (ISI), and sleep interference (S/I) assessment.
The BREEZE-1 / BREEZE-2 Data
In total, Depomed studied Serada in 1,699 post-menopausal women suffering from hot flash. Each trial was a randomized, double-blind, placebo-controlled study of the drug's effectiveness in post-menopausal women experiencing at least seven moderate to severe hot flashes each day.
For BREEZE-1 and BREEZE-2, patients were randomized into one of three treatment arms, receiving either placebo or a total dose of 1200 mg (600 mg AM + 600 mg PM) or 1800 mg (600 mg AM + 1200 mg PM) of Serada. Data from B1 and B2 was analyzed using parametric methods using ANCOVA (analysis of covariance) and mean data, assuming the normal distribution of primary endpoints. The statistical tests were performed at the α = 0.025, 2-sided significance level to accommodate two pairwise comparisons between each Serada treatment group (1200 or 1800 mg) and the placebo group.
Depomed reported results from B1 and B2 in October 2009, noting that the trials failed to achieve statistical significance in all sixteen primary endpoints - remember there were two separate trials, each testing two doses on four primary endpoints. There was however, a noticeable trend in dose-response, with a clear bias toward the higher dose. If we focus on only the patients that received the 1800 mg (n=371) dose of Serada, compared to the 1200 mg dose (n=360) vs. the placebo (n=360), at a p-value of 0.025 (per protocol) the trial hit five of eight endpoints. If Depomed had tested only the 1800 mg dose vs. the placebo to begin with, allowing for a 1-sided significance level of α = 0.05, then the trial would have hit seven of eight endpoints, missing only frequency at week 12 in B1.

Depomed presented the results from the BREEZE-1 and BREEZE-2 data at the North American Menopause Society (NAMS) annual meeting in October 2010. At the meeting, management discussed the effects of outliers on the data, noting at the time that some women in the study were reporting as many as 99 hot flashes a day. For example, one patient (#37013) on the 1800 mg dose reported an average of 45 hot flashes per day vs. the study average of 11.13 per day for the 1800 mg cohort. At week 12, this patient showed no response to Serada, still averaging 51 hot flashes per day. Another patient (#41006) in the placebo group clocked-in at 44 hot flashes per day vs. 11.34 cohort average at baseline. This same patient reported less than 1 hot flash per day at week 12.
Above we note that the one missed endpoint - using a 1-sided significance level of α = 0.05 for B1 and B2 - was the week 12 frequency data in B1 (p=0.20). Removing the two above outliers (patients #37013 & #41006) from the study changes the p-value for week 12 frequency to p=0.026.
Parametric methods of analysis are only valid if assumptions for normal distribution are met. For B1 and B2, management at Depomed assumed a normal and homogeneous distribution of data. Unfortunately, this was not the case. The population in B1 and B2 was skewed due to outliers on the high-end, specifically with respect to frequency of hot flashes per day (as noted above). On the low-end, patients had to have at least seven hot flashes a day to enroll in the study. As such, the distribution of patients was not normal at all. In this regard, a non-parametric analysis (one that focuses more on the equal ranking of responses rather than the degree of response) would have been a superior methodology. In fact, when management re-analyzed the B1 data using a non-parametric analysis, three out of four endpoints for B1 met statistical significance with a p-value less than 0.05. When a similar analysis was performed on the B2 trial, all four endpoints met statistical significance with a p-value less than 0.025.
The BREEZE-3 Data
To confirm the findings from B1 and B2, Depomed initiated a third trial, BREEZE-3, which enrolled 600 women between two arms, 1800 mg Serada (n=302) and placebo (n=298). The primary endpoints were the same as B1 and B2, only because B3 stratified into only two cohorts, the statistical analysis allowed for a significance hurdle of α = 0.05.
For B3, management instituted some controls and protocol changes in an attempt to reduce the outliers and control placebo response in the trial. These changes and controls included a two-week run in period prior to randomization, rather than one week to allow for baseline stabilization. The trial also called for fewer patient interactions with the clinical census to minimize caregiver impact on assessment, and a reduction in the electronic diary recording of hot flashes in the 12-week persistent efficacy portion of the trial to improve patient retention (a problem in both B1 and B2). Depomed and the U.S. FDA agreed on these changes through a special protocol assessment (SPA).
Top-line data from BREEZE-3 was released in October 2011. The trial did not meet all four primary endpoints when analyzed using non-parametric analysis, begging the question: Why didn't management's changes to control placebo response work? Perhaps hot flash is just an indication where the placebo response is just too powerful to control?
Nevertheless, using the methodology pre-specified in the SPA (i.e. non-parametric analysis), the trial hit three of four endpoints, missing that pesky frequency endpoint at week 12 (similar to the failure of B1). Besides the four primary endpoints, Depomed looked at signs of persistent efficacy at week 24. The FDA specifically asked Depomed to look at efficacy at week 24 because there were internal questions at the agency of just how effective a non-hormonal treatment could be on a sustained basis. Unfortunately, B3 did not achieve statistical significance when analyzed using non-parametric analysis for either frequency or severity at week 24, begging yet another question on whether or not Serada is truly an effective drug.
However, when the company went back and analyzed the data from B3 using the same parametric ANCOVA analysis conducted on B1 and B2, the results were statistically significant for all endpoints tested, including the secondary week 24 endpoints. In fact, management went back and looked at all 67 centers that enrolled patients. Thirty-nine (58%) of the 67 centers enrolled less than 10 patients. In fact, 19 (28%) of the 67 centers enrolled less than 5 patients. The larger number of very small centers indicate that non-parametric Wilcoxon (Van Elteren) analysis (Zhao YD, 2006) was not the appropriate statistical test for B3. When analyzed using ANCOVA, the results below show strong statistical significance in favor of Serada.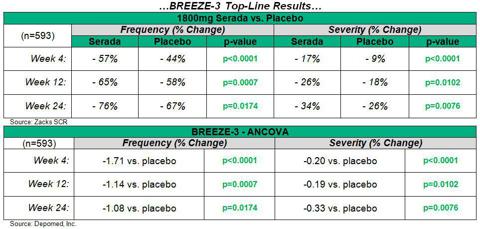 Additionally, significantly more women said their symptoms improved with Serada at 12 weeks (68% vs. 54% with placebo; p<0.0036) and 24 weeks (74% vs. 54% with placebo; p<0.0001) on the patient global impression of change (PGIC) scale. Management also conducted an analysis of Serada's impact on sleep. Though not a primary endpoint, the analysis yields some encouraging results.

Sleep disturbance in women with menopausal hot flashes is a significant psychological and physiological problem (Howard et al., 2003, Thurston et al., 2006). Gabapentin, the active ingredient in Serada, is known for causing somnolence (sleepiness). Just how much of the improvement in sleep characteristics are a result of improving hot flash symptoms versus a side-effect of gabapentin therapy is unknown, but we are willing to bet women don't care why, as long as it works.
Overall, Serada was well-tolerated. Five percent more patients on Serada than placebo withdrew from the trial due to adverse events (16.7% vs. 11.5%, respectively). The most common adverse events were headache (9% vs. 8% placebo), daytime sleepiness, or somnolence (6% vs. 3% placebo), upper respiratory tract infections (6% vs. 4% placebo), and dizziness (13% vs. 3% placebo), which are the most bothersome side effects commonly associated with gabapentin. Of note, both treatment arms reported minimal changes in weight over the 24-week arm.
Our Thoughts On The Data
We think Serada works, and we say that despite the noticeably high power of the placebo in all three trials. We think B1 and B2 failed because a few outlier patients drastically swayed the magnitude of response (mean) vs. the rank of response (median). Removing just two outliers, one in the 1800 mg group and one in the placebo group makes all endpoints statistically significant at p<0.05. The same can be said for B3. Using the proper ANCOVA analysis, all endpoints, including a secondary analysis at week 24, met statistical significance.
In fact, looking at all the data and using a p-value of less than 0.05 and ANCOVA analysis, we see that Serada hit ten of the required 12 primary endpoints. Remove the two outliers from B1, and Depomed went 12 for 12. And if you think this is data manipulation, then you're right, but it worked for Endeavor Pharmaceuticals and Barr Pharmaceuticals, now owned by Teva Pharmaceuticals (NYSE:TEVA), back in May 2004 when the FDA granted approval to Enjuvia (synthetic conjugated estrogen B) on the strength of a re-analysis of the data following an approvable letter in April 2003.
As we look at the data from the BREEZE trials, we see that the placebo showed a 58% average (62% in B-1, 55% in B-2, 58% in B3) reduction in hot flash frequency at week 12. Serada showed a 66% reduction in B1 and B2, and 65% in B3 at week 12. That's ~66% vs. ~58%, or around a 14% improvement. Responder analysis from BREEZE-3 showed a 68% improvement in symptoms for Serada vs. 54% for the placebo at week 12. That's a 26% improvement. By week 24, the numbers get more impressive, 74% for Serada vs. 54% for the placebo, or a 37% improvement.
We would not classify any of the above data as a "Home Run." After all, women can expect a greater than 50% improvement in symptoms by simply taking a sugar pill. Nevertheless, the data are interesting enough that we believe some primary-care physicians and Ob/Gyn doctors will prescribe the drug (more on this later). The sleep data is interesting because nearly all women with hot flash have sleep disturbance. In fact, there is evidence that sleep disturbance is the clear driver of women seeking prescription help for moderate to severe hot flashes, and Serada can be effectively promoted as improving quality of sleep.
The Serada Opportunity
Hormone replacement therapy (HRT) is currently the only FDA-approved single-agent therapy for the treatment of menopausal hot flashes. In 2003, prescriptions for HRT products, specifically Wyeth's Premarin, dropped dramatically following the National Institutes of Health's decision to halt a large-scale clinical study of HRT due to preliminary results suggesting a correlation between HRT and increased risk of breast cancer and cardiovascular disease.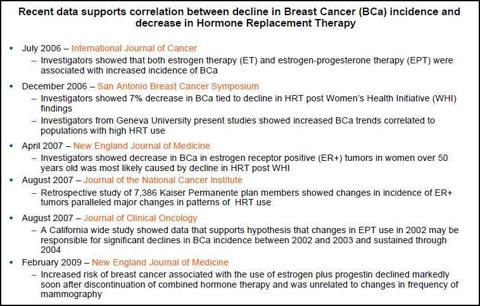 Results from these Women's Health Initiative (WHI) trials in 2002 caused HRT prescriptions to decline by 60% from 2001 levels. Primary-care physicians (PCP) and Ob/Gyn's dramatically reduced their use of HRT products as a result of WHI. That being said, HRT remains the standard of care, physicians are just using lower-effective doses of a combination of estrogen plus progestin therapy (EPT).
At the NAMS meeting in October 2012, results from the Kronos Early Estrogen Prevention Study (KEEPS) were presented. KEEPS was a four year, randomized, double-blind, placebo-controlled clinical trial of low-dose oral or transdermal estrogen and cyclic monthly progesterone given to healthy women (n=727) within three years after menopause.
Results from KEEPS suggest that low-dose EPT treatment, comprised of 0.45 mg a day conjugated equine estrogen (Premarin) plus 200 mg micronized progesterone for only 12 days each month (Prometrium), started soon after menopause appears to be safe; relieves many of the symptoms of menopause; and improves mood, bone density, and several markers of cardiovascular risk. The dose was significantly lower than that tested in the WHI study in 2002, which used 0.625 mg conjugated equine estrogen plus 2.5 mg medroxyprogesterone a day.
NAMS believes that low-dose EPT remains the most effective treatment available for menopausal symptoms, including hot flashes and night sweats that can interrupt sleep and impair quality of life. NAMS believes that the majority of women can take low-dose EPT safely, for periods up to three to five years, with little risk of heart attack, stroke, blood clots, or breast cancer.
The position of NAMS seems in concert with the FDA's updated guidance to use the lowest effective dose, and the approval of Biosante Pharma's (BPAX) Elestrin (estradiol gel 0.06%) in December 2006. The package insert for Elestrin recommends patients start at "one pump per day" (0.52 mg estradiol) even though the clinical data clearly shows (on page 20) that one pump did not meet statistical significance at week 4 for either frequency or severity (instead clinical data showing statistical significance at p<0.01 is presented at week 5). The FDA seemed okay with allowing women to start on one pump of Elestrin in an effort to approve alternative low-dose treatment options and reduce the risk of breast cancer or cardiovascular events.
As a result, we expect that these updated guidelines from NAMS, the approval of Elestrin, and data from KEEPS will relegate Serada to a second-line therapy for women where HRT / EPT is either not effective or not desirable due to pre-existing conditions. For women with pre-existing risk, an alternative therapy, like Serada, may be more desirable. Analysis clearly shows a void in the market, but we believe the void is for second-line treatments, not for a new standard of care.
Many physicians have been prescribing off-label anti-depressants, including Paxil, Effexor XR, and Pristiq. In early May 2011, Pfizer (NYSE:PFE) released data from a phase 3 trial studying Pristiq (desvenlafaxine) in the treatment of hot flash in postmenopausal women. The data was presented at the 59th Annual Clinical Meeting of the American College of Obstetricians and Gynecologists.

This data compares very well with a pool analysis of the 1800 mg Serada data from the BREEZE trials. The problem with Pristiq is the side-effect and tolerability profile. According to the Pristiq label, which is currently approved for the treatment of depression, 100 mg / day is associated with 0.7% sustained hypertension, 26% nausea, 17% dry mouth, 9% diarrhea, 9% constipation, 7% fatigue, 8% decreased appetite, 10% dizziness, 9% somnolence, 12% insomnia, 11% hyperhidrosis, and 5% anxiety. The Pristiq clinical trials showed both potential liver and cardiovascular issues, a risk the FDA was willing to take on depression but not for hot flash.
Additionally, the drug carries an FDA "Black Box" warning for potential suicidal thinking and behavior in young adults. We are unsure if this warning would carry over to the label for hot flash (different population), but nevertheless, Pristiq is not an attractive option for patients. Comparing the approved label for Gralise (the same exact formulation of gabapentin extended release as Serada), it is clear that Gralise / Serada is a much cleaner drug. Pfizer had been trying to gain approval for Pristiq in hot flash since 2006, and only recently gave up in February 2012 for undisclosed reasons.
According to Breastcancer.org, 80% of the women in the U.S. (~32 million) experience hot flashes of some kind as they approach menopause, and for the first year or two after their periods stop. Between 25% and 50% of women continue to have them for many more years. About 30% (10 million) seek medical treatment. That's a big market, and presents a big opportunity for Depomed, even in a second-line role.
Of the 10 million women seeking medical treatment for hot flashes, we suspect that 65% are eligible and adequately treated by HRT. According to an article published in the Journal of Clinical Oncology (Loprinzi et al, 2009), HRT reduces hot flash symptoms by 80-90%. As noted above, we do not expect Serada to overtake HRT as the first-line treatment. Serada will battle for second-line use in the remaining 3.5 million women with off-label antidepressants, including paroxetine, venlafaxine, fluoxetine, and sertraline. We think Serada data compares well to these drugs (as noted above with Pfizer's Pristiq). Therefore, we believe if Serada could capture just 5% market share in these 3.5 million women seeking alternative treatment options, it would be a commercial success for Depomed.
If we assume that Depomed will charge a similar price for Serada to the approved Gralise ($2.52 per 600 mg tablet), we arrive at a peak gross sales estimate of $355 million for Serada.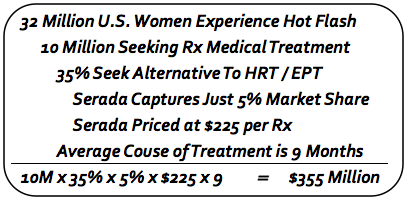 We expect that Depomed would like to be involved in the promotion of Serada to high-prescribing Ob/Gyn's in the U.S. Management noted that there are about 18,000 of these high-prescribing Ob/Gyns. We estimate this is roughly 50% of the target market noted above, and believe that Depomed will partner the drug for primary-care promotion. It's an interesting market opportunity for Depomed because Ob/Gyn's are clearly the thought-leaders and gate-keepers to the larger primary-care market. However, primary-care physicians are probably less comfortable with HRT, and thus more apt to adopt a new medication like Serada.
We suspect that effective promotion to Ob/Gyn's can be accomplished by a small field force of 40 to 60 representatives. Approval will be a nice transformation for Depomed, allowing the company to branch out from its current pain / neurology focus with Gralise and Zipsor to women's health with Serada.
If approved, we suspect that it will take Depomed seven years to achieve peak sales (2020). Depomed is currently trading at 2.5X our projected 2013 revenues of $142 million. Simply using the same multiple on Serada, discounted back to present day at 15% and adjusting for 50% economics to Depomed, yields roughly $3 per share upside to the stock. Therefore, if the U.S. FDA's Reproductive Health Drugs Advisory Committee votes to recommend approval Serada on March 4, 2013, we think Depomed's stock should jump at least $2 per share, with further upside to the final PDUFA decision in late May 2013. We note our modeling assumption does not include any upfront payments, milestones, or royalties for a partnership on Serada to target the primary-care market.
Disclosure: I have no positions in any stocks mentioned, and no plans to initiate any positions within the next 72 hours. I wrote this article myself, and it expresses my own opinions. I am not receiving compensation for it. I have no business relationship with any company whose stock is mentioned in this article.
Additional disclosure: PropThink is a team of editors, analysts, and writers. This article was written by Jason Napodano, CFA. We did not receive compensation for this article, and we have no business relationship with any company whose stock is mentioned in this article. Use of PropThink's research is at your own risk. You should do your own research and due diligence before making any investment decision with respect to securities covered herein.You should assume that as of the publication date of any report or letter, PropThink, LLC and persons or entities with whom it has relation ships (collectively referred to as "PropThink") has a position in all stocks (and/or options of the stock) covered herein that is consistent with the position set forth in our research report. Following publication of any report or letter, PropThink intends to continue transacting in the securities covered herein, and we may be long, short, or neutral at any time hereafter regardless of our initial recommendation. To the best of our knowledge and belief, all information contained herein is accurate and reliable, and has been obtained from public sources we believe to be accurate and reliable, and not from company insiders or persons who have a relationship with company insiders. Our full disclaimer is available at www.propthink.com/disclaimer.