What does gold and silver hold in store for us in February? Using historical analysis of commodities can often show seasonal patterns that can be used to understand market trends. The following article will examine if there are any significant historical trends to pay attention to in gold and silver that would be key to traders and investors while understanding how these trends can play a part in the fundamental landscape of commodities. At the end of the article, we will try to gather the information into some tradable plays.
For our investigation, we looked at the average gain, the maximum gain vs. maximum loss, and the percentage of times different stocks with gold and silver exposure have increased or decreased. Our investigation covered the previous 16 years taking into account the time the company has been on the market. The companies/ETFs covered for gold were AngloGold Ashanti Ltd. (NYSE:AU), Barrick Gold Corporation (NYSE:ABX), Goldcorp Inc. (NYSE:GG), Yamana Gold Inc. (NYSE:AUY), Newmont Mining Corp. (NYSE:NEM), SPDR Gold Shares (NYSEARCA:GLD), and Market Vectors Gold Miners ETF (NYSEARCA:GDX). The companies/ETFs covered for silver were Silver Wheaton Corp. (SLW), Coeur d'Alene Mines Corporation (NYSE:CDE), First Majestic Silver Corp. (NYSE:AG), Hecla Mining Co. (NYSE:HL), and iShares Silver (NYSEARCA:SLV).
Below you can find the average gains for the past 16 years provided the company/ETF has been around for those 16 years.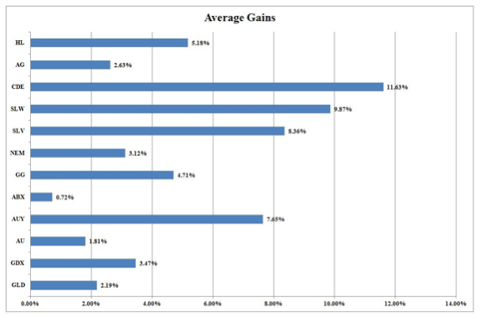 From the chart above we can see that February is a great month for Gold and Silver companies because of the positive average gains that all of these companies experienced through the 16 years analyzed in February. Four of the 12 companies showed gains greater than 7%, which is a very good return. Special attention should go to CDE and SLW with gains of 11.63% and 9.87% respectively. SLV is also expected to continue experiencing its strong performance from January with expected gains of 8.36%.
Below are the maximum gains vs. maximum losses to help us know a bit better how to trade this information.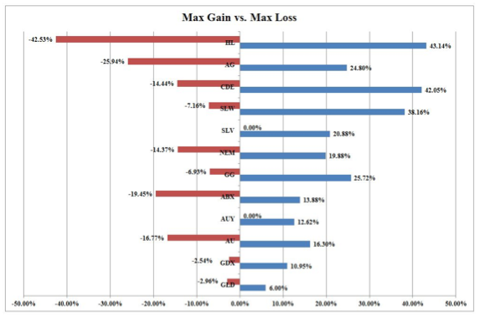 From this chart we can see that the maximum gain and maximum losses for the majority of these companies in February are fairly similar. Some of them have very similar maximum gains and maximum losses, for example HL, and these companies would be perfect candidates for Reverse Iron Condors. On the other hand, companies such as SLW, CDE and SLV have high maximum gains compared with their maximum losses, and we must make sure that these values did not influence our average gains and thus cloud our judgment on how to trade these stocks in February. If these values are not outliers, these stocks would be candidates for Bull Put Spreads with March 16 expiration.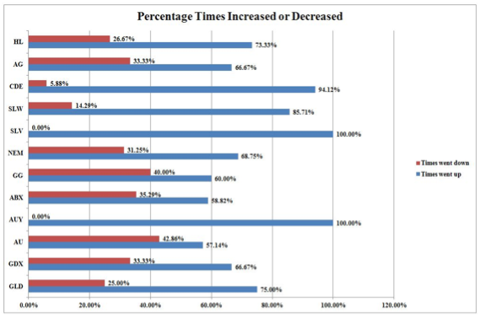 From this chart we can see that once again CDE and SLV are still stand-out performers in February because the number of times they reported positive gains far outweighs the times they reported negative gains. This makes us more confident in trading these companies.
Trade #1: Coeur d'Alene Mines Corporation, Mar16, Bull Put Spread
Trade #2: iShares Silver, Mar16, Bull Put Spread
Good Investing,
The Oxen Group
Disclosure: I have no positions in any stocks mentioned, and no plans to initiate any positions within the next 72 hours.
Business relationship disclosure: The Oxen Group is a team of analysts. This article was written by Bruno Massinga, one of our writers. We did not receive compensation for this article (other than from Seeking Alpha), and we have no business relationship with any company whose stock is mentioned in this article.