Harman International Industries (NYSE:HAR) is a great company with a strong customer base (Jaguar, Fiat, Mercedes-Benz, GM (NYSE:GM), KIA, Lexus, Ferrari, Peugeot, Ford (NYSE:F), BMW, Tata Motors (NYSE:TTM), Volkswagen, etc.) and a portfolio full of very well known and high quality brands with decent margins (AKG, Harman Kardon, Infinity, JBL, Lexicon, and more).
The company reported a good first quarter for fiscal year 2013
EPS went from $0.69 to $0.79, a gain of 14%, and beating the estimated consensus by $0.01.The reported revenue of $998 million was down 5% when compared to the same period last year but up 2% if you exclude currency changes. The stock has been up 31% since last month from $38 a share to +$50 a share today. Is Harman overpriced or still worth a buy?
Current valuation of the company
At the current stock price, Harman has a market cap of $3.39 billion versus $4.36 billion net sales. Enterprise value is $3.09 billion (only slightly above the $3.39 billion market cap). The Price/Earnings ratio is 10.70 and price-to-book ratio is 2.15. In my opinion these ratios clearly show that one is not paying too much for this company, considering its exceptional growth figures and profitability (ROA=10,79%, ROE=22,44%, ROI=17,34%, margins >7%).
Harman's liquidity and capital structure is strong
Harman remains a financially strong company. Recently S&P and Moody's have both upgraded the credit ratio of Harman to investment grade, and gave the company a positive outlook. This is great news for the company and will provide Harman with an additional $1bn in liquidity to invest in growth and value for the shareholders. Harman currently has $10.30 cash per share and a debt-to-equity ratio of 0.25. I assume Harman will continue to raise dividends if the company keeps performing this well. (Dividend went from $0.05 to $0.60 in 4 years.)
Harman's growth has been strong and will be strong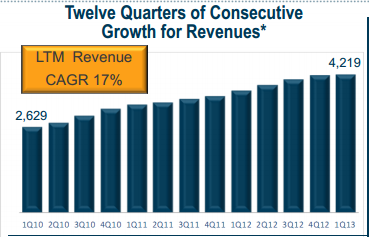 Most of Harman's recent growth is coming from the BRIC countries. Sales in China increased from $35m in 2009 to $382m in 2012 (+900%). A few years ago, Harman wasn't represented in the BRIC countries (in 2008 only 1% of the revenue came from BRIC countries) and had some problems integrating in those territories. But last year, the company gained 12% of its revenue from BRIC countries. And by 2015, the ambitious company forecasts having 25% of its revenue come from BRIC countries. This way, Harman is trying to get less dependent on Europe's stagnant car business (30% of total revenue) and at the same time is trying to remain the leader in North-America (40% of total revenue).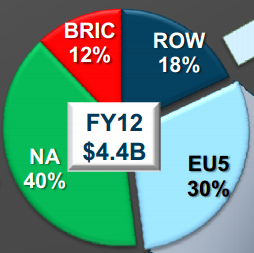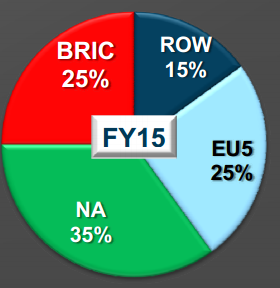 I have full confidence that the company will be able to continue this growth for the foreseeable future. Harman has some very promising projects running and the sales of cars in the BRIC countries is booming. Harman has been able to create double digit growth for shareholders in the past and will be able to do it in the future.
Boardmembers are selling shares of Harman
If we look at the chart below, we notice that Harman has constantly been up and down between $30 and $50 since 2010. (This is why the beta is 2.15.) So I suggest to wait until the share price drops again to +-$40 before making a purchase.


It looks like the management of Harman has decided to sell shares each time, the share price comes close to the $50 resistance line.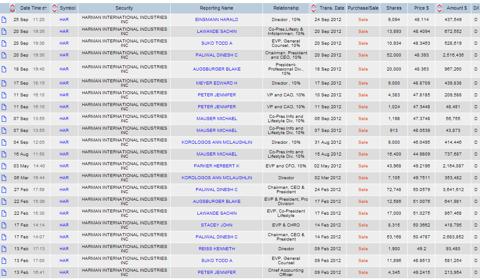 This doesn't mean that the directors and CEO don't believe in their company. But it is still worth mentioning.
My conclusion
Harman should have at least a P/E ratio of 15, which indicates a share price of $64.00. And it should at least quote against 1 time its sales, which would indicate a share price of $63.5. I think it's more than obvious that if you can buy Harman shares below $50, you are making a good investment.
Disclosure: I have no positions in any stocks mentioned, and no plans to initiate any positions within the next 72 hours. I wrote this article myself, and it expresses my own opinions. I am not receiving compensation for it (other than from Seeking Alpha). I have no business relationship with any company whose stock is mentioned in this article.