Several days ago, I examined the universe of extremely shorted names, coming up with 17 stocks that were up less than 10% YTD to see if there might be some opportunities to enjoy the type of action that Netflix (NASDAQ:NFLX) has recently experienced (rallying massively after they reported). I suggested a couple of names that I thought might fall into that camp, and there were tons of great comments from readers on some of the other names. In any event, this is a theme that resonated with the Seeking Alpha universe that I think makes a lot of sense.
Today, I want to take another stab at the same universe of stocks, which was members of the Russell 3000 with market-caps above $1 billion that are up less than 10% YTD. While previously I was looking at companies with 30% or higher short-interest, today I want to focus on the names that have 20-30%. In case you don't think that this is "enough", keep in mind that NFLX short-interest had already come down and was "only" 18%. You can see this here, where it shows 10.1mm shares short as of 1/15, a decline from 13.2mm on 12/31/12.
When used Baseline to screen for the 20-30% short-interest up less than 10% in price in January, I came up with a total of 33. There were 104 total names that are this shorted, but only 51 had market-cap of more than $1 billion. 18 of these have rallied more than 10% in January, while 33 made the cut. I may follow up with another article that looks at some of these smaller names, as I find several of them to be very interesting and include a few in my Top 20 Model Portfolio, which I shared in its entirety earlier this month.
Let's look at the 33 companies that made the cut: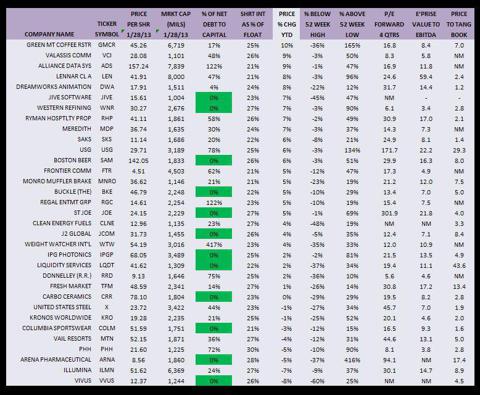 Rarely does a debt-free company go bankrupt, so I have highlighted in green those with cash exceeding debt. A lot of debt can signal a risk, but it can also flag an opportunity for dramatically higher equity price when the fundamentals improve. The typical stock here doesn't appear to be overly leveraged. Another metric I use to make that judgment is to compare the net debt to the enterprise value (market cap of stock plus the debt less the cash). Leverage adds to the risk of the equity but also the potential reward if the equity price is properly reflecting the leverage.
Now, some of the more astute readers will recognize that a couple of these names were on my previous list of 17 stocks with more than 30% short-interest. PHH (NYSE:PHH), Boston Beer (NYSE:SAM) and Fresh Market (NASDAQ:TFM) saw declines from 12/31 to 1/15. I don't have a systematic way of quickly identifying these changes, but one thing to look for is a sign that short-interest is beginning to decline.
As is always the case, I like to share a lot when I know a lot and to make sure that when I don't, I let you know. In this case, several of the companies are on my watchlist, including Liquidity Services, (NASDAQ:LQDT), which is actually in my Top 20 Model Portfolio, and Illumina (NASDAQ:ILMN), which just reported today. I also have followed a few more, like Buckle (NYSE:BKE), Weight Watchers (NYSE:WTW), Carbo Ceramics (NYSE:CRR) and Columbia Sportswear (NASDAQ:COLM). I am going to address LQDT and ILMN in more detail, but I will share my brief thoughts on these others first, though I am not so close to the stories.
BKE is a great retailer that knows its niche. It has burned the shorts for years and will probably keep doing so. The knock has been that its very high margins are at risk. Maybe the shorts will be right one day. Management is getting a bit old - perhaps this is a concern. It's worth mentioning that the 6mm shares short are less than 20% of the shares outstanding - the short-interest ratio uses "float", which excludes the massive insider ownership of over 40%.
COLM strikes me as the poor man's Under Armour, and that's not such a bad thing. The company just pre-announced a nasty quarter -this is when one is supposed to buy cheap retailers if they aren't broken. The company had expected Q4 sales growth of up to 1.5%, but it actually declined by 5%. Margins, expected at 10.6% to 11.1%, are now forecast at 9.4-10.3%. My guess is that this isn't the end of the world. They report 2/7, and one thing that might not be clear is how much cash they have. The Q3 balance sheet is seasonally low at $3 per share. Expect this to jump substantially as inventory was converted to sales during the quarter. Big insider ownership here too.
CRR is one I don't like. I try to separate emotion, but I will confess to biting last year after the plunge to begin 2012. We worked out of it without too much damage, but I hate losing! My view here is that until the Haynesville comes back (or some other deep, high-pressure natural gas formation), the company will likely struggle. The smartest E&P guys have figured out ways to avoid using their proppants. I think that very strong demand in the past and a lack of supply of certain sands resulted in higher purchases of proppants than might have been the case otherwise.
I am not a big fan of WTW. I think that they are terrible at spending cash that they don't have - check out their history of expensive tenders. The product itself seems to work, and perhaps they have addressed this and I am unaware, but it seems like the transition to the internet has hurt them. I wasn't a big fan of their new CFO hire last year, and these guys don't own a lot of stock (Artal does, and maybe there is a risk that Artal buys the rest???). Short-interest just jumped. I would pick another idea.
ILMN reported yesterday. While the stock is a bit soft, I found the call encouraging. This company is extremely hard to understand. I am not quite there yet! Roche has tried to buy them twice, so I am thinking there is likely a floor. The sequencing demand is high. There are some challenges as publicly-funded entities are 70% of their sales volume. Plus, the stock is very expensive at 6X sales. Still, keep in mind that this is revolutionary stuff, and they are the leader with over 50% share in sequencing. High GM, lots of recurring revenue. Seems like a silly short to me. Short-interest declined in the recent period. With the earnings behind them (2013 numbers are coming down, but not because of sales weakness but rather more R&D, some internal initiatives and a recent acquisition), what's the catalyst?
I am looking forward to LQDT's report on Thursday. This stock got way ahead of itself last year, but then Off Wall Street shorted it and shared negative research. By the way, the main points that they made, especially the "loss of a new customer" didn't play out. We got involved very recently at Invest By Model, so that's all ancient history to me. Their guidance is what counts the most, so we'll have to see what they say - they already have essentially announced their sales. Last quarter, they announced some investment necessary to make a recent acquisition work, and this led to lower earnings estimates for FY13 (ending in September). I think that this is a very interesting company with now three different ways to help their customers, which include governments (disposing of excess assets), retailers (helping them dispose of returned merchandise) and now Fortune 100o companies (helping them dispose of unneeded assets). LQDT has large insider ownership, a history of success and a reasonable valuation in my view.
So, I touched on only 6 of the 33 names. As always, I welcome your input on these or the other 27. The bottom-line is that many of these companies won't get squeezed most likely, but some will. Which of these heavily shorted stocks do you think make sense as a long?
Disclosure: I have no positions in any stocks mentioned, and no plans to initiate any positions within the next 72 hours. I wrote this article myself, and it expresses my own opinions. I am not receiving compensation for it (other than from Seeking Alpha). I have no business relationship with any company whose stock is mentioned in this article.
Additional disclosure: LQDT is held in one or more model portfolios managed by the author at InvestByModel.com