There's no denying the growing trend towards online shopping. The US online sales grew 17.3% Y/Y and account for 5.2% of the total retail sales according to data from the United States Census Bureau. Similarly, e-Commerce in Europe is estimated to have grown 20% in 2012. In developing countries, especially the BRICs, the growth rate is expected to be much faster due to increasing internet penetration. According to Forrester, over the next five years the e-commerce market in India and China is expected to grow at compound annual growth rates of 57% and 25% respectively.
In my opinion, eBay (NASDAQ:EBAY) is well positioned to grow with the market as well as increase its market share for the next several years. Here's why:
Strong and Consistent Growth in Core Marketplaces Business
During the last couple of years, eBay has made a number of changes to its platform to revamp its image and improve buyer and seller experience in Marketplaces. The changes in the new user interface include prioritizing top sellers in its search engine, adding the shopping cart feature for buyers as well as rolling out a new eBay logo. These changes have helped improved eBay's image from just an auction website for second hand merchandise to a one stop online retail shop with a wide selection as well as competitive prices. The results appear to be showing in its earnings over the past few quarters. eBay's Q4 earnings presentation showed that the revenue of its Marketplaces business grew 16% (fx-neutral) Y/Y to $2.05B. Within Marketplaces, the Fixed Price Gross Merchandise Volume (GMV) which now accounts for 68% of total Marketplaces GMV has been growing at a rate of more than 20% (fx-neutral) over the last three quarters. The Auction GMV has also continued to grow at a rate of around 4-5% on an fx-neutral basis.
Many people have questioned if eBay can continue with this exceptional growth now that it has 'fixed' its Marketplaces business with site enhancements. In my opinion, eBay's Q4 earnings suggest that this growth can continue:
Most of the site enhancements had been already completed by the third quarter 2012. The strong and consistent performance in the last quarter suggests that the growth is gaining traction and is here to stay
With a revamped website delivering a contemporary and satisfying user experience, eBay is well positioned to benefit from the expected improvement in global macroeconomic outlook as well as the secular trend towards e-commerce. The growth prospects in the BRIC countries look bright which should help sustain the growth rates in GMV. eBay already has direct presence in Russia, India & China while in Latin America it has developed a partnership with MercadoLivre.
eBay will continue to add features to its website during 2013 as well, the most exciting of which is the expected rollout of their new search engine, Cassini. Cassini is a smart search engine which has the ability to mine text from item descriptions to obtain additional product attributes with the aim to deliver more relevant search results. Cassini's other important features include personalized search, implementation of price ranges for buyer search as well as an improved search algorithm based on data mined from feedback comments. I believe that Cassini can play an important role in extracting more revenues from the existing Marketplaces users as well as providing a compelling experience to attract new users
The growth in Marketplaces' global active users has accelerated during the last three quarters whereas the growth in total GMV (fx neutral) has been solid but stable. This scenario is different to 2011 and early 2012 when the user growth was relatively stable but the GMV growth was accelerating. This implies that the primary driver of revenue growth in recent quarters has been the increase in user base as opposed to larger transaction volume from the same users. This is a good thing because it means that the website enhancements are attracting new users. It also means that there is further growth to come when these new users increase their purchases and the GMV/user ratio increases.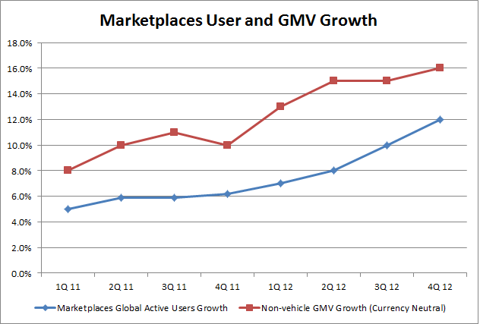 Source: Company Reports
Multiple Opportunities for PayPal
eBay's acquisition of PayPal in 2002 for $1.5B continues to pay dividends. Q4 earnings release shows that Total Payment Volume (TPV) on eBay grew 18% Y/Y (fx-neutral) whereas the merchant services TPV grew 28% (fx neutral) over the same period. Within Merchant Services, the Bill Me Later (BML) TPV grew 31% Y/Y.
I believe that PayPal can continue to show strong revenue growth combined with expanding transaction margins. Here's why:
PayPal is the market leader in online payments. PayPal's size and scale give it a tremendous competitive advantage as well as acting as a barrier to entry in this industry. Therefore, as e-commerce expands globally, PayPal has the opportunity to gain market share in markets where it is already present as well as expanding geographically to new markets.
If strong user growth continues at the Marketplaces business due to the reasons stated above, it would help drive the Global User Accounts at the payments business. Although the immediate benefit of this user growth will be growth in the TPV on eBay, ultimately the benefits would also be reflected in the Merchant Services TPV.
PayPal's Bill Me Later (BML) service does not only have potential for growth in TPV by providing buyers with an attractive credit facility, it also helps expand transaction margins by lowering the funding costs and providing a productive use for offshore cash:

Offshore Cash: eBay's Chief Financial Officer Robert Swan told us in the Q4 2012 earnings conference call that eBay funded 61% of their U.S. BML loans receivables portfolio with offshore cash. Financing the BML loans is a very productive use of offshore cash on which customers pay close to 20% APR. This offshore cash cannot be moved to the U.S. to pay dividends due to tax complications and before the acquisition of BML, eBay could only earn a trivial interest rate on this cash parked in banks worldwide.
Funding Cost: PayPal has to pay substantial fees on transactions funded by credit or debit cards. By introducing its own credit facility financed by its own cash, PayPal does not have to pay these fees when customers use the BML service thereby reducing funding costs and increasing transaction margins.

In addition to online payments, PayPal also has the opportunity to grow in the offline payments business. In this regard, PayPal's partnership with the Discover network which is expected to roll out in the spring of this year will give PayPal's more than 50 million active users the ability to use their PayPal accounts to conduct transactions at more than seven million retail outlets throughout the U.S. Using the same payment system for online as well as offline payments would be an interesting proposition for PayPal users. I believe that if PayPal incentivizes offline payments in a suitable manner, it can help achieve solid growth in this business as well.
The Latest Trend: M-Commerce
eBay has established a strong foothold in mobile e-commerce. In the Q4 2012 conference call, CEO John Donahoe told us that eBay's mobile apps have been downloaded up to 120 million times. This accounts for more than 50% of a total of around 234 million combined Marketplaces and PayPal active users. In 2012, the mobile e-commerce grew 120% Y/Y to $13B which accounts for 19.2% of the $67B non-vehicle GMV. This is very impressive considering that right now m-commerce accounts for just 9% of the e-commerce in the U.S., according to comScore. Moreover, mobile payments through PayPal grew to $14B, a Y/Y growth rate of 250%. These mobile payments account for around 9.7% of PayPal's $145B TPV which is also quite remarkable. In 2013, eBay expects the mobile e-commerce to grow to $20B from $13 billion, a growth rate of 46% whereas the mobile payments are also expected to grow to $20 billion, a growth rate of 42%. These statistics confirm eBay's status as the market leader in mobile e-commerce.
Conclusion
eBay has turned its self around remarkably in the past couple of years and the stock price reflects that. Throughout this rally investors have had concerns about valuation and were proven to be wrong time and again. With most of the enhancements on its website now complete, eBay has established a solid platform from which to grow on. The Marketplaces user base is expanding rapidly which, in my opinion, will bring long term benefits for both Marketplaces as well as providing tailwinds for the payments business. The GeC business, which I haven't touched upon earlier, has been growing at a stable but solid rate as well. eBay has firmly established itself in mobile which is expected to be the next big thing in e-commerce. With growth prospects bright, I would value the eBay stock at 20 times the consensus 2014 EPS estimate of 3.20 which turns out to be $62. I also expect strong user growth in 2012 translating into growth in GMV/user ratio in years to come driving strong revenue growth. This revenue growth will drive operating leverage thereby expanding margins across the board. This leads me to believe that there could be potential upside to this consensus EPS estimate.
Disclosure: I have no positions in any stocks mentioned, and no plans to initiate any positions within the next 72 hours.
Business relationship disclosure: This article was written by Dividend Pros' Analyst covering technology.