There's way too much information and data floating around in this day and age for any retail investor to keep reasonably keep track of it all. While there are many good investments out there, it's difficult to know about them unless you live and breathe finance news. Rather than attempting to constantly keep track of it all, it's a good idea to come up with your own criteria for what makes a good investment. These criteria can be used to screen for companies that fit your risk and reward appetites so you can narrow your research to only a handful or areas.
One of the ways I like to screen for companies is what I call a "stress test" in which I screen based on as many fundamentals as possible until only two or three companies remain. The screen I ran most recently had the following criteria:
1) Price/Earnings < 15

2) Forward Price/Earnings < 15

3) PEG < 1

4) Price/Sales < 1

5) Price/Book < 1

6) Price/Cash < 3

7) Price/Free Cash Flow < 15

8) YTD EPS Growth > 0%

9) EPS Growth Next Yr > 0%

10) EPS Growth Past 5 Yrs > 0%

11) EPS Growth Next 5 Yrs > 0%

12) Sales Growth Past 5 Yrs > 0%

13) Based in the United States
Only these three companies remained after screening:
1) QCR Holdings Inc. (QCRH)
2) Renewable Energy Group, Inc. (REGI)
3) Reinsurance Group of America, Inc (RGA)
QCR Holdings Inc
QCR is a solid business with solid fundamentals. Based in Moline, IL., it serves the community primarily through its three major subsidiaries: Quad City Bank and Trust, Cedar Rapids Bank and Trust, and Rockford Bank and Trust. Each of the subsidiaries provides both commercial and consumer banking services as well as commercial leasing through M2 Lease Funds (a partially owned subsidiary).
QCR has typically traded between 9.9 times earnings and 14.5 times earnings in the past five years but trades at a discount of only 7.8 times earnings currently. Its price-to-book ratio is only 0.5 meaning investors will pay $0.50 for every $1.00 of assets the company currently controls. What's most appealing is that it's trading at only 5.75 times its free cash flows per share (compared with the regional bank average of over 15).
QCR pays a dividend of only 0.56% (compared with the industry average of 0.95%) but a small payout ratio of 4.49% means there's a lot of room for growth. It also allows the company to keep some cash on hand for expansion. In comparison, regional banks on average payout 14.64%. QCR is also growing at a much faster rate than other regional banks. Its TTM earnings per share are up 150% compared with an average of 42% increase for other banks.
QCR insiders have increased their holdings by 41% in the last 12 months with only one sell order of only 2,400 shares. Of the 11 institutions holding QCR shares, eight have increased their positions in the last 12 months bringing the current institutional ownership to 13%. Short interest is low and it would take only one day to cover all short positions.
The chart for QCR shows that the 25-day moving average is above the 52-day average, which is above the 100-day average and it is diverging. The MACD is above the signal line and seems to be stable. The ultimate oscillator shows oversold, which may signal a trend correction, though the RSI shows that there is a solid uptrend but it is not oversold.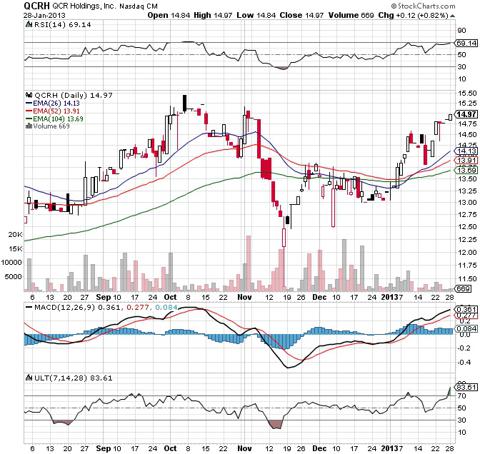 Renewable Energy Group
Renewable Energy Group is a start to finish producer of biodiesel. It manages each part of the production from the feedstock to the distribution. According to Reuters, it sold 150 million gallons of biodiesel in 2011. It also focused on acquiring several facilities to increase production capacity. This is a small company focused on growth. Its revenue in 2011 was $825 million compared with only $215 million in 2010. In 2010, the company reported a net loss of $8 million compared with a net profit of $90 million in 2011.
REGI is the largest producer of biodiesel in the country, which gives it an advantage over competitors. At the same time, it relies on Pilot Travel Centers LLC for over 25% of its sales, which could prove to be an issue if Pilot decides to go elsewhere.
There has been no insider trading reported in the past 12 months, though 2% of outstanding shares are held by insiders. According to Nasdaq, 23% of shares are held by institutions.
The chart for REGI shows that the 25-day EMA has just crossed the 50-day EMA, which is above the 100-day EMA. The MACD is straddling the signal line so there is no clear signal. The RSI shows that the stock is moving into upward trend territory. The ultimate oscillator is still in downward trend territory though it is heading up.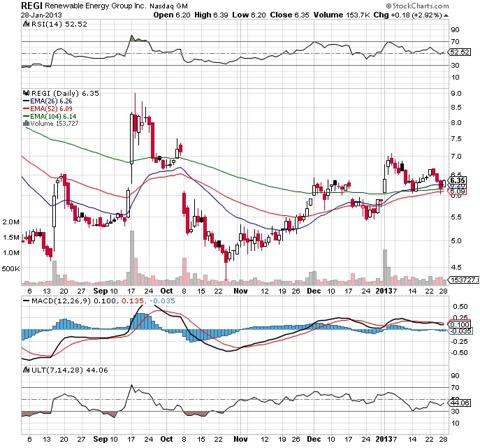 Reinsurance Group of America
RGA Group is an insurance holding company that operates through several subsidiaries to provide life and health insurance among other insurance products. It operates throughout the United States and Canada as well as the UK, Spain, Mexico, and India.
Insiders at RGA have increased their ownership 20% in the past 12 months. The CEO, A. Grieg Woodring increased his position by 14% while Paul Schuster, the Senior Executive Vice President increased his position by almost 24%. Several other insiders have increased their position by over 25%. Of the float, 88% is institutionally held with a net increase in the trailing 12 months according to Nasdaq.
The stock trades fairly cheap compared with the insurance industry and the financial sector in general. It's trading at only 7 times earnings compared with 12 times earnings for the industry and 16 times earnings for the sector. Its price-to-book value is 0.61 so shareholders pay only $0.61 on the dollar for RGA's assets. This is in comparison with a P/B of 1.63 for the insurance industry and 2.11 for the financial sector.
RGA pays a dividend of 1.72% compared with the industry average of 1.20%, though the dividend growth rate is only 10% over five years compared with the industry average of 36%. The payout ratio is slightly higher than the industry (10.50% for RGA versus 9.13% for the industry). This leaves less cash on hand for expansion, though 10% is still a relatively low payout ratio.
RGA is much more efficient than the insurance industry, bringing in a net income of $330,000 per employee compared with the industry's $100,000. This statistic can be misleading, however, because of differences in what a company may consider an employee.
The chart for RGA shows that the 25-day EMA is above the 52-day EMA, which has just crossed the 100-day EMA. The RSI shows that it's in solid uptrend territory, as does the ultimate oscillator. The MACD has just crossed below the signal line, which is a bearish sign (but may just be a correction impending). There is a major support/resistance level at $56.90, which may be a good place to initiate a buy if it breaks out.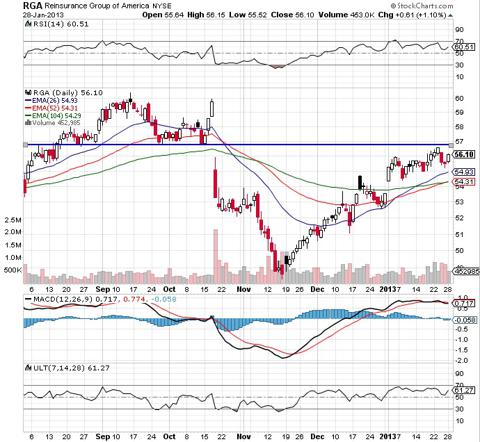 Disclosure: I have no positions in any stocks mentioned, but may initiate a long position in QCRH, REGI, RGA over the next 72 hours. I wrote this article myself, and it expresses my own opinions. I am not receiving compensation for it (other than from Seeking Alpha). I have no business relationship with any company whose stock is mentioned in this article.